This article first appeared in The Edge Financial Daily, on October 5, 2018.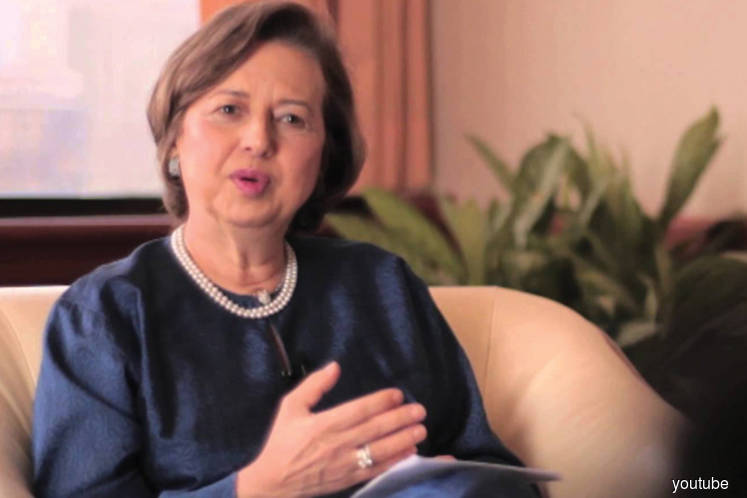 KUALA LUMPUR: The next stage for the development of Islamic finance is to provide a framework that allows for an assessment of its impact on the economy, said former Bank Negara Malaysia (BNM) governor Tan Sri Dr Zeti Akhtar Aziz.
She said Islamic finance, which is now present in over 50 countries, with its total assets last year estimated to have surpassed the US$2 trillion mark, already generates a model for a sustainable financial intermediation that supports economic growth and development.
"It also emphasises disclosure and transparency to be applied consistently with the syariah rulings that are supported by a strong governance process. However, the ultimate impact of Islamic finance on the economy is less clear," she said when speaking about the assessment framework.
Zeti, who is now chairman of Permodalan Nasional Bhd — the country's largest fund manager — touched on this when delivering the Royal Award Islamic Finance Lecture at the Global Islamic Finance Forum 2018 yesterday. She was named recipient of the award on Wednesday night.
She noted that greater interest in responsible financing emerged after the 2008 financial crisis, which was advantageous to Islamic banking as it shared similar principles to ethical financing. There is now a proposal that future financing should be value adding and be value based, to give purpose to the role of finance to bring benefit to the economy and community, she said.
But there needs to be a set of performance parameters or matrices to measure these results.
"It needs to go beyond shareholder value; it needs to focus on impacting the economy, well-being of the society and environment," she said. "It also encompasses addressing the wider societal problems such as reducing the carbon footprint, strengthening the surrounding communities with economic empowerment and inclusion, as well as improving lives by bringing basic amenities to the community."
Zeti also said financial intermediation should be simpler and easy to understand to reduce prospects for complex and opaque financial engineering.
Panellists at the forum, comprising chief executives of Islamic banks in Malaysia, concur that Islamic financial institutions should start articulating their vision of sustainability, and to begin rolling out products to show how value-based financing can make a real difference to society.
Speaking at the forum's "Wrap Up" session, CIMB Islamic Bank Bhd chief executive officer (CEO) Rafe Haneef said banks also need to carry out their stated vision through clear policies and sustainable conduct, and create processes to implement it.
"Then, we have to make sure that our people understand the concept, and train them from the board level to front-liners. And we need to have products to show how the banks can promote sustainable activities," he said.
AmBank Islamic Bhd CEO Eqhwan Mokhzanee said regulation on promoting sustainable financing should not be punitive, but encouraging. "As much as monetary and financial stability hinges on the economic aspects of financing, there is also a need to focus on the social and environmental impacts for overall monetary and financial stability. This can help mitigate the overall risk," he said.
On Wednesday, BNM published two new tools — an assessment framework and a scorecard — for public consultation on the value-based intermediation (VBI) approach it introduced in July for Islamic financial institutions.
VBI is a function underpinned by syariah that aims to deliver, through practices, conduct and offerings, positive sustainable impact on the economy, community and environment without compromising shareholders' returns.
Adoption of VBI by Islamic financial institutions is currently voluntary. Out of 27 Islamic banks in Malaysia, nine have done so, according to the Association of Islamic Banking and Financial Institutions Malaysia.