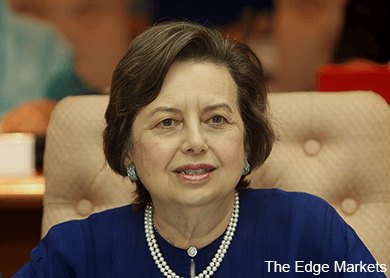 WASHINGTON/KUALA LUMPUR (Apr 20): Malaysia's central bank Governor Zeti Akhtar Aziz said the nation's fiscal position is improving and the ringgit is undervalued even as growth prospects weaken, in a rebuttal to Fitch Ratings and investors who have soured on the country in recent months.
The nation's banking sector is "very solid" and the fiscal deficit has narrowed in recent years, she said in an interview in Washington Saturday. Malaysia's current interest rates are accommodative and conditions now are allowing the central bank to maintain borrowing costs "at these levels," she said.
With "no strong momentum" in global growth, risks depressing the outlook for Malaysia include slower external demand and a pullback in domestic consumption after the government implemented a new consumption tax in April, Zeti said. The ringgit has lost 9.7 percent in the past six months, among the worst performers in Asia, as a drop in oil prices hurt government finances and dented investor confidence.
"When the oil price plummeted, the wrong perception of the degree of dependence of the Malaysian economy on the oil and gas sector led markets to think that we would be more affected than others," Zeti said. "Of course the ringgit is undervalued. It doesn't reflect our underlying values, which are solid and strong."
Fitch said last month Malaysia's credit rating is "more than 50 percent likely" to be downgraded, with state investment company 1Malaysia Development Bhd.'s struggles to meet debt obligations reflecting weakness in governance. Malaysia is rated A- by Fitch with a negative outlook.
Differing Stances
While Moody's Investors Service and Standard & Poor's also rank Malaysia at their fourth-lowest investment grades, their stances differ from Fitch. Moody's has a positive outlook, while S&P's is stable.
"When we look at our peers, and those in the AA rated, we see ourselves at least as good as that group," Zeti said. "Our banking sector is very solid and sound" and the country has taken steps to narrow its fiscal deficit, she said.
Zeti, 67, spoke in a wide-ranging interview that touched on China's growing influence, global monetary policy and the U.S. Federal Reserve.
While the global recovery "is so modest that it's not going to fuel inflation," Zeti said a lack of price pressures shouldn't prevent central banks from increasing interest rates to prevent imbalances from forming. The Fed, which is gearing up to boost its main rate for the first time since 2006, should act sooner rather than later, she said.
Uncertainty, Volatility
"The earlier it happens, the better it would be," Zeti said, adding Malaysia is prepared for capital outflows resulting from the impending policy change. "The volatility is the uncertainty of it, and the extent of it, and the timing of it."
Zeti said that reversals "have already commenced" in the run-up to the rate increase, which analysts predict could come as early as June. She said Asia as a region will also be resilient in the face of any volatility that comes from the Fed policy change.
"Because we're open, we're affected, but we bounce back quite quickly," she said.
Malaysia's government said in January that growth will be 4.5 percent to 5.5 percent this year, down from an earlier projection of as much as 6 percent. Zeti said in the interview the midpoint could be "slightly lower" at about 4.8 percent.
That would still mark "very good growth," she said.
Lower oil prices are also playing a role in the slowdown, she said. Malaysia derives about 30 percent of its government revenue from oil-related sources. The fall in commodity prices is also affecting the ringgit, which reached a six-year low of 3.7350 a dollar on March 20, data compiled by Bloomberg show.
The central bank kept the overnight policy rate at 3.25 percent for a fourth meeting last month.
"Where rates are is now accommodative," Zeti said. "It is a rate that is supporting the growth process, and we believe it is important now, where inflation is between 2 to 3 percent, that the risk to higher inflation is not there."