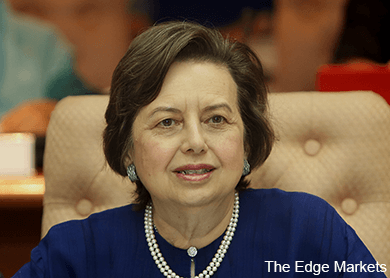 KUALA LUMPUR (May 18): Seventy-five per cent of Malaysia's economy are benefiting from the dip in crude oil prices and the strengthening of the US economy, said Bank Negara Malaysia (BNM) Governor Tan Sri Dr Zeti Akhtar Aziz.
She said the diversification of the local economy has changed from being export-led to demand-driven by consumption and investments.
"In terms of supply, our economy has shifted from being commodity-based towards the manufacturing and services sectors, which now account for 75% of our economy. This is important because when oil prices plummet, our currency depreciates as we are an oil producing country," she said at a session on "Economic and Political Scenarios" at the 18th Asia Oil & Gas Conference 2015 today.
"However, it was only relieved to learn that 75% of our economy are actually benefiting from the recovery that is taking place, for example in the US. This has helped us to remain on a steady growth path," said Zeti, noting that Malaysia is growing by 4% to 6%.
"Malaysia has been on a steady growth trajectory and is well supported by consumption and investment activities and by a well-developed financial market, flexible exchange risk regime, high levels of international reserves, low external debt levels and a solid banking system," she said.
Zeti added that this has enabled Malaysia to intermediate the episodes of volatile capital flow so that it does not have an adverse implication on the economy.
"The operating environment going forward will likely continue to remain similar, characterised by uncertainty and subject to increase in risk," said Zeti, adding that there is still the ability for the economy to see a rebound.