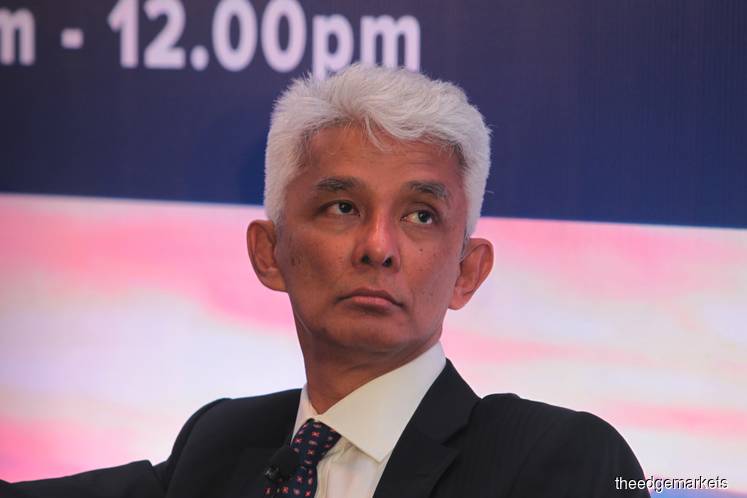 Charon: A truly successful policy would mean zero-dollar revenue collected from the excise duty from cigarettes… because no one smokes. Photo by: Mohd Suhaimi Mohamed Yusuf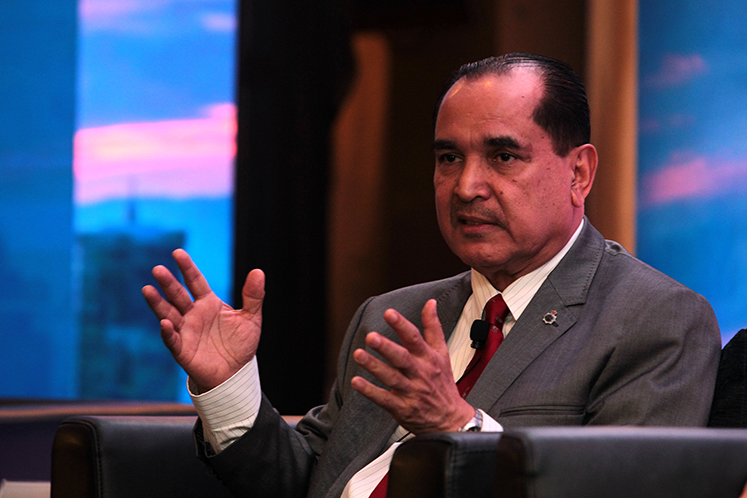 Akhbar: We have to solve the integrity crisis first. When you are corrupted, whatever software you have or system... it will not work. Photo by: Mohd Suhaimi Mohamed Yusuf
KUALA LUMPUR (June 20): The government's main focus in pursuing its policy of getting people to stop smoking should not be on the loss in excise duty revenue, but on how to combat organised crime, a panel discussion on the illicit cigarettes problem heard today.
Malaysian Industrial Development Finance Bhd (MIDF) managing director Datuk Charon Wardini Mokhzani said the government's move to raise excise duty with the aim of reducing smoking is indirectly promoting illegal activities.
"The policy from the current government is really very much against smoking," he said. "(But) if you want people to stop smoking, then you won't [want to] have the problem [of] not having the loss in excise duty revenue."
"A truly successful policy would mean zero-dollar revenue collected from the excise duty from cigarettes… because no one smokes," he said at the Oxford Economics Media Roundtable and Panel Discussion on illicit cigarettes.
Thus, from the government's health policy point of view, zero-dollar collected from cigarettes is "actually a good thing", he added.
Charon noted that the government's current thinking is that people will buy fewer cigarettes if prices are increased.
"But what happens is that when prices are increased… lots of bad people come around saying that it's easier to sell smuggled cigarettes," he said, adding that despite the price increase, Malaysia still smokes some 20 billion sticks of cigarettes a year.
"We have to find another way of attacking the problem. Clearly, just raising the prices gives more avenues for bad people to do more bad things," he said.
"If you can make RM2.5 million for a forty footer container... that is a huge amount of money... and a lot of people get tempted. It's not just a political will in general to combat corruption, but a will in general," he said.
Another panellist, Datuk Seri Akhbar Satar, said Malaysia is facing an integrity crisis.
"We have to solve the integrity crisis first. When you are corrupted, whatever software you have or system... it will not work," said the ex-president of Transparency International Malaysia.
Given that the majority of the illicit cigarette consumption is in Sabah and Sarawak and the east coast of peninsular Malaysia, Akhbar said it is high time for the government to form a taskforce and concentrate on these areas.
In a separate statement today, British American Tobacco (Malaysia) Bhd managing director Erik Stoel said the illicit tobacco trade issue can no longer be ignored by the government.
"We have constantly appealed for serious action to be taken. A cross government action plan must be developed and deployed where all key ministries have a role to play. These include the health ministry's tobacco control sector, as well as the domestic trade and consumer affairs, home affairs and primary industries ministries.
"As the legal industry leader, we are very willing to provide resources and to support a cross government effort to curtail this menace – international experience tells us that a joint collaboration between the private and public sector can work," he added.
Stoel noted that illicit tobacco trade negatively impacts the government's revenues, fuels criminal syndicates and erodes Malaysia's positive reputation as a country for foreign investment.
His statement echoes the findings of a recently published report by research and analyst firm Oxford Economics on the broader impact of the illicit tobacco trade in Malaysia. The report highlighted that since this black economy gained a foothold, the country's gross domestic product, economy, public health agenda, reputation and legal employment opportunities have been undermined.
More disturbing is the fact that these criminal syndicates have blatantly been using and fuelling a culture of organised corruption that has entrenched itself across all levels of Malaysian society. This revelation comes at a time where corruption in Malaysia has already reached critical levels.
"The findings of the report highlight that this black economy drains the country of more than just vital revenue. It is a threat to the nation's sovereignty, fuels corruption and erodes the integrity of its people. These criminals will do all they can to ensure that the levels of corruption in Malaysia is kept at an all-time high," said Stoel.
 
"Unfortunately, we are a first-hand witness of how uncontrolled corruption has eroded a legitimate industry.  In just four years, the industry now comprises a market majority that does not and will not comply to any form of regulation or taxation.
"Clearly, this is a low-risk, high-reward activity because these criminal syndicates have no reservations paying off corrupt officials to avoid detection or to evade enforcement," he said.