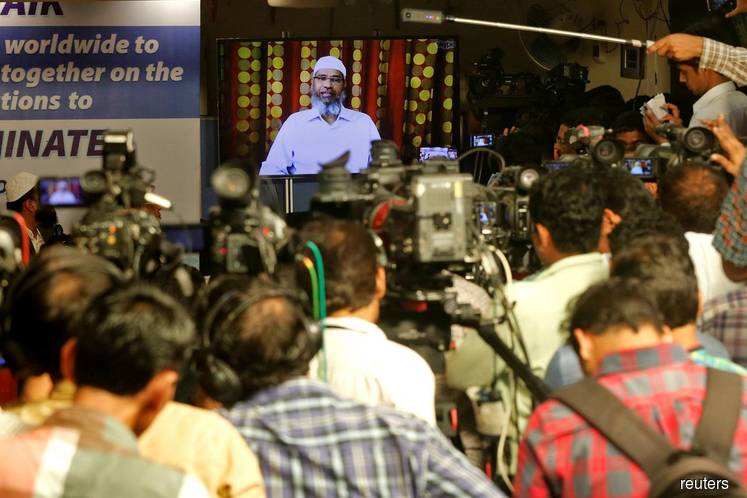 KUALA LUMPUR (Aug 19): As controversial preacher Dr Zakir Naik is scheduled to have his statement recorded again in Bukit Aman this afternoon, his lawyers sent the remaining four notices of demand to Penang deputy chief minister II Dr P Ramasamy, former diplomat Datuk Dennis J Ignatius, Klang MP Charles Santiago, and Bagan Dalam assemblyman M Satees today.
Similar to the one issued against Human Resource Minister M Kulasegaran last Friday, Zakir wants them to apologise and retract their statements within 48 hours or risk a suit being filed against them.
The four notices of demand were sent by law firm Akberdin & Co today.
Zakir had on Friday lodged police reports against the five at the Shah Alam police station and only managed to serve the notice on Kulasegaran's office on Friday afternoon.
The India-born preacher, who had been given a permanent resident status in 2015, claimed the articles or statements by the four of them which were published in the media were defamatory and instigating racial disharmony and hatred among Malaysian citizens.
The five of them were making comments over his speech at an event held in Kota Bharu, Kelantan earlier this month.
Zakir claimed their defamatory statements had affected his reputation and hence tarnished his image in the eyes of the Malaysian public, as he claimed his statement had been manipulated by them and painted him as an extremist and out to create discord.
In the notice of demand sent today, he singled out two persons, namely Ramasamy and Ignatius.
On Ramasamy, the controversial preacher claimed that the Penang deputy CM II made the statement out of malice in light of his sagging popularity following being sidelined by the DAP during the party polls.
For Ignatius, Zakir claimed that the former diplomat published the articles with malice and "motivated by a personal vendetta" against him and "cheap glory seeking objective".
The preacher is scheduled to give his second round of statement with the police at Bukit Aman at 3pm today.
See also: Zakir Naik lodges report, files notice of demand on HR Minister