This article first appeared in The Edge Financial Daily, on July 3, 2018.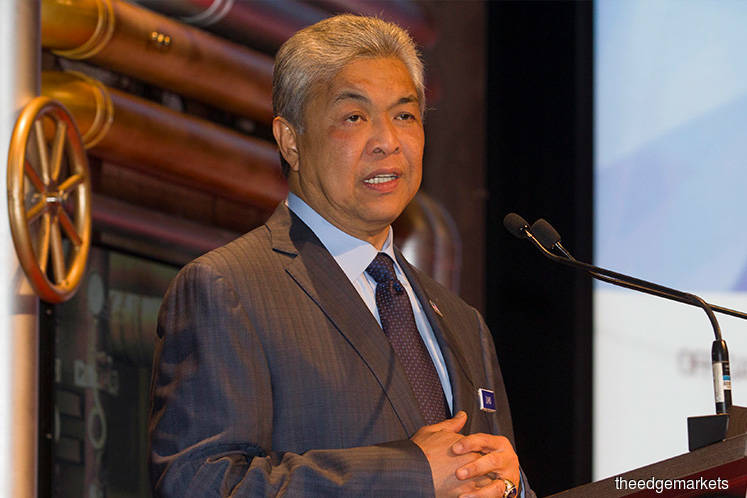 PUTRAJAYA: Umno president Datuk Seri Dr Ahmad Zahid Hamidi, who was questioned for eight hours at the Malaysian Anti-Corruption Commission (MACC) headquarters yesterday, said the session was regarding his meeting with a member of Saudi royals a few years back.
The meeting, which took place in 2015, was in relation to the donation to former prime minister Datuk Seri Najib Razak.
"I have just finished giving my statement on the 1MDB issue. This is regarding a statement made following my meeting with a representative of the Saudi royal family in 2015. They (MACC) just need more details [of the meeting], Ahmad Zahid told reporters at the MACC building.
Ahmad Zahid on Aug 22, 2015 said at the opening of the Sri Gading Umno division that he had met the chief investment officer and wealth trustee of the Arab family who donated RM2.6 billion that was transferred into Najib's personal account.
When asked to name the individual, Ahmad Zahid only said: "I am not answerable to you. I am only answerable to MACC."
In August 2015, the MACC announced that the RM2.6 billion channelled into Najib's personal account was confirmed to be a donation.
MACC, in its statement, said it had received an explanation from the donor and obtained the details of the donor via bank documents.
In the statement dated Aug 5, 2015, the document explained that the RM2.6 billion was a donation.
In 2016, Saudi foreign minister Adel al-Jubeir said the fund given to Najib was a "genuine donation with nothing expected in return".
However, earlier this year, MACC chief Datuk Seri Mohd Shukri Abdull revealed that during a visit to Saudi Arabia in 2015, a "prince" came forward claiming to be the donor, but failed to provide any supporting documentation.
Mohd Shukri said follow-up investigations came to a halt as MACC was unable to probe further without the attorney-general's go-ahead.
Ahmad Zahid is required to provide his statements to MACC on two issues, one being the said meeting while the other is on the alleged misuse of funds by a foundation held by a family-run business, which will take place today.
It was claimed that he had misused RM800,000 from the funds under Yayasan Akal Budi to settle credit-card debts belonging to him and his wife.
On Saturday, Ahmad Zahid clinched the Umno party president post in the party election, defeating Rembau member of parliament (MP) and former youth and sports minister Khairy Jamaluddin and Gua Musang MP Tengku Razaleigh Hamzah.