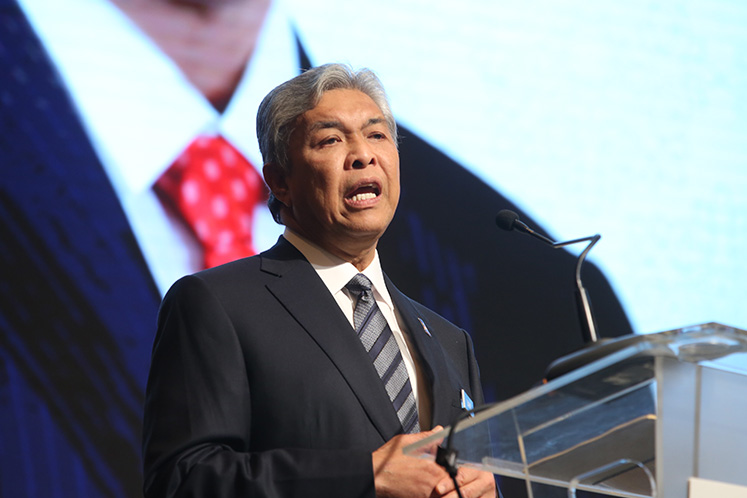 KUALA LUMPUR (March 22): The High Court has fixed an 18-day trial period starting July 8 to hear the multi-million ringgit graft case against UMNO president Datuk Seri Dr Ahmad Zahid Hamidi involving the misappropriation of funds from the foundation Yayasan Akalbudi.
Ahmad Zahid was slapped with 47 charges of corruption, criminal breach of trust (CBT) and money laundering in relation to the case.
The hearing dates were fixed by Justice Collin Lawrence Sequerah after Ahmad Zahid claimed trial to all the charges after it was read out — taking about an hour — by the court interpreter. The former Deputy Prime Minister, who was wearing a blue linen shirt, appeared calm throughout.
This was Ahmad Zahid's first appearance in the High Court after he was charged in the Sessions Court.
The specific dates for the hearing are: July 8 to 11, July 15 to 17, August 5 to 8, August 19 to 22 and September 10 to 12. Justice Sequera also fixed May 9 for mention of the case.
The prosecution, led by deputy public prosecutor Datuk Raja Rozela Raja Toran, informed the court that more than 20 witnesses will be called by the prosecution.
She also said the prosecution has served over 800 documents on the case to the defence.
Meanwhile, counsel Hisyam Teh Poh Teik, who acted for Ahmad Zahid, told the court that the defence team might make one or two applications to the High Court later.
On Oct 19 and Dec 14 last year, the Bagan Datuk Member of Parliament pleaded not guilty to a total of 46 charges, comprising 11 charges of CBT, eight charges of corruption and 27 charges of money laundering involving millions of ringgit belonging to Yayasan Akalbudi.
Then on Feb 20, Ahmad Zahid, 66, was slapped with another CBT charge, involving RM260,000 belonging to Yayasan Akalbudi.
He was charged with dishonestly using the funds to make payments for his personal credit card, pay for the insurance policies and licences of his personal vehicles, send money order to a law firm, pay a consultancy firm, and contribute to the Royal Malaysia Police (PDRM) football association.
The offences, under Section 409 of the Penal Code, were allegedly committed at Affin Bank Berhad, Jalan Bunus branch, No 133, Jalan Bunus, Off Jalan Masjid India here between Jan 13, 2014 and Jan 11, 2016 and on Dec 23, 2016.