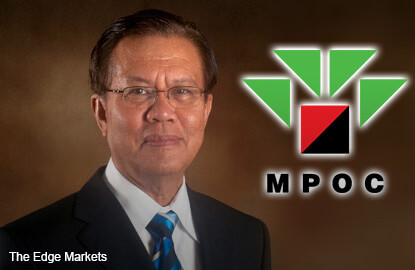 This article first appeared in
The Edge Financial Daily
, on December 6, 2016.
KUALA LUMPUR: The Malaysian Palm Oil Council (MPOC) may see a new chief executive officer (CEO) in a month's time with Tan Sri Dr Yusof Basiron's contract at the MPOC coming to an end in January 2017, industry sources said.
According to people familiar with the matter, MPOC deputy CEO Dr Kalyana Sundram and Plantation Industries and Commodities Ministry (MPIC) deputy secretary-general Datuk M Nagarajan are being named as the two potential candidates to take up the baton from Yusof.
Besides being the deputy CEO of MPOC, Kalyana is also the director of science and environment with MPOC and has 33 years of research experience with various aspects of oils and fats process technologies, nutrition and technical marketing.
Nagarajan, on the other hand, was appointed to his current role in May this year. Prior to the appointment, he was the deputy director-general of MPIC. Previously, he was the ministry's divisional secretary of the international relations division and divisional secretary of the oil, fats and sago division. He has vast experience in the fields of planning, research and policy, international relations, commodity industries and economy.
A plantations analyst with one of the local banks told The Edge Financial Daily that while a decision has not been finalised, Yusof's departure from MPOC is possible given that he has been in the role for about 10 years now.
"Anything is possible. He has been around for a long time and I think if he were to leave, it will be for greener pastures instead," the head of research said.
An industry observer also shared that Yusof has been a respected name in the industry and widely known to be one of the most vocal defenders of Malaysian palm oil.
This is in line with MPOC's task to promote the Malaysian palm oil industry and its products by enhancing the image of the commodity and creating better acceptance and awareness for it.
Yusof has been the CEO of the MPOC since 2007 and was the director-general of the Palm Oil Research Institute of Malaysia (which later became the Malaysian Palm Oil Board) for 14 years, from 1992 to 2006.
Yusof, who will be 69 years old next year, also sits on the board of Bank Negara Malaysia (since 2015) and Sime Darby Plantation Sdn Bhd (since 2010). Aside from that, Yusof is currently also chairman of CB Industrial Product Holding Bhd (since 2006).
Should Yusof retire from his role with MPOC, a management reshuffle at the organisation will come at a good time with palm oil trading at a lucrative level of RM3,135 per tonne as well as an anticipated increase in palm oil production for 2017 after a lacklustre year as a result of the dry spell caused by the El Nino effect.