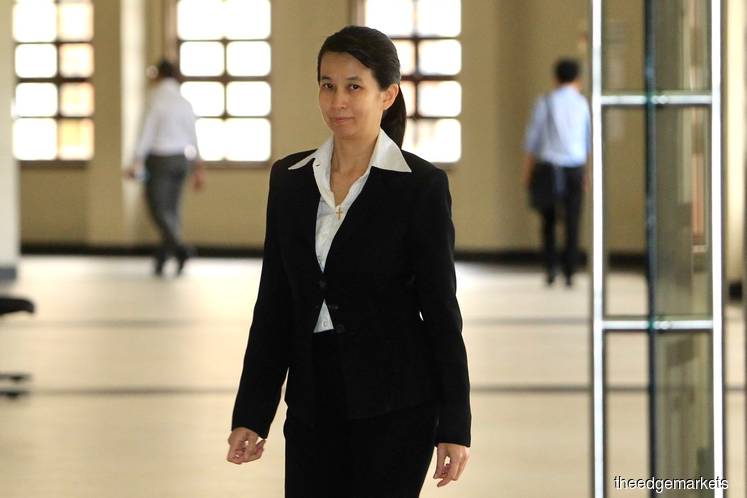 KUALA LUMPUR (July 25): Former AmBank relationship manager Joanna Yu Ging Ping (pictured) has denied sharing excerpts of her email and BlackBerry Messenger (BBM) chat logs with the Wall Street Journal (WSJ).
During cross-examination today, Datuk Seri Najib Razak's lawyer Harvinderjit Singh asked Yu, who is the prosecution's 54th witness, whether she had shared excerpts of emails or chat logs with WSJ reporters Bradley Hope and Tom Wright, who were also the authors of Billion Dollar Whale.
"At no point in time did you send any of your BBM messages, chat logs or any emails to one Mr Tom Wright and one Mr Bradley Hope?" asked the lawyer.
"No," said Yu.
"Have you had the chance to read The Billion Dollar Whale?" asked Harvinderjit.
"I have not read it," she said.
The lawyer then asked one more time whether the witness had shared any excerpts of emails or BBM messages with WSJ, but she again denied it.
During the morning session, Yu admitted knowing fugitive businessman Low Taek Jho aka Jho Low back in 2008.
This contradicts her witness statement which says she only knew Low in 2009.
She also agreed that Low was more of a reactionary person rather than one who plans ahead, as suggested by Harvinderjit, given the witness' testimony that Low was very hard to reach and was not aware that the accounts were overdrawn.
Harvinderjit then asked the witness about AmBank's involvement with various 1Malaysia Development Bhd (1MDB) subsidiaries and endeavours such as Powertek Investment Holdings Sdn Bhd, the fund's energy assets, as well as its Tun Razak Exchange and Bandar Malaysia property development projects that were worth billions of ringgit.
The witness replied that AmBank was only involved with some of these businesses.
Asked if Low was an important client for AmBank, given the volume of deals he was bringing in, Yu said he was not particularly important.
"He was a client of the bank. All of our clients are important," she said.
She added that the bank had handled many infrastructure projects similar in size to the deals that Low was bringing in, so the deals were not out of the ordinary.
The witness also said that the relationship managers at AmBank do not get commissions from deals but instead get bonuses.
The defence had tried to establish that Low played a lead role in the events surrounding SRC International Sdn Bhd, asking the witness whether former managing director Nik Faisal Ariff Kamil had taken instructions from Low.
"They were in communication. They were always working together," said Yu.
"Would you agree with me that Nik Faisal had played more of a subordinate role?" asked Harvinderjit.
"I don't think I'm in a position to say so," replied Yu.
The lawyer then pointed to a BBM chat log which showed that Yu was referring to Low as 'boss', although Yu said that they refer to each other as 'boss' from time to time.
Najib is facing seven charges, comprising three for criminal breach of trust, one for abuse of power and three for money laundering involving RM42 million SRC funds.
Yu's cross-examination was interrupted earlier today when a bomb scare led to the evacuation of the Kuala Lumpur Courts Complex.