This article first appeared in The Edge Malaysia Weekly, on December 23, 2019 - December 29, 2019.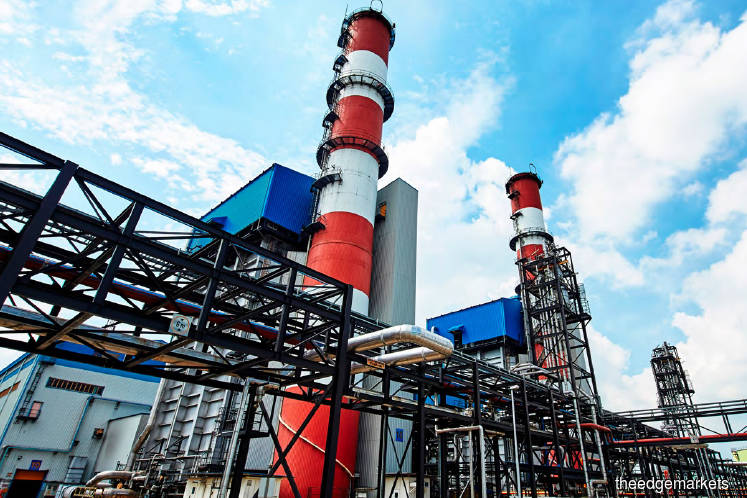 YTL Power is a leading power player in Singapore. In Indonesia, its 80%-owned Tanjung Jati A project is nearing financing close.
Click / Tap image to enlarge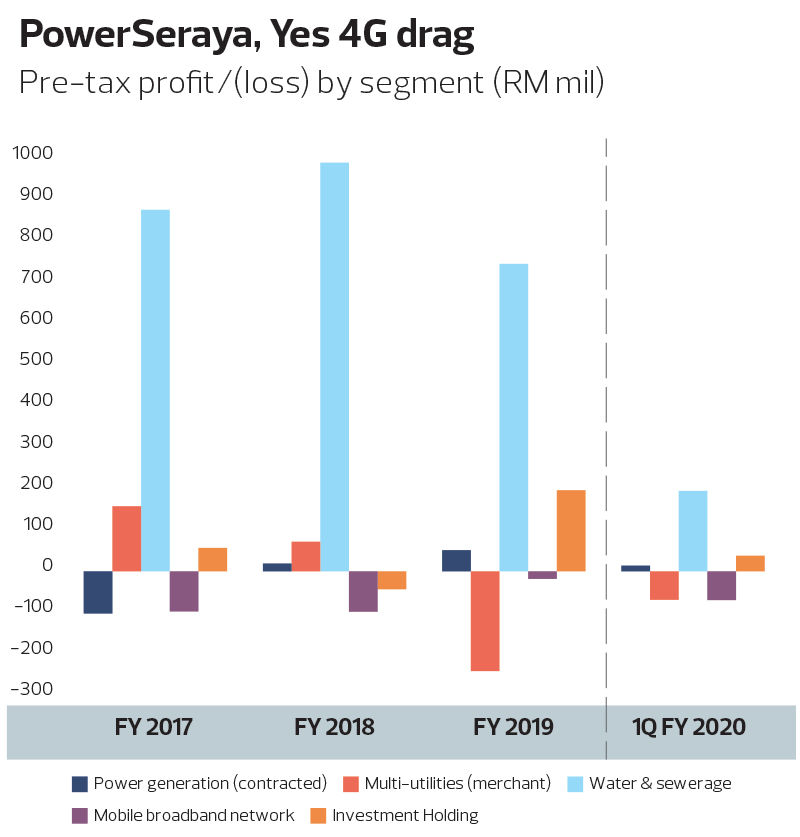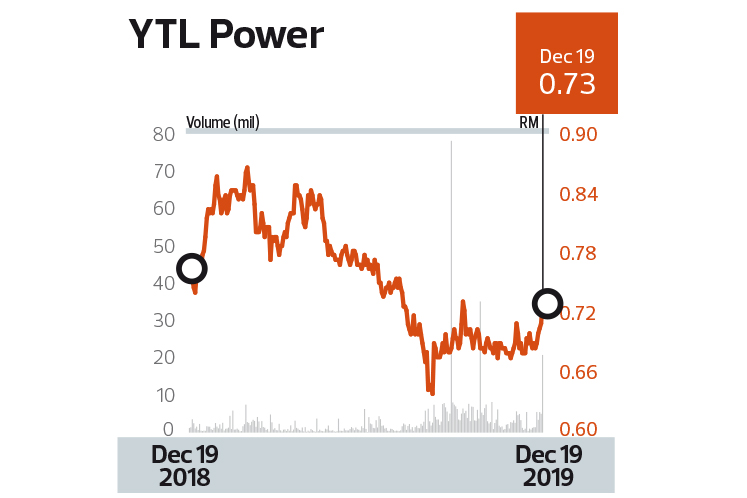 IT has been a muted few years for utility outfit YTL Power International Bhd.
This year, the company's shares hit 15-year lows as investors lost interest in it because of its shrinking profit and uncertainty about its growth in the power sector, where it had made its fortune in the 1990s.
Nevertheless, the venue of a recent interview with YTL Power managing director Datuk Yeoh Seok Hong — a sun-lit corner in the café of the luxurious Majestic Hotel, which is part of the YTL group — is a reminder of the successes enjoyed by the conglomerate that was once the darling of foreign and local investors alike.
"We are a long-term player," Yeoh tells The Edge, referring to YTL Power's current low profile. "As long as we keep our cash, we are disciplined, we know where we are investing, and we are creating our next stream of cash flow, we are fine."
The company's next money spinner is a 45%-owned, US$2.1 billion, 470mw shale oil power plant in Attarat, Jordan, which comes with a 30-year power purchase agreement (PPA) beginning mid-2020 with an attractive internal rate of return (IRR) of 19%.
However, the company's other ventures have yet to pick up speed. Its Singapore multi-utility division, YTL PowerSeraya Ltd, slipped into the red in an oversupplied electricity market. Similarly, competition remains tough for Yes 4G and the telecommunications division dived further into the red in the absence of the 1BestariNet contract.
There is also the 80%-owned 1,320mw Tanjung Jati A coal-fired power project in Indonesia, whose financing close has been delayed.
But after two years, YTL Power is taking its next course of action across all fronts.
Wrapping up financing for Tanjung Jati soon
"For Tanjung Jati, we are going to wrap up the financing, hopefully in the next few months," Yeoh says, pointing to several options, such as the Exim Bank of China, US dollar financing or sukuk.
To recap, in March 2018 Indonesia's state-owned utility firm PT Perusahaan Listrik Negara (PLN) renegotiated the Tanjung Jati PPA, which was first mooted in the 1990s. However, the administrative process was delayed by the Indonesian general election that was held in May this year.
It is widely reported that Indonesia typically provides government guarantee to IPPs for PLN's financial obligation as the electricity supply's single off-taker — an attractive clause for potential investors.
Tanjung Jati will see YTL Power's first attempt to raise fresh capital in the Malaysian sukuk market to finance its project overseas.  Yeoh believes the structure will also help portray Malaysia as a market to connect infrastructure projects with the necessary funding.
"It will solve a problem for our investors — our pension funds are hungry but there is no project in Malaysia.
"There will be country risk and currency risk, so there is a hedging element to it … So this is something new. They are quite keen, I think we will see how it goes."
Tanjung Jati is YTL Power's second greenfield power plant project outside Malaysia, and if successful, it will cement the company's ability to compete with bigger players out there. Estimated to cost between US$2.7 billion and US$3 billion, Tanjung Jati A comes with a 30-year PPA up until 2051 and an indicative IRR of 12% to 13%.
Ripe for consolidation in Singapore
YTL Power also has a different point of view of its loss-making Singapore utility venture — it plans to turn the mounting pressure in the city state's power sector into an opportunity.
In the absence of long-term contracts and pertinent oversupply, PowerSeraya's pre-tax loss widened quarter on quarter to RM69.15 million in 1QFY2020 ended Sept 30, 2019, although revenue rose to RM1.69 billion.
"If you look comparatively, we are the healthiest [power] company [there]," Yeoh observes. "There are  other players that are now under stress … So, this is the time for us to look at opportunities of consolidation.
"We have a 3,100mw generating capacity licence. Our plant will need to be re-planted [so] we either shut down old plants and build new ones or consolidate with plants that have gone bust."
With a total generation capacity of 13,667mw, the Singapore market is highly saturated with a 90% reserve margin, and more than a dozen retail players servicing a population of just 5.8 million.
The million-dollar question is, who will be the last one standing in the generation and retail market where the oversupply is expected to persist for the medium term?
"We can because we are 100%-owned. We have fixed our financing for the next five years. We are there," says Yeoh, who predicts the start of a market consolidation as early as the first quarter of next year.
Among generation companies or gencos, Hyflux Ltd was the first casualty with its maiden 411mw power plant — part of an integrated water desalination plant — taken over by creditors and put up for sale this year. The company tanked on low electricity prices as it could not support the high debt it assumed to fund the project.
Including PowerSeraya's Geneco, six out of the 13 retail players in the market are backed by gencos. The latest casualty was Red Dot Power Pte Ltd, which exited the market in January, citing a "financially challenging period" after eight months of operation.
The YTL group is known for its ability to clinch the right deal at the right time. PowerSeraya was acquired from Temasek Holdings Ltd at the height of the 2008/09 global financial crisis.  This year, YTL Corp Bhd surprised the market by proposing to acquire an eventual 77% of Lafarge Malaysia Bhd for RM2.46 billion as LafargeHolcim Ltd sought to exit the Malaysian market.
As at Sept 30, YTL Power had cash and cash equivalents of RM8.59 billion against short-term borrowings of RM1.87 billion.
Steady with Yes 4G
In the meantime, YTL Power can focus on turning around its loss-making Yes 4G venture parked under 60%-owned YTL Communications Sdn Bhd. The telco suffered a pre-tax loss of RM69.73 million on revenue of RM97.77 million in 1QFY2020.
Before this, its biggest hurdle was dispelling the uncertainty about its low-band spectrum and its 5,000 base stations or towers throughout the country — the highest tower count among telcos as at October last year.
"I am saying that we are going through a difficult patch because of all this uncertainty," Yeoh says. "Once it has cleared, hopefully, we can turn things around. Our story and attractiveness will come another day.
"Now we can reinvest … We will probably bring in new partners, we will show the way on how to invest in 5G, like we did with 4G (Yes was the first to introduce Voice over LTE).
"The good news is that YTL is now here. Are we keen on Malaysia? Yes. Are we prepared to invest in Malaysia? The answer is yes. As far as we are concerned, we have already got nationwide coverage. So we can compete equally. The competitors will have to get used to it."
According to Yeoh, Yes 4G has broken even at Ebitda (earnings before interest, tax, depreciation and amortisation) level with around one million subscribers to date.
The group, he adds, had a successful six-month pilot with Facebook for the Terragraph gigabit wireless network — which is integrated with GiGA Wire technology that can deliver fibre-like speeds on copper wires — in George Town, Penang. A white paper on Terragraph will be published by Facebook in due time.
It should be noted that Telekom Malaysia Bhd is also adopting the GiGA Wire technology for its services, as announced in July this year.
Ambitions aside, the pressure is mounting on YTL Power. Analysts cite its disappointing 1QFY2020 results where net profit fell 46.7% year on year to RM67.36 million on revenue of RM2.96 billion.
Its wholly-owned subsidiary in the UK — Wessex Water Services Ltd, which contributed 79% to its pre-tax profit — will reinvest 20% of its net profit in community projects in compliance with new regulations in 2020 to 2025. At the same time, the utility sector's allowed return on capital has been reduced to 2.96% from 3.19% previously.
YTL Power's annual dividend of five sen per share — paid consistently over the last three years — represented an 80% payout ratio of FY2019 earnings per share of 5.97 sen. As it is, analysts are largely predicting core net profit to decline further in FY2020 before recovering in FY2021.
Over the past year, the stock has lost 4.52% and closed at 73 sen last Thursday, giving the company a market capitalisation of RM5.6 billion.
Until things go as planned, the group will have to buckle up for the ride. "Today, in the mindset of the market, if you want [to go] long, you are a crazy guy," says Yeoh. "But it's cyclical … The time will come. We will wait."
'We don't need PPAs anymore in Malaysia'
It is not often that an industry incumbent embraces a change in the status quo.
Under the Malaysia Electricity Supply Industry (MESI) 2.0 reform, the government has proposed to no longer issue new power purchase agreements (PPAs) — a contract structure deemed as a sweetheart deal as it provides fixed payments for the generation capacity of independent power producers (IPPs) regardless of the actual offtake.
Refreshingly, the industry pioneer that benefited from Malaysia's first-generation PPA welcomes the change with open arms.
"I think it is clear, for [Malaysia], the benefit is there. To rejuvenate [the sector], you don't need PPAs anymore … The market takes care of itself," says YTL Power managing director Datuk Yeoh Seok Hong.
In 1993, the YTL group became the first IPP to secure a PPA from the government following a nationwide power outage in 1992.
Now, YTL Power has just one short-term PPA left, for its 1,212mw power plant in Paka, Terengganu, which ends in 2021. Its plant in Pasir Gudang, Johor, has been decommissioned.
The first-generation PPAs were criticised as lopsided because the IPPs were paid for generation capacity, which meant that the end-users had to pay for unused capacity as well. Proponents argued that the structure ensured energy security.
Nearly three decades on, Malaysia's electricity sector has matured with sufficient generation capacity, so much so that regulators are exploring a spot market to drive down prices via competition without compromising energy security.
"I believe the industry's sum of parts is greater than the whole. So, if the government is prepared to move into an open market, [the industry] will be more vigilant and the consumers will actually benefit," Yeoh says, citing the intense competition in Singapore where electricity prices have dropped by almost a third.
Since 2008, YTL Power has participated in Singapore's liberalised power market, where fuel is sourced independently, power is sold on the spot market and there are many retailers to compete against.
There, YTL Power is a "gentailer" with its generation unit YTL PowerSeraya Ltd boasting a 3,100mw capacity while retail arm Geneco commands 17% of the market, making it the second largest retailer in the city state.
In Singapore, the group is also involved in oil storage tank leasing, oil trading and bunkering as well as the supply of other utilities, namely steam, natural gas and water.
Under Malaysia's power sector reform, the government intends to roll out NEDA+, a spot market which will include capacity payments (as opposed to just energy payments under NEDA) to incentivise power producers with excess capacity or expired PPAs to sell energy through spot contract.
Also, a pilot is scheduled for 4Q2020 for independent coal sourcing by IPPs in a bid to introduce competition and drive down fuel cost, which makes up 42% of the average electricity tariff in Malaysia. Currently, the main fuel sources are supplied by Tenaga Nasional Bhd (TNB) (coal) and Petroliam Nasional Bhd (gas).
A pilot to open up the retail segment is scheduled for 2Q2021, which will present retailers with the opportunity to provide bundled services, such as electricity with gas or broadband internet. YTL Power owns 60% of telecommunications service provider Yes 4G. TNB, too, is exploring broadband opportunities through its fibre assets along its transmission grid.
But the reform will be a long and arduous journey. It will be 10 years before a merchant market is introduced and the retail market is fully opened up.
While the government plans to publish by 3Q2020 the guidelines for third-party access to transmission line, there is no deadline for its implementation. It is pending an outcome of a legal opinion slated for the end of the year.
 According to the World Bank, an independent transmission segment is critical to the liberalisation of the power sector.
To the government's credit, special-purpose government agency MyPower Corp will produce a report in 1Q2020 to underline the steps to improve governance in the single buyer (the entity that will buy all the power supply) and the grid system operator, which will also be responsible for the interconnections with Thailand and Singapore.
"Yes, we are excited. It is a natural play for us. We have the expertise, we have got the people, we have got the system, we know the game," says Yeoh. "[But] we'll have to wait, whether the market [truly] opens up … there is a lot to do."