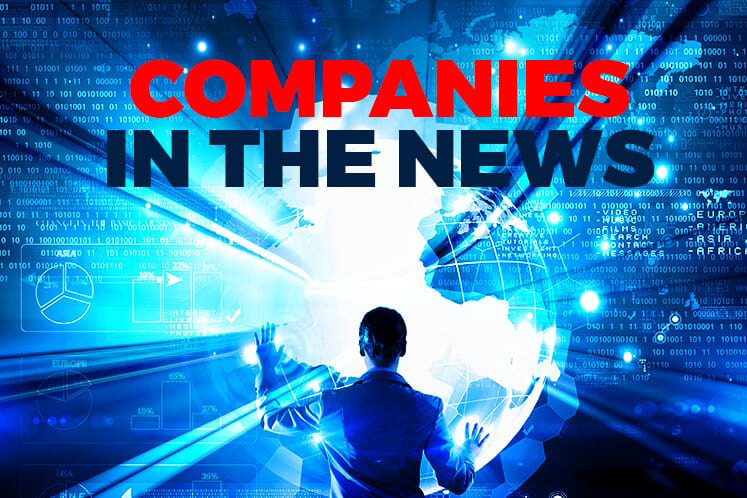 KUALA LUMPUR (Feb 14): Based on corporate announcements and news flow today, stocks in focus on Friday (Feb 15) may include: YTL Hospitality Real Estate Investment Trust (REIT), Yinson Holdings Bhd, Carlsberg Brewery Malaysia Bhd, Xin Hwa Holdings Bhd, Scope Industries Bhd, Sunway REIT, PLS Plantations Bhd, Gas Malaysia Bhd and Dialog Group Bhd.
Tan Sri Dr Francis Yeoh Sock Ping has been promoted to executive chairman of YTL Hospitality Real Estate Investment Trust (REIT), from chief executive officer (CEO) previously.
Meanwhile, his brother Datuk Yeoh Seok Kah will take over as CEO effective today, YTL Hospitality said.
Yinson Holdings Bhd's wholly-owned subsidiary Yinson Energy Sdn Bhd has been awarded a contract worth US$578 million or RM2.357 billion from JX Nippon Oil & Gas Exploration (Malaysia) Ltd to provide operations and maintenance (O&M) services for the latter's floating production storage and offloading (FPSO) facilities.
"The tenure of the O&M Contract is effective from 12 February 2019 and shall remain in full force until termination of the contract for the provision of EPCIC (engineering, procurement, construction, installation & commissioning) and leasing for the Layang FPSO facilities. The charter contract is for a firm period of eight years and comes with options for 10 extension periods of one year each," Yinson said.
Carlsberg Brewery Malaysia Bhd's fourth quarter net profit rose 34.9% to RM67.45 million from RM50 million a year ago on stronger performance in Malaysia and Singapore operations, coupled with higher share of profit from associate company, Lion Brewery (Ceylon) PLC.
Revenue for the quarter ended Dec 31, 2018 rose 22.3% year-on-year to RM525.65 million from RM429.94 million.
Carlsberg declared a fourth quarter interim dividend of 16.6 sen per share, a final dividend of 22.4 sen per share and a special dividend of 9.3 sen per share, amounting to a total of 48.3 sen per share.
The board of Xin Hwa Holdings Bhd, which has been alerted on alleged irregularities involving some transactions and payments, has appointed KPMG Management & Risk Consulting Sdn Bhd to conduct an independent review on the company.
"Following from engagement with Bursa (Securities) on the matter, the board therefore has today appointed KPMG to conduct an independent review on these allegations to ascertain whether there is any irregularity," it said. The investigation will commence on Feb 18, 2019 and is expected to be completed within 10 weeks.
ACE-Market listed Scope Industries Bhd has proposed to undertake a private placement of up to 66.91 million new shares, representing 10% of its total issued share capital, to fund its electronic manufacturing business expansion.
Based on an illustrative issue price of 13.5 sen — which is based on its five-day volume weighted average market price and a one sen discount — Scope Industries may raise up to RM9.03 million.
Sunway Real Estate Investment Trust (REIT) announced a net property income (NPI) of RM104.23 million for its second quarter ended Dec 31, 2018 (2QFY19), up a marginal 0.8% from RM103.37 million a year ago.
The REIT said it recorded lower revenue but lower advertising and promotional (A&P) expense of RM1.6 million and maintenance expenses of RM1.8 million helped sustain its NPI. It proposed an income distribution per unit (DPU) for 2QFY19 of 2.25 sen.
Quarterly revenue fell 1.39% to RM139.5 million from RM141.47 million mainly attributable to lower contribution from the hotel segment mitigated by better performance of the other segments.
Founder and substantial shareholder of PLS Plantations Bhd Tan Sri Lim Kang Hoo has assumed the executive chairmanship of the company.
PLS also said that Cho Joy Leong @ Cho Yok Lon and Chow Yoon Sam were appointed independent and non-executive directors of PLS.
Kang Hoo's soon, Lim Chen Thai was redesignated as alternate director from non-executive director, while Datuk Ibrahim Keling has resigned as independent and non-executive director due to personal matters, the group said.
Gas Malaysia Bhd's net profit in the fourth quarter ended Dec 31, 2018 fell 16.7% on-year to RM51.08 million from RM61.35 million the year before, on lower gas contribution margin due to the Gas Cost Pass Through (GCPT) adjustment set for the July-December 2018 period.
The lower quarterly net profit came despite revenue rising 19.4% to RM1.74 billion from RM1.46 billion, backed by higher volume of natural gas sold and higher natural gas tariff.
It declared a 4.5 sen dividend per share, amounting to RM57.78 million, payable on March 28.
Dialog Group Bhd's second quarter net profit rose 18.15% to RM136.78 million, from RM115.76 million a year earlier, thanks to cost savings realised on completed projects and increased share of profit in joint ventures and associates.
The higher earnings were recorded despite revenue falling 28.9% to RM609.61 million from RM857.43 million previously, it said, mainly dragged by the group's Malaysian operations due to the near completion of the engineering, procurement, construction and commissioning works in the Pengerang Deepwater Terminals (PDT) Phase 2 projects.