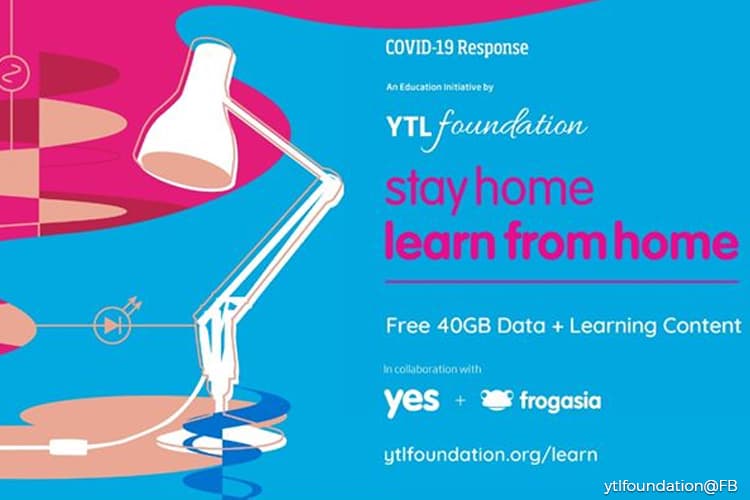 KUALA LUMPUR (April 7): The YTL Foundation will be giving away free mobile phones to government school students under its Learn from Home Initiative, on top of free Yes 4G SIM cards with 40GB of data and free learning resources that have already been made available earlier.
The foundation will be working with YTL Communications to offer the mobile phones to bottom 40 (B40) families with children in government schools that do not own smartphones or other smart devices, it said in a statement.
Each phone will come with a prepaid Yes 4G SIM card that has a 12-month data plan with 120GB of data in total.
The foundation is also asking school teachers to nominate families in need.
"Teachers are front liners when it comes to helping needy students in their classes, often volunteering their own time and resources to help these students. Teachers are also the natural partners for parents if learning from home and learning in school is to be an integrated experience for students," said the foundation.
Teachers can nominate students to receive a free phone at www.ytlfoundation.org/learn. Successful candidates will be notified and will be required to submit their registration for the free phone and 12-month 4G data plan.
Puan Sri Sherina Aris — former teacher and spouse of YTL Foundation trustee Tan Sri Ari Othman — concurred that teachers are in the best position to evaluate the needs of their students.
"I grew up in an extremely poor family, and it was my teachers who helped me finish my education. I had become anaemic from lack of nutrition and it was a teacher who noticed this and sent me to a doctor and found sponsors for my school fees. The other teachers chipped in to make sure I had enough daily nutrition. 
"As a former teacher and someone who has experienced the kindness of teachers, I believe you can trust that teachers have the wellbeing of their students at heart," she said. 
Meanwhile, YTL Foundation chairman Tan Sri Francis Yeoh Sock Ping said his mother was a teacher, and he and his siblings grew up witnessing her dedication to her students.
"She would give extra classes to her weaker students every day after school, but not before feeding them as she knew that many would not be able to afford a decent midday meal. We salute all teachers and we trust them to help us ensure that their most needy students will receive the free mobile phones," said Yeoh. 
#dudukrumahdiamdiam. We will deliver the news to you at theedgemarkets.com.