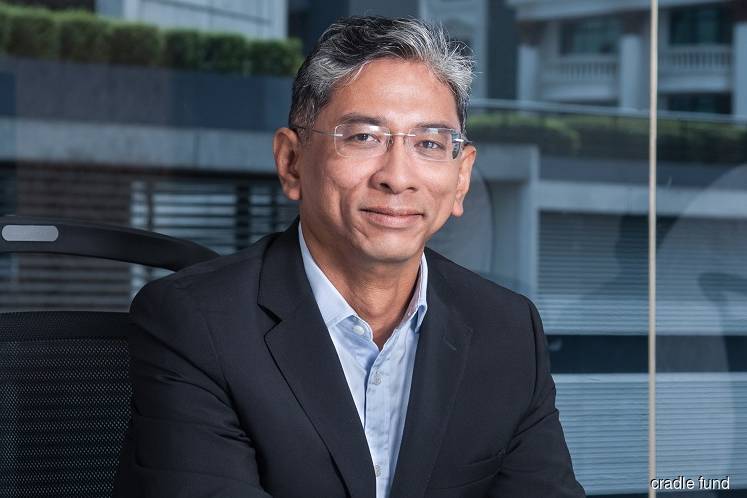 KUALA LUMPUR (Nov 27): Joining a profession or getting a job is not the only option available to Malaysian youths, but it is about creating opportunities and options to become entrepreneurs, said Cradle Fund Sdn Bhd acting group CEO Razif Abdul Aziz (pictured).
In an email interview with theedgemarkets.com, Razif said some local universities have begun embedding entrepreneurship across all their courses.
He said the same may be implemented both at primary and secondary school level, to build the requisite knowledge at an early stage.
"We can then create opportunities for them to exercise that knowledge in a safe environment through business plan competitions and pitching events in schools and/or universities, while providing grants and other forms of support," he said.
Razif said the push towards STEM (science, technology, engineering and mathematics) and the introduction of digital elements in schools also bode well.
'Expensive mistake'
Meanwhile, to a question of whether the Malaysian government is doing enough to instil the desire among young people to embrace digital technology and have ideas about startups from the hard sciences, Razif said merely funding startups without paying due attention to the development and cultivation of a supportive ecosystem would be an expensive mistake.
Razif said when compared with its regional peers, Malaysia's talent and level of sophistication are comparable with the best, including Singapore.
"I believe we are a good test bed to deploy goods and services in a fairly sophisticated market that could then see deployment region wide.
"The main issue is the lack of market size that is a huge draw for most venture capitalists," he said.
Razif said the result of this is that Malaysia will not enjoy the sizeable funds that are making their way to larger markets like Indonesia and Vietnam of late.
"Arguably this will be mitigated somewhat by the government actively putting funds into the market and drawing investor interest, including through matching funds and tax incentives for investment in to the tech space," he explained.
Meanwhile, Razif said established corporations could create opportunities that an entrepreneur can harness and make sure those opportunities are communicated well.
"These are the essential elements needed to encourage and create startups," he said.
'Imagination failure & duplication of ideas'
Razif added that 80% or more of all the applications that Cradle receives are from digital tech startups and tend to be for very similar ideas.
He said while there are good arguments for the localisation or enhancement of existing ideas, it becomes less clear how very similar startups can survive an increasingly crowded market.
"In which case, more hard tech startups bringing innovations from bench to market could in fact bring a new vibrancy to the tech startup scene," he said.
On the involvement of corporations, Razif said over the last 4-5 years, there had been more corporate activity in the tech startup space.
"In Cradle's context, we have had good engagement with the Sunway Group, Hong Leong Bank Bhd and K-One Technology Bhd," he said.
Razif added that potentially, collaboration with corporates can bring about benefits if done right, because they bring to the table a range of resources and expertise which startups can only dream of.
He said while there are more corporates participating now than there ever was, there is still much room for improvement.
"Moving forward, we would like to encourage and partner with more government bodies to better meet the needs of an ever changing market as we have not seen much from our giant GLCs who prefer to deploy proprietary programmes.
"We shall be looking to enhance our efforts in fostering openness to innovation in supporting new technology spaces," he said.
'What is holding back startups?'
Razif said beyond capital, startups need a lot of facilitation, including access to markets, help with regulations, and access to talent.
"Perhaps it is due to a lack of opportunities in the form of funding, facilitation, a supportive ecosystem etc.
"I think we need to address this quickly before it becomes a missed opportunity for Malaysia," he said.
Meanwhile, Razif said Cradle is set to focus on a new range of grant products with the RM20 million allocated to it under Budget 2020, to appeal to a wider range of startups from digital to hard tech.
He said that this way, the ecosystem will be much more inclusive and diverse.
He explained that Cradle plans to continue deploying of its tried and tested value added support services such as dedicated coaches for all recipients to assist in the business building process, access to a variety of services as well as freebies such as free cloud services from its partners.
"Notable will be the much-awaited Coach & Grow Programme (CGP), which will make a return in 2020 with Season 5 and is highly recommended for startups looking for support beyond just funding," he said.
On the challenges ahead for Cradle, he said these included achieving scale in its outreach activities due to limited resources.
He said outreach was important because it creates awareness.
"We firmly believe people need to know about the opportunities we offer and what the startup ecosystem offers to budding startups.
"With good outreach we hope to find the best of the best startups Malaysia can offer," he said.
At present, Cradle has established five hubs where it works with local partners (Penang, Johor Bahru, Kuala Terengganu, Kuching and Kota Kinabalu), said Razif, adding that local partner selection is the most critical part of the process.
"With the right partner we are assured of a large and relevant audience. It's not good enough just to fill the room, it must be filled by the right people, otherwise it would be a waste of time and resources," he said.
Razif explained that with this system, Cradle is able to schedule engagements with its hubs year round at regular intervals while the local partners continue the work.
He said local startups can still connect with the partners if they need support and stay connected with Cradle through the local partners.
"This way we leverage their grass-roots networks and there is a win-win relationship. We hope to do the same with public universities. The idea is to find like-minded organisations that can push the agenda together with us," he said.
On his agenda for Cradle as the new decade is set to begin, Razif said the fund was gearing up for the twelfth Malaysia Plan (RMK12) and push firmly into hard tech under the lead of the Ministry of Energy, Science, Technology, Environment and Climate Change.
"We are presently waiting for the proposed focus areas to be chosen that will drive development for the next five years under RMK12 (2021-2025). Our role will be to remain aligned in order to support said development," he said.