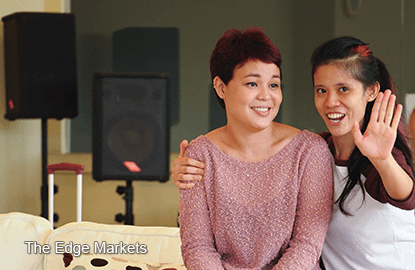 THE term "coming of age" refers to a young person's transition from childhood to adulthood, and refers to anything from sexual maturity to religious responsibilities. It's an important time in a person's life as their convictions begin to form, and they begin to realise that these decisions are theirs to make alone. This period has often been played out on the silver screen, in the pages of a novel or on stage, for good reason – the metamorphosis of a child to that of an adult is an experience that stays with you forever. 
An ongoing play at the Kuala Lumpur Performing Arts Centre (KLPac) entitled The Taste of Water explores this experience in a localised context, highlighting subjects and themes that may be rarely discussed, but are very prevalent among young people today. Written by Calvin Wong, the play is about two new-found friends, Janet and Lily, who are housemates and students at Monash University Sunway. One full year of their friendship is condensed in Wong's 90-minute script as the two girls struggle with the realities of living on their own, the bonds of family and the fragility of young relationships. 
Presented by The Actors Studio, The Taste of Water is a project under the New Malaysian Works Grant for scriptwriting that is co-organised by Jabatan Kebudayaan dan Kesenian Negara and Kakiseni. KLPac co-founder and artistic director Joe Hasham directed Ho Lee Ching and Rosheen Fatima in the title roles, with Safia Hanifah and Nur Zakuan playing supporting characters.
The Taste of Water begins with a very sweet exchange between the two protagonists, Lily (Ho) and Janet (Rosheen) as they eke out the terms of their friendship. The entire story is played out in the living room of the flat that the two share  — while not an elaborate set, it contains details that make the setting especially real: simple yet functional furniture and a threadbare kitchen with a mostly empty fridge. Typical of student accommodation, everything is almost entirely sourced from Ikea. 
As the play unfolds, Wong emerges to be a sensitive and articulate playwright well ahead of his 28 years. Aside from an all-female cast (part of his aim to create a stronger bank of female-driven narratives in local theatre), the script tackles other topics like homosexuality and teenage pregnancies, while highlighting the chasm between child and parents' perspectives. 
The point of view of the church is especially prevalent. Janet is pregnant by her long-distance boyfriend, while Lily is gay – both girls are hiding this from their mothers, whose involvement in the church bars them from being understanding of their daughters' predicament.
By paying close attention to characterisation, Wong has ensured that talented actresses that Hasham cast are able to flesh out their roles incredibly well. Ho and Rosheen are utterly likeable as Lily and Janet, and learn to adjust to each other as the year progresses. Nur Zakuan plays Caprice, Lily's girlfriend, who makes a heartbreaking discovery towards the end of the play.
The play benefits greatly from Hasham's concise directing style — pregnant pauses that teem with possibilities and emotional reactions that are realistic without seeming overdramatic in the least bit. The characters' nuances are also brought out quite nicely, with small details that let our minds complete the picture: Janet's mother, Safia, who comes to visit, is obsessed with rearranging things, Janet herself gets affectionate and emotional when she drinks, while Lily has strong opinions on music, including that of jazz great Leonard Cohen. 
The acting in The Taste of Water is superb, with Ho's acting most notable — she pulls off Lily's casual nonchalance, fury and frustrations in a most realistic way, down to the way she hides her feelings to protect others. Rosheen plays Janet as a sweet, slightly awkward and shy college student, and Zakuan is the strong, loud and bold partner to Lily's more girlish personality.
Funny, moving and incredibly introspective, The Taste of Water is a remarkably honest look at young people in Malaysia, and a reminder of how hard things can be at that age. We often berate young people for the many quirky things they do and their perspectives that are so different from our own, neglecting to notice that their circumstances are different too. 
---
The Taste of Water is playing until July 12 (8.30pm, 3pm) at Pentas 2, KLPac, Jalan Strachan, off Jalan Ipoh, Kuala Lumpur. Tickets are RM55 and RM35. Call (03) 4047 9000 or visit www.ticketpro.com.my to book. 
This article first appeared in The Edge Financial Daily, on July 7, 2015.