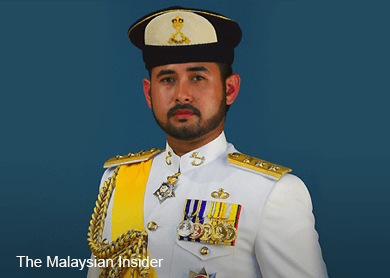 (June 15): Without naming him, the Crown Prince of Johor Tunku Ismail Sultan Ibrahim today reminded Tourism and Culture Minister Datuk Seri Nazri Aziz, that he was not God "who lords over everybody".
In a hard-hitting Facebook posting, the crown prince told Nazri that he was a minister, responsible to serve the people who had entrusted him with the position.
"You are a minister, not a God from the heavens who lord over everybody. Do not think the people of this country exist to provide you with position and wealth, but the positions exist for you to serve the people," he said.
"In the new world order, I envision a future that every person has a right to voice their opinions. However, that is not the case in Malaysia today, where ministers think they are untouchable."
This comes after Nazri, on June 13, ticked off the crown prince over his criticism of Prime Minister Datuk Seri Najib for not showing up at the "Nothing to Hide" forum on 1Malaysia Development Bhd.
"How can you have a dialogue called 'Nothing2Hide' featuring a person who has everything to hide? Obviously he won't show up," the crown prince had said last week.
"For those who have been entrusted with the responsibility, do not blame the people for losing confidence and trust in you, but think of why they no longer have the confidence and trust in you."
Nazri, who is also an Umno supreme council member, then said rulers and members of the royal family were not above the law and should not comment on politics "otherwise he will be subject to the same rule and we will whack him".
Today, Tunku Ismail lamented that his "gentle reminder" had been met with a "hostile" response from Nazri, noting that he had only reminded the leaders that they had a responsibility to serve the people.
"If I got such a reply, then what chances do the rest of the rakyat have? I am willing to be cursed for standing up for what is right, rather than be loved for defending what is wrong.
"When I voice out, I do it as the leader of my rakyat, on behalf of Johoreans and Malaysians. All I did is to remind the leaders of the country that they have a responsibility to serve the people, and for this, I am attacked."
The crown prince said that he was only answerable to Allah, the Sultan and the people of Johor, which, he said, only has place for those who serve the people.
"I am not a politician. I am only answerable to Allah, my Sultan and the people of Johor. I do not do the bidding of some puppet-master who pulls the strings.
"Johor only has place for those who want to serve the people, not for those who want to garner votes for their own interests.
"There will come a time, when Johoreans must decide what is best for us and our future generations. Decide and unite we will, as Bangsa Johor, to forge our future. United we stand strong, divided we fall.
"I stand for my rakyat, not to joust for power, not to topple the government, but to ensure the well-being of my people." – The Malaysian Insider