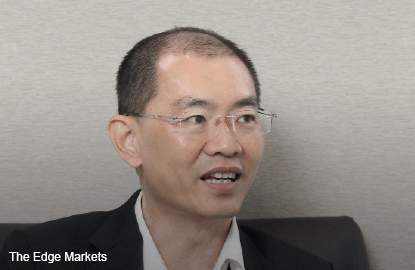 This article first appeared in Corporate, The Edge Malaysia Weekly, on May 2 - 8, 2016.
YONG Tai Bhd recently had a complete makeover in a bid to transform itself from a loss-making company to a profitable one, making a dramatic shift from its core business of textile manufacturing into property development. 
This has yielded some early fruit as its financial year ended June 30, 2015 (FY2015) saw the company turn around. It registered a net profit of RM7.75 million, compared to a net loss of RM7.27 million in FY2014, as its maiden property development project, The Pines in Melaka, contributed to the bottom line. 
There was also a total revamp of the boardroom, which saw co-founder and managing director Wong Liew Lin @ Liew Fat Lin bow out of Yong Tai. The new board, says recently appointed CEO Boo Kuang Loon, comprises professionals while the management team are property experts. 
"The old board was prepared to leave. There was no resistance from them ...  Everybody could see that what we did [changing the direction of the company] was for the good of the company. We changed the board to a professional board in order to run it properly. I believe in professionalism.
"The co-founder of Yong Tai is over 70 years old. So, he passed it on to me ... he just wants to retire. At the end of the day, it is a good thing for everyone," Boo tells The Edge in a recent interview.  
Boo, a property developer, entered Yong Tai as a shareholder in June 2015 with a 7.16% stake and he was appointed executive director a few months later. 
Yong Tai has undertaken its first development project through a joint venture with Boo's private company, PTS Properties Sdn Bhd. 
"Impressions City" in Melaka, a 100-acre project with a gross development value of RM5.4 billion, will be developed in stages. Nestled within the development is Impressions Melaka, an indoor theatre that Boo is convinced will be a key attraction for tourist-centric Melaka.
Yong Tai plans to create an entire ecosystem of hotels, a mall, residential units and commercial lots to keep tourists in the area. Work on the first phase, comprising the commercial lots, is set to begin this August. 
The theatre will feature a live show highlighting local culture. It is a franchise of the Impression Series in China, which is a hit among tourists. The deal with China's Impression Wonders Art Development, the licensor of the Impression Series, was brokered by Boo in 2013, via his private company PTS Impressions Sdn Bhd. 
Yong Tai has signed a memorandum of understanding with PTS Impressions to acquire the entire equity interest in the private company for RM3 million in cash. It is also taking over RM44 million of PTS Impressions' debts, to be settled through the issuance of 5.4 million new Yong Tai shares. 
Boo admits that his entry into Yong Tai paved the way for him to undertake the Impressions Melaka project. He says that there were many hurdles in getting the project going initially, especially in terms of financing, via his private vehicle. The tie-up came about at an opportune time, given Yong Tai's ailing garment business and its need to diversify into other areas in order to stay afloat. 
"When I become a shareholder, I thought to myself that it is probably a good platform since Yong Tai has to move into another business ...  And this is a good project. Why not work on it to see what we can do and use Yong Tai's platform as a listed company to raise funds? Go to the equity market instead of the banks. 
"The advantage of this project is that it can be given back to the investors. That is how I came in and how I feel I needed this and wanted to get the two [companies] married properly," says Boo.  
Currently, Yong Tai is in the midst of a private placement exercise. Boo says the exercise has generated much interest from potential investors and he is confident all 70 million new shares will be taken up.
The theatre is expected to be completed by end-2017, providing Yong Tai with recurring income. The profit margin for ticket sales for the cultural show alone, assuming RM120 per ticket, work out to 15% for the company.
"On the revenue side, we have room to grow and on the cost side, we have room to save. If we can pull apart the gap, we can generate more profit for the listed company," says Boo. 
In a report on Yong Tai, RHB Research projects a net profit of  RM14 million in FY2017 and RM64 million in FY2018. 
"This would be underpinned by the group's property development projects. Our forecasts assume the legacy garment business is fully disposed of by end-FY2016. Also, we have not factored in any contribution from Impression Melaka in our forecast horizon. We assume that contributions from the show would only kick in from FY2019," says the research house. 
Yong Tai's share price has been climbing steadily since August last year. It has nearly doubled from 46 sen apiece last August to 88 sen last Thursday. 
Boo aims for Yong Tai to be a billion-ringgit company in terms of market capitalisation in three years. Its current market capitalisation is RM140 million and post private placement, Boo says it will hit RM500 million. 
"We believe, with the things we're doing, we're on the right track and able to achieve RM1 billion capitalisation. Supported by good projects, it can be done," he says. 
As for rewarding its shareholders in the form of dividends, Boo says that will probably happen in FY2018, when profits start to roll in. The last time the company paid a dividend was in FY2002. 
RHB Research forecasts a dividend per share of 2.5 sen for FY2018, translating into a yield of 2.8%.