This article first appeared in The Edge Malaysia Weekly, on August 12, 2019 - August 18, 2019.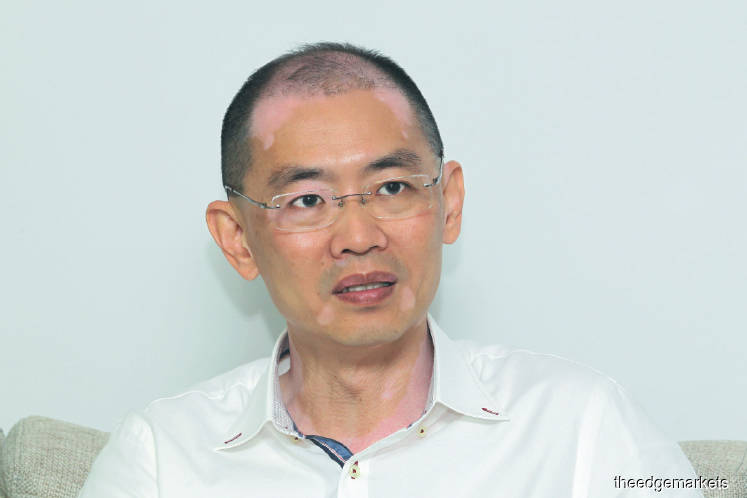 Boo: We took a calculated risk. Photo by Haris Hassan/The Edge
DATUK Wira Boo Kuang Loon, CEO and executive director of Yong Tai Bhd, warns against being too optimistic. The 46-year-old learnt that the hard way when he was planning Encore Melaka, a state-of-the-art theatre in the property developer's ambitious tourism-themed Impression City in Melaka.
Boo had projected that the much-anticipated Encore Melaka live performance could generate about RM140 million in ticket and merchandise sales as well as a net profit of RM50 million to RM60 million a year.
He had aimed for Yong Tai to achieve a market capitalisation of RM1 billion by the end of last year. Back then, it seemed like a realistic target as the group was valued at more than RM700 million.
However, none of the projections materialised. Since the curtain went up in July last year, the occupancy rate for Encore Melaka — it has an annual capacity of 1.46 million seats, running on two shows per day from 2,000 rotating seats — has stayed well below expectation.
This dragged down results, causing Yong Tai to slip into the red with a net loss of RM16.39 million in the nine months ended March 31, 2019 (9MFY2019), against a net profit of RM10.05 million a year ago.
Its share price was not spared the impact of the missed targets, plunging 77% from its 52-week high of RM1.19 on Aug 10 last year to close at 27 sen last Friday. This shrank its market value to a mere RM144 million.
In an interview with The Edge, Boo admits that a lack of understanding of the tourism industry has devastated Yong Tai.
For him, 2018 was a year to forget. "We are not doing well. We did not meet our (2018) targets. Although we could sustain [our] operations, the depreciation and interest expenses [of Encore Melaka] have caused us a lot of problems," he says.
Boo expects Yong Tai to post a net loss for FY2019 — the first since the group transformed itself from a textile manufacturer into a property developer four years ago.
"In hindsight, I was a bit over-optimistic. But at the time, it (property market) was not too bullish. We took a calculated risk, although we've since realised that our calculation and understanding of the industry was not deep enough," he adds.
The collaboration with local inbound travel agencies to bring tourists to Encore Melaka failed to take off as the agents realised that they could earn more money by sending tourists to do shopping.
"Local inbound travel agencies need to 'buy' the tourist headcount from foreign travel agencies in China, Hong Kong and Taiwan. The agents have no choice but to take them shopping to recoup some money," explains Boo.
"The problem is this — the travel agents are not keen to bring them over because they will spend three hours in our theatre. By sending them to other places to shop, they (agents) can make better money. That is a huge challenge we did not anticipate until we went deeper into the business," he says.
Going forward, Boo says the group will change its approach by packaging its show together with accommodation to attract travel agencies to bring in the tourists.
"We spent the whole of last year dealing with the travel agencies to figure out what they want and how to get tourists to visit our theatre. We have to offer more comprehensive packages, rather than just promoting our show and selling tickets," he adds.
Yong Tai holds a 30-year concession to stage the Impression Series — Encore Melaka performances outside China, a show that highlights the city's rich history and cultural heritage. It is derived from a popular series of outdoor live musical performances in China.
Most of Yong Tai's property projects in Melaka are situated within Impression City, a 138-acre integrated mixed-use development in Kota Laksamana with an estimated gross development value of RM7 billion.
Boo says a year on, Encore Melaka is gradually gaining popularity. About 40,000 people went to watch the show last month. At that occupancy rate, it should be able to hit the half-a-million mark in FY2020.
"The Encore Melaka theatre is a new check-in place for many tourists nowadays. But we need to make people want to watch our show. That's something that we need to work harder on. We need to create popularity for our theatre and show," he says.
To date, Yong Tai has invested RM300 million to RM400 million in the Encore Melaka theatre, which is worth about RM600 million.
Boo says the priority is to recoup some of its investments.
"Before that, we thought that if the show did well, the theatre would be a cash cow for us. But one year into the business, given all the challenges, we realise that we need to get a new partner to enhance our theatre utilisation. We have no choice but to find ways to survive."
It was announced in May that the UK-based HRC World Plc will become a strategic investor in the Encore Melaka theatre by acquiring up to a 70% stake in Yong Tai's unit, PTS Impression Sdn Bhd.
"HRC is into live band entertainment and other musical performances that will enhance the utilisation of our theatre. Right now, many of our investments are stuck in this theatre. It's good to have a partner to share our burden and risk, rather than shouldering it all by ourselves," says Boo.