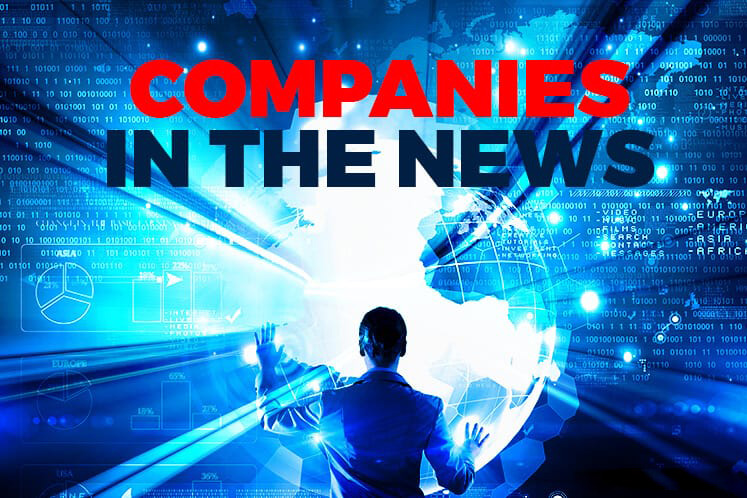 KUALA LUMPUR (Oct 24): Based on corporate announcements and news flow today, stocks in focus on Thursday (Oct 25) may include YKGI Holdings Bhd, CapitaLand Malaysia Mall Trust, Hua Yang Bhd, Eupe Corp Bhd, Pantech Group Holdings Bhd, IGB Real Estate Trust (IGB REIT), LB Aluminium Bhd, Key Alliance Group Bhd and Selangor Properties Bhd.
YKGI Holding Bhd's net loss for its third quarter ended Sept 30, 2018 widened to RM6.93 million from RM3.53 million in the same quarter last year.
Quarterly revenue decreased by 14.7% to RM86.81 million owing to a 19.1% fall in sales volume due to overall soft market conditions.
YKGI attributed the weak performance to realised and unrealised foreign exchange loss of RM2.8 million, which it said was caused by the depreciation of the ringgit against US dollar during the quarter.
After turning in a net profit of RM4.14 million in the first quarter, YKGI has now posted two straight quarters of net loss, taking its accumulated net loss for the nine-month period to RM10.65 million against an RM8.11 million net loss registered in the same period last year.
Asset enhancement works at Sungei Wang Plaza weighed on the net property income of CapitaLand Malaysia Mall Trust as income fell nearly 14% to RM51.74 million in the third quarter ended Sept 30, from RM60.07 million a year ago.
Distribution per unit (DPU) for the quarter amounted to 1.9 sen for a yield of 7.14% based on CMMT's closing price of RM1.11.
As its DPU is paid out on a half yearly basis, CMMT said unitholders can expect to receive their 3QFY18 DPU, along with their DPU for the quarter ending Dec 31, 2018, by February 2019.
Hua Yang Bhd has registered a 161% jump in net profit to RM1.9 million for the second quarter ended Sep t30, 2018 (2QFY19) from RM728,000 a year ago, on higher property revenue.
Earnings per share amounted to 0.54 sen from 0.21 sen previously, while revenue spiked 46% to RM64.55 million from RM44.33 million a year ago.
For the first half, net profit rose 13% to RM2.91 million versus RM2.59 million in the previous year, while revenue rose 43% to RM131.09 million from RM91.38 million.
Eupe Corp Bhd's net profit more than doubled to RM8.02 million in the second quarter ended Aug 31, 2018 (2QFY19) from RM3.86 million a year ago.
Earnings per share ballooned to 6.27 sen compared with 3.02 sen in 2QFY18. Revenue grew 3.2% to RM97.51 million.
Eupe attributed the better quarterly results to the improved performance across its divisions, including property development, construction and chalet and golf management.
For the cumulative six months the group's net profit jumped nearly 149% to RM12.07 million while accumulative revenue grew 14.3% to RM173.98 million.
Pantech Group Holdings Bhd has attributed a 7.5% year-on-year drop in profit to RM10.87 million for the second quarter ended Aug 31, 2018 (2QFY19) on suspension of carbon steel shipments to the US, and cautioned increasing trade protectionism could pose further challenges.
Revenue declined 5.8% to RM148.06 million from RM157.1 million in 2QFY18.
Pantech declared a first interim single-tier dividend of 0.5 sen per share, payable on Jan 18, 2019.
For the cumulative six months, its net profit amounted to nearly RM25 million, down 2.8% against the same period in the prior year. Revenue rose 5.8% to RM326.45 million against RM308.6 million in 6MFY18.
Pantech said it expects its overall performance for the current financial year to remain satisfactory.
IGB Real Estate Investment Trust's (IGB REIT) net property income (NPI) rose a marginal 2.4% to RM96.6 million in its third quarter ended Sept 30, 2018 (3QFY18) from RM94.3 million a year ago on higher rental income.
Group revenue increased 3.2% year-on-year to RM133.7 million from RM129.6 million as rental income grew 4.2% to RM105.9 million from RM101.6 million.
It announced an income distribution of 95% of its distributable income for 3QFY18 amounting to RM81 million or 2.29 sen per unit, to be paid on Nov 29.
For the cumulative nine months, REIT NPI increased by 4.1% to RM289.8 million from RM278.4 million a year ago.
LB Aluminium Bhd said its 51%-owned subsidiary Citajaya Kuasa Sdn Bhd has subscribed for two million new shares, representing an 80% stake in Contras Build Sdn Bhd for a cash consideration of RM2 million.
 
The remaining 20% of Contras is held by Wan Shafie Abdul Rashid, Shaik Ahmad Sufian Shaik Kamal Farid and Nabeel Nokman
Following completion of the share subscription, Contras is now an 80%-owned subsidiary of Citajaya and a sub-subsidiary of LB Aluminium. The remaining 49% of Citajaya is held by Datuk Seri Gan Yu Chai.
Key Alliance Group Bhd has subscribed for 99.3 million placement shares of XOX Bhd representing 9.09% of its total enlarged issued and paid-up share capital for RM4.64 million cash.
The placement shares of the mobile virtual network operator were issued at RM0.0467 each, and the subscription consideration was funded entirely from internally-generated funds.
KAG said the board of directors were of the view that the subscription was an opportune time to take a strategic stake in a telco asset turning over in excess of RM200 million.
Selangor Properties Bhd has requested that trading of the company's shares be suspended from 9 am tomorrow, pending the release of a material announcement.
Last month, the group reported that its net profit surged 70.2% to RM33.2 million in the third financial quarter ended July 31, 2018 from RM19.51 million a year ago, mainly due to higher foreign exchange gains of RM16.3 million.