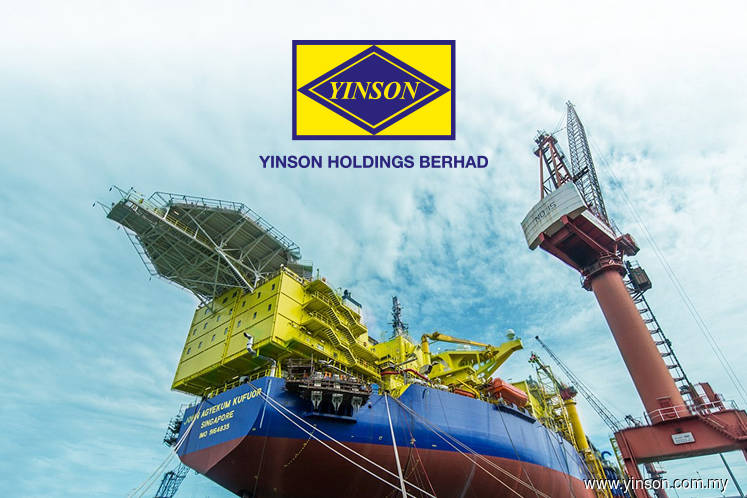 KUALA LUMPUR (Sept 17): Yinson Holdings Bhd's 49%-owned joint venture in Vietnam for a charter contract worth US$1 billion over a 15-year period has been terminated due to a "prolonged force majeure event", which is widely understood to be the overlapping claims in South China Sea between Vietnam and China.
In a filing with Bursa Malaysia, Yinson said the joint venture, PTSC Ca Rong Do Ltd, will assert its rights under all relevant contracts and in laws, for any advances, claims, liabilities, losses or damages against or suffered by it in any way concerning the matter.
Yinson owns 49% of PTSC Ca Rong through its indirect wholly-owned subsidiary Yinson Clover Ltd, while the remaining 51% stake is held by Vietnam's state-owned PetroVietnam Technical Services Corp (PTSC).
"The effective date of the termination will be determined upon discussions between Talisman Vietnam 07/03 BV (TLV) and PTSC," it said. TLV is wholly owned by Madrid-listed global integrated oil company Repsol SA.
The contract was meant for the supply of a floating production, storage and offloading (FPSO) facility for the Ca Rong Do Field Development located in Block 07/03 in the Eastern Sea Offshore Vietnam (CRD Field).
In March last year, Yinson announced that TLV has been directed not to carry out the scheduled work programme for the CRD Field, citing "force majeure event" as reason.
Prior to that, BBC News reported that the order to stop the oil project at CRD Field, for which Repsol and partners invested up to US$200 million, came in the wake of pressure from China.
In a note to investors at that time, AmInvestment Bank said as a service provider, Yinson will be entitled to claim full compensation for the costs incurred for the FPSO, which involve the acquisition of OSX-1 (production and storage vessel) from a distressed Brazilian operator.
"Repsol holds a 51.8% operating stake in the Ca Rong Do project, which has estimated reserves of 45.3 million barrels of oil and 172 billion cubic feet of gas and 2.3 million barrels of condensate. Its partners are Mubadala Petroleum with a 21.3% stake, PetroVietnam (14.3%) and PetroVietnam Exploration & Production (12.8%).
"Even after the termination, we understand that Yinson could still own the vessel, which would have been fully paid by Repsol and can be redeployed to new opportunities as five new charters are up for tender in Brazil's Santos pre-salt basin, amid proposals to relax local content requirements," the research firm said.
Yinson's share price closed unchanged at RM6.72 today, giving the group a market capitalisation of RM7.26 billion.