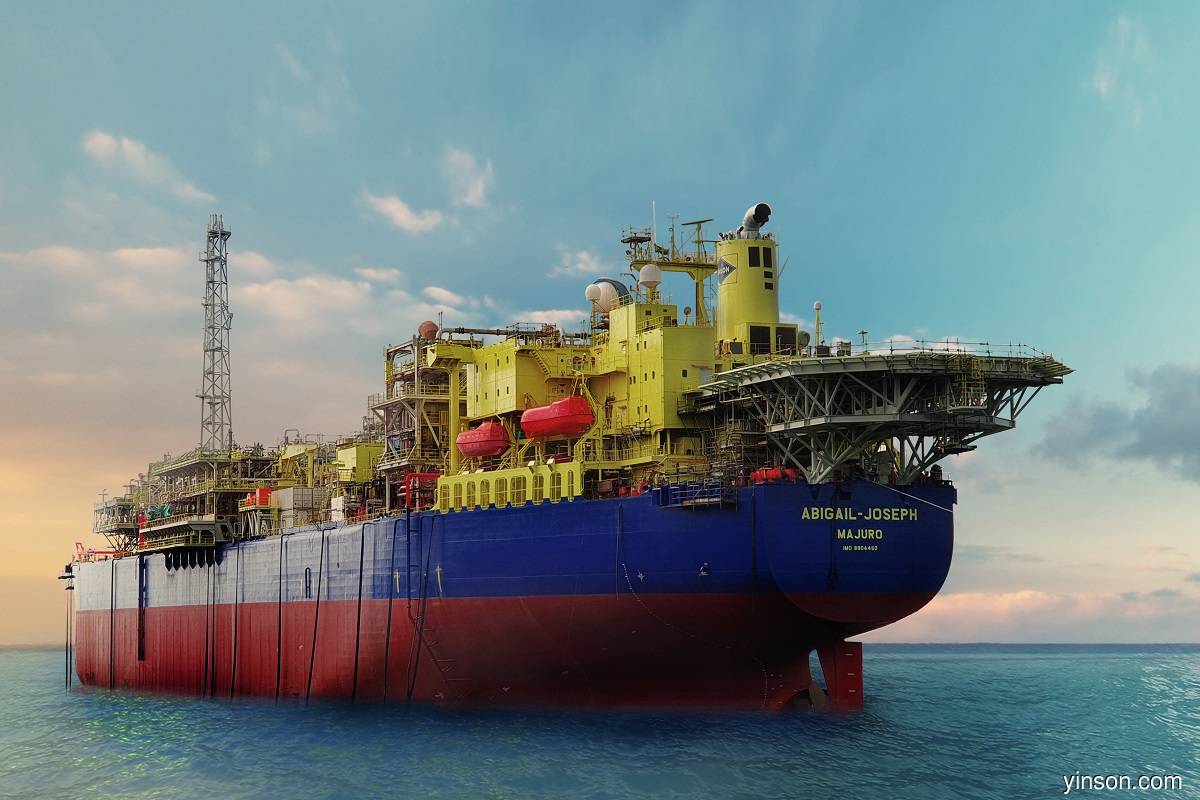 KUALA LUMPUR (Oct 30): Yinson Holdings Bhd announced today that its latest floating production, storage and offloading (FPSO) vessel, FPSO Abigail-Joseph, received its first Oil Certificate on Oct 28 following a successful 72-hour Stabilisation Testing.
Yinson said in a statement that this marks the commencement of the firm charter of the FPSO for a period of seven years, with an option to extend the charter by a further eight years.
According to Yinson, the team achieved the delivery of first oil for production within 20 months after signing the contract with its client, FIRST Exploration & Petroleum Development Co Ltd (FIRST E&P), as the operator of the Nigerian National Petroleum Corp.
FPSO Abigail-Joseph has a storage capacity of 550,000 barrels and is designed to produce 50,000 barrels of oil per day with gas lift and gas injection capacities of 15 MMSCFD (million standard cubic feet per day) and 39 MMSCFD respectively.
The asset is operating in the Anyala and Madu fields within OMLs 83 & 85.
FPSO Abigail-Joseph is Nigeria's first integrated oil and gas greenfield project that has been wholly executed by an indigenous oil company, and is the group's fourth offshore production asset to operate in Nigerian waters.
"This is a special project for us as it marks our continuous business presence in Nigeria, allowing us to continue impacting Nigeria's development positively through our contribution to its energy landscape and local economy," said Yinson offshore production chief executive officer Flemming Grønnegaard, adding that the group has been operating in Nigeria for the past 25 years.
He added that the team has achieved zero lost time injuries throughout the 2.1 million man hours clocked during the conversion and commissioning of the FPSO.
"Yinson's core values, ROADS, stands for 'Reliable', 'Open', 'Adaptable', 'Decisive' and 'Sustainable'. To successfully complete this project, the values of 'Reliable', 'Adaptable' and 'Decisive', in particular, were crucial to enable us to navigate through the challenges brought about by the Covid-19 pandemic to achieve first oil for FIRST E&P," said Grønnegaard.
Meanwhile, Ademola Adeyemi-Bero, managing director of FIRST E&P, is enthusiastic about embarking on the next operational phase of the relationship with Yinson, building on the strong and collaborative partnership during the project development phase.
"As a Nigerian independent with an offshore integrated oil and gas focus, the partnership with Yinson should enable our company to deliver world class operations that deliver value to the JV. We look forward to a long-term relationship that delivers mutual bottom-line benefits to both companies," he said.
At the time of writing, Yinson's share price was unchanged at RM4.59, valuing the company at RM4.89 billion.