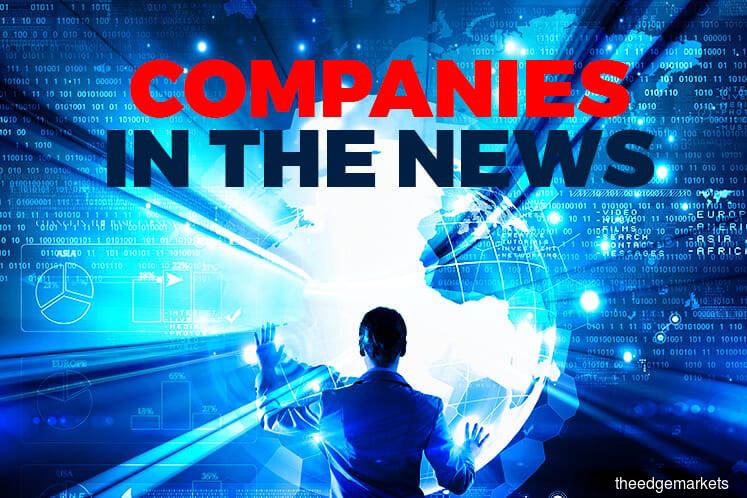 KUALA LUMPUR (Sept 25): Based on corporate announcements and news flow today, companies that may be in focus tomorrow (Thursday, Sept 26) may include: Yinson Holdings Bhd, Widad Group Bhd, Perdana Petroleum Bhd, Sime Darby Property Bhd (SimeProp), Daibochi Bhd, DeGem Bhd, United Malacca Bhd, Ikhmas Jaya Group Bhd and iDimension Consolidated Bhd. 
Yinson Holdings Bhd's net profit dropped 44.2% year-on-year to RM41.14 million for the second financial quarter ended July 31, 2019 (2QFY20), from RM73.67 million a year ago, on lower profit contribution from a floating production storage and offloading (FPSO) vessel, unfavourable foreign exchange (forex) and impairment loss. 
Revenue for the quarter fell 13.4% to RM213.44 million, from RM246.54 million in 2QFY19. 
Nevertheless, the group declared an interim dividend of 4 sen per share for the financial year ending Jan 31, 2020 (FY20), payable on Dec 20.
The group's net profit for the cumulative six months (1HFY20) was down 32.1% to RM91 million from RM134.1 million a year ago, while revenue came in 12.3% lower at RM422.44 million, from RM481.72 million in 1HFY19. 
Widad Group Bhd, formerly known as Ideal Jacobs (Malaysia) Corp Bhd, has secured an RM120.03 million contract to design and build a new solid waste transfer station in Taman Beringin, Jinjang Utara, Kepong here.
Its wholly-owned Widad Builders Sdn Bhd accepted the Letter of Award from Bumi Segar Indah Sdn Bhd that appoints it as sub-contractor to undertake the project.
The project will be financed via internal funds and external borrowings.
Perdana Petroleum Bhd has bagged work orders worth up to RM48 million from Petronas Carigali Sdn Bhd, to provide two anchor handling tug supply (AHTS) vessels.
Perdana Petroleum's wholly-owned subsidiary Perdana Nautika Sdn Bhd (PNSB) was awarded two work orders on July 29 and Aug 29 respectively by Petronas Carigali, to supply the two AHTS vessels.
One of the vessels, with an extension option of another year, has an estimated value of between RM20 million and RM40 million if the extension option is exercised, while the other contract is estimated to be worth between RM7 million and RM8 million.
Sime Darby Property Bhd (SimeProp) has been selected as an index component of the Dow Jones Sustainability Indices (DJSI).
SimeProp said the inclusion reinforced its sustainability credentials, as it is the only Malaysian property developer to qualify for the Dow Jones Sustainability Emerging Market Index, alongside other property companies from the Philippines, Thailand, Mexico, Chile and South Africa.
Daibochi Bhd posted a net profit of RM17.29 million for the 19 months ended July 31, 2019, while revenue for the period stood at RM699.34 million.
While the group posted a net loss of RM30,500 for the three months ended July 31, it has posted its best ever quarterly revenue of RM123.27 million in the same period, on the back of increasing flexible packaging sales in Malaysia and regional markets.
The net loss was due to one-off net write down of inventories amounting to RM11.4 million, as well as mergers and acquisitions costs of RM6.4 million pertaining to the acquisition by Scientex Bhd, as well as the acquisition of Mega Printing & Packaging Sdn Bhd.
Legion Master Sdn Bhd, the major shareholder of jewellery manufacturer DeGem Bhd, is offering minority shareholders RM1.10 a share in a bid to take the group private.
Legion controls a 58.83% direct stake or 76.97 million shares in the company and together with persons acting in concert, collectively control 83.09% of DeGem or 108.71 million shares.
Legion's offer entails a proposed selective capital reduction and repayment exercise (SCR), whereby the entitled shareholders who collectively hold the remaining 22.12 million shares will receive a total capital repayment of RM24.33 million, or a cash payment of RM1.10 a share.
Plantations group United Malacca Bhd returned to the black with a net profit of RM36.95 million in the first quarter ended July 31, 2019 (1QFY20), against a net loss of RM18.49 million a year ago, mainly lifted by a one-off RM53.89 disposal gain.
Excluding the gain on disposal, the group narrowed its pre-tax loss to RM13.72 million from RM20.95 million previously, as its plantation and investment holding segments narrowed losses.
Quarterly revenue grew 8.31% to RM43.33 million, from RM40 million a year ago.
The group said it continues to be affected by lower average prices of crude palm oil (CPO) and palm kernel (PK), as well as high production cost in both its Sabah and Indonesian plantations.
Ikhmas Jaya Group Bhd and its wholly-owned unit Ikhmas Jaya Sdn Bhd (IJSB) have been served with a winding-up petition, together with an affidavit verifying petition from Ipmuda Bhd, for owing RM2.97 million.
The sum of RM2.97 million is the amount owed for the goods delivered and services provided by Ipmuda.  
iDimension Consolidated Bhd has inked an agreement with a potential white knight for the injection of new assets and businesses into the Guidance Note 3 (GN3) company.
The ACE market IT total solutions provider signed a three-month-long memorandum of understanding with EV-Dynamic Sdn Bhd (EVD), in what it described as an integral step towards regularisation.
The two parties will discuss the proposed injection of assets, businesses and/or new projects into iDimension, by EVD.
EV provides turnkey solutions for intelligent transportation systems, integrated security systems, rail communications systems, engineering solutions and total hospital information systems in Malaysia and across Asean.