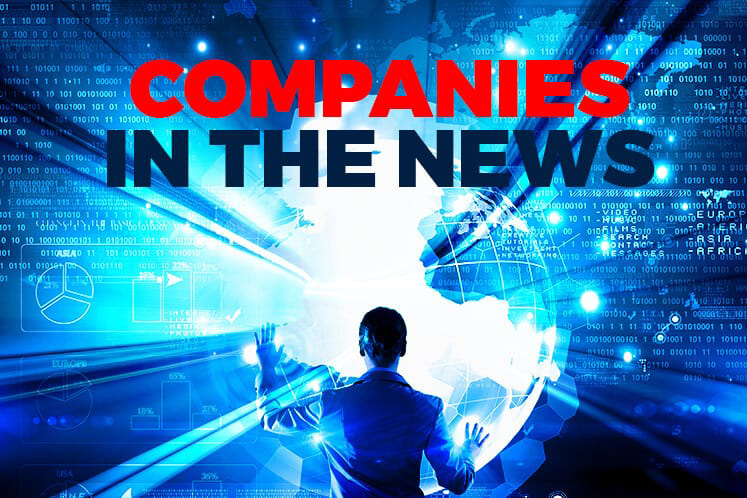 KUALA LUMPUR (Oct 16): Based on corporate announcements and news flow today, companies that may be in focus tomorrow (Oct 17) may include the following: Yinson Holdings Bhd, Genting Malaysia Bhd, Hong Leong Bank Bhd, Favelle Favco Bhd, Mestron Holdings Bhd, AE Multi Holdings Bhd, Sunway Bhd, Apex Healthcare Bhd, Serba Dinamik Holdings Bhd and Vizione Holdings Bhd.
Yinson Holdings Bhd has secured contracts worth US$5.4 billion from Petróleo Brasileiro S.A. (Petrobras).
Yinson said it was awarded two Letters of Intent by Petrobras for the charter, operations and maintenance of FPSO Marlim 2, a floating, production, storage and offloading vessel for the Marlim revitalization project in Brazil.
Group chief executive officer Lim Chern Yuan said FPSO Marlim 2 would be Yinson's largest project to date, and that the group had been focusing on building its resources, capacity and expertise in order to meet the project's delivery and timeline.
A minority shareholder is suing Empire Resorts Ltd, its board members and the controlling shareholders — Genting Malaysia Bhd (GENM) and Kien Huat Realty III — for the offer to take the US-based casino operator private which he deemed as unfair.
The shareholder, who was seeking class-action status for all minority shareholders, accused Empire Resorts and its board of not providing sufficient information required to assess the privatisation offer jointly made by GENM and Kien Huat.
He also claimed that the privatisation deal was endorsed by board members who would financially benefit from it.
Hong Leong Bank Bhd has committed RM500 million in financing for renewable energy (RE) for the next four years to support Putrajaya's goal to raise RE's share of the country's power mix to 20% by 2025.
Favelle Favco Bhd has bagged nine supply contracts worth a total of RM77.2 million, involving the supply of tower cranes, offshore cranes, programmatic logic controller system, as well as hardware upgrading.
Mestron Holdings Bhd's unit Max Lighting Sdn Bhd has accepted a project wide supply agreement with MMC Gamuda KVMRT (T) Sdn Bhd to supply and commission LED Tunnel Lighting for Mass Rapid Transit Line 2 (MRT2) project.
The contract value for the job will be payable upon completion of each work stages as agreed upon in accordance to the payment schedule stated in the agreement.
AE Multi Holdings Bhd's unit AE Resources Development Sdn Bhd has bagged a 24-month sub-contract worth RM30.88 million to construct a palm oil mill with biogas plant system, which will also have a polishing as well as a composting plant, in Sabah, from Vertice Bhd's wholly-owned Vertice Construction Sdn Bhd.
Sunway Bhd is establishing a private trust in Singapore with an initial £38 million (RM202 million) of assets under management that focuses on purpose-built student accommodation in the UK.
Sunway RE Capital Advisors (SG) Pte Ltd will act as a fund manager for the trust in Singapore while RBC Investor Services Trust Singapore Ltd will act as trustee for the trust.
Apex Healthcare Bhd is buying an 18.75-acre freehold industrial plot in Melaka for RM20.42 million to cater for the future expansion of its off-patent pharmaceutical manufacturing unit, Xepa-Soul Pattionson (Malaysia) Sdn Bhd.
Integrated engineering services provider Serba Dinamik Holdings Bhd has secured five jobs, two of which have a combined estimated value of US$163 million (RM682.81 million).
The two comprises an engineering, procurement, construction and commissioning contract related to a gas pipeline project in Turkmenistan, and an operations and maintenance job for  pumps, compressors and other rotating equipment — together with manpower and spare parts — in Oman.
Vizione Holdings Bhd's joint venture company with Pembinaan Maju Cemerlang Sdn Bhd has been shortlisted by the Sabah State Water Department to design and build the Papar dam in Sabah.
Upon successful completion of the project, it will have the capacity to supply 1,000 MLD (million litres per day) of water supply and generate 100 MW of electricity.