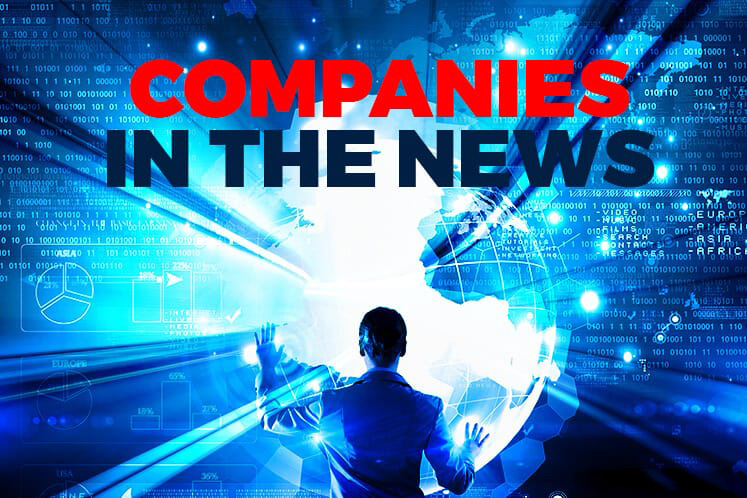 KUALA LUMPUR (Feb 28): Based on the corporate announcements and newsflow today, companies in focus tomorrow (March 1) could include Yinson Holdings Bhd, Brahim's Holdings Bhd, TRC Synergy Bhd, Sime Darby Plantation Bhd, CIMB Group Holdings Bhd, Boustead Holdings Bhd, Tadmax Resources Bhd, Tenaga Nasional Bhd, Malaysia Airport Holdings Bhd and PPB Group Bhd.
Yinson Holdings Bhd bagged contracts worth US$901.79 million (RM3.67 billion) for the charter, operations and maintenance of a floating production storage and offloading (FPSO) vessel by First Exploration & Petroleum Development Company Ltd (First E&P) for use at the Anyala & Madu fields in Nigeria.
The contracts were entered into via its wholly-owned subsidiary Yinson Nepeta Production Ltd (YNPL) and indirect subsidiary Yinson Operations & Production West Africa Ltd (YOPWAL).
The group said the contract value of US$901.79 million, assuming the extension options are fully exercised, comprises the Bareboat Charter Contract (US$617.09 million) and the O&M contract (US$284.7 million).
Brahim's Holdings Bhd (BHB) has lapsed into Practice Note 17 (PN17) status, after its shareholder equity fell below the 25% threshold.
The catering services provider said it is now an affected listed issuer with risks of being delisted.
"Based on the unaudited interim financial results of BHB for the fourth quarter ended Dec 31, 2018, the shareholders' equity of BHB on a consolidated basis of less than RM40 million represented 25% or less of its issued capital. Hence, BHB is now regarded as a PN17 company," read the filing.
BHB said it has 12 months from now to submit a regularisation plan to the Securities Commission (SC) and implement it within a timefame stipulated by the SC or Bursa Securities thereafter.
TRC Synergy Bhd's civil servant housing development project in the administrative capital of Putrajaya has been axed by Perbadanan Putrajaya Corp on grounds of national interest.
In an exchange filing, TRC said it had on Feb 25 received a three-month termination notice from Perbadanan Putrajaya concerning the project, which was for a gross development cost of RM292.74 million.
It said the project was a 1Malaysia Civil Servant Housing Development (PPA1M) project in Precinct 18 within the administrative capital of Putrajaya, in which its wholly-owned subsidiary, TRC Land Sdn Bhd, was appointed developer.
Sime Darby Plantation Bhd's net profit for the second quarter ended Dec 31, 2018 (2QFY18) fell 70% to RM129 million, from RM429 million in the preceding year, on the back of lower crude palm oil (CPO) and palm kernel (PK) prices.
Quarterly revenue also decreased 14.2% year-on-year (y-o-y) to RM3.5 billion from RM4.09 billion.
The group attributed the drop in performance to lower prices of CPO and PK, which also affected the performance of all its upstream segments, and higher finance costs due to higher level of borrowings undertaken during 2QFY18.
However, this was cushioned by earnings improvements in its downstream segment, as well as non-recurring gains from the disposal of its Liberian and Vietnamese subsidiaries amounting to RM45 million.
CIMB Group Holdings Bhd racked up record earnings for the financial year ended Dec 31 (FY18), a net profit of RM5.58 billion in FY18, up 24.8% year-on-year (y-o-y) from RM4.48 billion.
The group said its net profit for the fourth quarter ended Dec 31, 2018 rose 5.37% to RM1.12 billion from RM1.06 billion in the same quarter a year ago. Earnings per share rose to 11.67 sen from 11.57 sen previously.
FY18 revenue was lower at RM17.38 billion compared with RM17.63 billion a year earlier.
CIMB proposed a second interim net dividend of 12 sen per share.
Boustead Holdings Bhd registered a net loss of RM455 million in the fourth quarter ended December 31, 2018 against a net profit of RM77.1 million in the prior year's corresponding quarter, due to provisions and impairments in its heavy industries division and plantation losses. Other divisions also recorded lacklustre results.
Its revenue for the quarter was stagnant at RM3.02 billion.
For the full year, it registered a net loss of RM469.2 million versus a net profit of RM690.14 million in FY17, while revenue was marginally lower at RM10.18 billion from RM10.23 billion a year earlier.
Three directors of Tadmax Resources Bhd have resigned including its deputy managing director Datuk Aldillan Anuar, who is the son of the company's MD and major shareholder, Datuk Seri Anuar Adam.
The 43-year-old resigned "to pursue other business ventures", an exchange filing showed.
Executive director Datuk Noel John Subramaniam, who intends to pursue other interests, also stepped down, as did independent non-executive director, Datuk Samsuddin Abu Hassan, who cited other work commitments as his reason.
Meanwhile, the company announced the return of Datuk Seri Gan Seong Liam as its executive director, as well as his 29-year-old son, Kuok Chyuan.
Tenaga Nasional Bhd closed its financial year ended Dec 31, 2018 (FY18) on a high note, with a 42% jump in net profit to RM3.72 billion as revenue more than tripled, despite registering a net loss in its fourth quarter (4QFY18), its exchange filing showed today.
The quarterly net loss, which came in at RM134.3 million, was its first since 2011. Revenue for the quarter stood at RM12.55 billion. No comparative figures for the quarter were available due to a change in its financial year end from Aug 31 to Dec 31.
However, when compared with its preceding quarter, TNB said its operating profit came in RM777.5 million lower in 4QFY18 at RM697 million, versus RM1.47 billion in 3QFY18, due to lower revenue and more impairment of financial instruments.
Nevertheless, TNB's board of directors proposed a final single tier dividend of 23 sen per share, amounting to RM1.31 billion, in respect of FY18. The payment date will be announced later.
Higher costs dragged Malaysia Airports Holdings Bhd's (MAHB) net profit down 12.9% to RM28.1 million in the fourth quarter ended Dec 31, 2018 (4QFY18), from RM32.28 million a year ago.
MAHB, which manages and operates 39 airports in Malaysia, said costs increased by 3.4% year-on-year (y-o-y) in 4QFY18, mainly due to provision of doubtful debts, higher amortisation and depreciation, utilities, as well as repair and maintenance costs.
Quarterly revenue grew by a marginal 0.4% y-o-y to RM1.25 billion.
Nevertheless, the group proposed a final dividend of 9 sen per share for the FY18, subject to the approval of shareholders at the forthcoming annual general meeting. This brings total dividends for the year to 14 sen per share.
PPB Group Bhd announced a 40.3% drop in its net profit for the fourth quarter ended Dec 31, 2018 (4QFY18) from a year ago, impacted by weaker performance at its Singapore-listed associate Wilmar International Ltd, its in-house consumer products division.
Its net profit for the quarter under review shrank to RM221.34 million from RM370.79 million a year ago, although revenue grew 3.5% to RM1.16 billion from RM1.12 billion.
This pushed its earnings per share down to 15.56 sen from 26.06 sen previously.
PPB proposed a final dividend of 20 sen per share, payable on June 10.