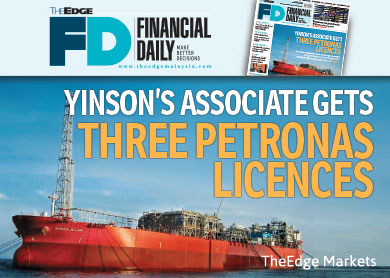 KUALA LUMPUR: Yinson Holdings Bhd, of which Tan Sri Mokhzani Mahathir is the second biggest shareholder, will soon be able to benefit from Petroliam Nasional Bhd's (Petronas) massive capital expenditure spent locally and abroad.
Yinson Holdings announced to Bursa Malaysia yesterday that its 30%-owned associate company Yinson Energy Sdn Bhd had been awarded three licences by Petronas. The licences would give a new source of income for Yinson, which owns a fleet of floating production, storage and offloading (FPSO) vessels.
"The award of these licences qualifies Yinson Energy to tender and participate in upcoming works relating to the categories of the listed licences for Petronas and other oil companies and/or operators in Malaysia," said Yinson in the announcement.
The three licences issued to Yinson Energy are a floating offshore facilities (SWEC SF2010000) licence, a mobile offshore facilities (SWEC SF2020000) licence and a naval architecture and marine engineering (SWEC SE2010500) licence.
Yinson said the group expects new opportunities from the licences to contribute positively to its future earnings and net assets.
Analysts believe that the three licences will be good for Yinson. Yinson Energy may need to utilise Yinson Holdings' offshore facilities to bid for jobs from the national oil company.
Apart from bidding for Petronas jobs, Yinson Energy could also be a vehicle to seek opportunities in other segments of the oil and gas (O&G) industry abroad, for instance, the upstream activities, said some analysts.
According to a filing with the Companies Commission of Malaysia (SSM), Yinson Energy currently appears to be a dormant company with no earnings recorded in its financial accounts. The authorised share capital of Yinson Energy is RM100,000 and the initial issued and paid-up capital is RM1,000.
The other shareholders of Yinson Energy are Rozlan Md Taha with a 35% stake and Iftisham Abdul Aziz holds 30%, according to the SSM.
Yinson Energy was incorporated in September last year. The principal activities of Yinson Energy include the provision of marine vessels for charter and marine services.
Yinson Holdings founder and executive director Lim Han Weng and Bah Kim Lian, who is also an executive director,  are on the board of Yinson Energy.
According to Yinson's latest annual report, it is the sixth largest FPSO industry player on the global FPSO league. Today, Yinson's fleet comprises four FPSO vessels, one floating storage and off-loading vessel and one mobile offshore production unit with wide geographical presence in West Africa, the United States, Europe and Southeast Asia.
Yinson Holdings' earnings have grown by leaps and bounds in the past five financial years, thanks to the group's strategic moves to expand its fleet riding on the boom in the O&G industry.
The company's net profit grew nine times from RM7.95 million in the financial year ended Jan 31, 2010 (FY10) to RM66.4 million in FY14. Earnings per share have ballooned from 11.3 sen to 30.3 sen in the past five financial years. Revenue has doubled from RM470.2 million to RM941.8 million in the same period.
Like other O&G stocks, Yinson's share price retreated from its record high of RM3.47 in mid-September to a recent low of RM2.43 last month. The stock was up one sen to RM2.64 yesterday, giving it a market capitalisation of RM2.73 billion.
This article first appeared in The Edge Financial Daily, on November 13, 2014