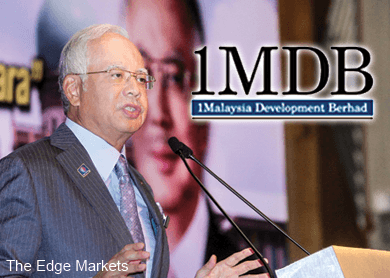 KUALA LUMPUR (Mar 16): Prime Minister Datuk Seri Najib Razak admits that the "letter of support" issued by the government to 1MDB Global Investments Ltd to borrow US$3 billion (RM9.6 billion) means that the government will repay the debt if the latter cannot do so.
"1MDB Global Investments should use all of its internal funds and assets.
"It is only if all these steps are taken and the company is still short of funds to repay its loan, then the letter of support from the government becomes effective,"  Najib said today in response to a written question by MP Tony Pua to parliament last Thursday.
1MDB Global Investments is a wholly-owned subsidiary of beleaguered state wealth fund 1Malaysia Development Bhd (1MDB), which in turn is wholly-owned by the Ministry of Finance.
The Edge Malaysia weekly reported that the subsidiary issued a bond to raise US$3 billion in March 2013, for which Najib's government had provided a "letter of support".