This article first appeared in The Edge Financial Daily, on March 22, 2019.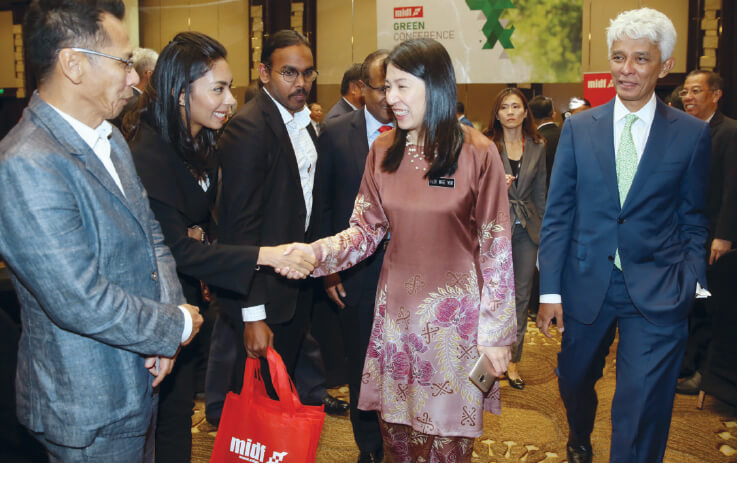 Yeo (centre) and MIDF group managing director Datuk Charon Wardini Mokhzani (right)arriving at the MIDF Green Conference yesterday. Photo by Sam Fong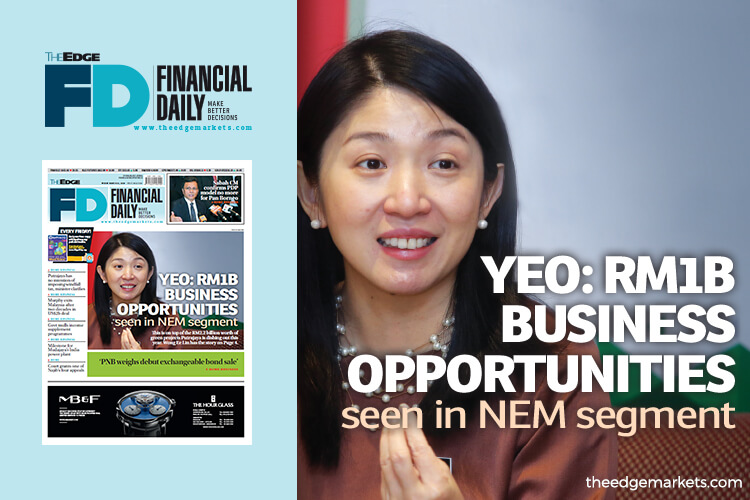 KUALA LUMPUR: The ministry of energy, science, technology, environment and climate change has estimated RM1 billion worth of potential business opportunities for the private sector under the Net Energy Metering (NEM) mechanism, which is aimed at boosting the use of solar panels on rooftops to generate renewable energy.
This is on top of at least RM2.2 billion worth of green projects that will be tendered out by Putrajaya this year, Energy, Science, Technology, Environment and Climate Change Minister Yeo Bee Yin told reporters at a press conference during the MIDF Green Conference here yesterday.
While the biggest chunk of the projects to be tendered is the RM2 billion worth of jobs previously announced under the third cycle large-scale solar (LSS3) scheme — for which the bids were called last month — the remaining RM200 million is for the retrofitting of 50 government buildings to make them more energy-efficient, Yeo said.
Under the LSS3, the capacity to be tendered out will be between 1mw and 100mw, with a target aggregate capacity of 500mw for Peninsular Malaysia. Industry players are already gearing up to get a piece of the contracts that will be dished out.
Pestech International Bhd, for one, announced last week that it had inked a memorandum of understanding with Japanese renewable energy power plant developer RS Renewable KK for a potential joint investment in the bidding for the LSS3.
Meanwhile, Yeo has proposed that the government raise the annual industrial research allocation of its research and development (R&D) funding from 8.9% currently to over 50%.
Putrajaya has allocated RM500 million under the annual budget for R&D, which is spread among a few industries, like primary industries, higher education, agriculture and agro-based industry, and the ministry of energy, science, technology, environment and climate change itself — mostly used for fundamental research.
In contrast, she said Singapore and Japan spend about 48% and 64% respectively on industrial research.
Fundamental research, also known as basic research or pure research, does not usually generate findings that have immediate applications on a practical level. Its research aim is generally to improve scientific theories for improved understanding or prediction of natural or other phenomena.
In contrast, industrial research is aimed at the acquisition of new knowledge and skills to develop new products, processes or services, or to improve existing ones.
"Advanced countries like them spend so much money on industrial research, and yet Malaysia is spending so much on fundamental research," Yeo said.
"There is a disconnect between what the economy needs and what the researchers are actually doing. All of these can be changed really quickly by having clusters connecting our industries with researchers and getting out funds to be channelled towards industrial research, and collaborations that are market-driven," Yeo said.
"If we don't strategically allocate it (the R&D fund), then it is just really not going anywhere.
She said the ministry of energy, science, technology, environment and climate change is going to share its researchers with the industry. The initiative, she said, will help civil servant researchers understand and better help industries.
"We are looking to [not only] reorganise the R&D fund, but also researchers to help [spur] the economy, with the commercialisation of technology and adoption of new technology to help existing companies grow," said Yeo.
To start with, the ministry will be deploying 100 researchers to interested companies, including small and medium enterprises. The researchers' salaries will continue to be paid by the government, she added, so companies need not pay for them.
In addition, Yeo said the ministry has asked the Securities Commission Malaysia (SC) to set up a green financing task force to look into how to make it easier for companies to secure funding for green projects. The SC will submit a report to the ministry by end-July.
"We want to see how we can incentivise more private financing for green projects either through government regularisation or mobilisation of funds," she added.