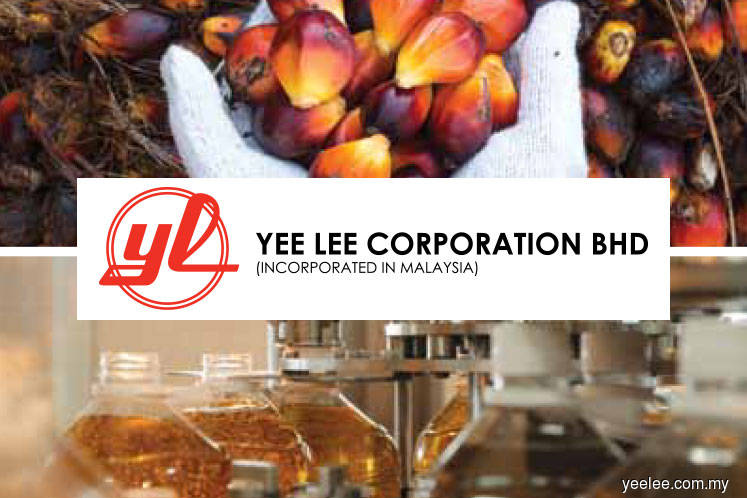 KUALA LUMPUR (April 29): Shares in Yee Lee Corp Bhd jumped 19.59% this morning following an offer by its its founder and executive chairman Datuk Lim A Heng @ Lim Kok Cheong as well as its other shareholders to take it private.
At 9.05am, Yee Lee rose 38 sen to RM2.32 with 287,100 shares traded.
According to a bourse filing last Friday (April 26), A Heng, his wife Datin Chua Shok Tim @ Chua Siok Hoon, the couple's son and group managing director Lim Ee Young and holding company Langit Makmur Sdn Bhd, which is owned by Dymon Asia Private Equity (S.E Asia) Fund II Pte Ltd, are to purchase the remaining 79.69 million shares or 41.59% they do not control in the group for a cash offer of RM2.33 per share.
This represents a premium of 39 sen or 20.1% from the counter's last trading price of RM1.94.
On Feb 27, the group proposed a first and final dividend of 4 sen per share, subject to shareholders' approval at its annual general meeting.
Shareholders whose names appear in the record of depositors will be entitled to the dividend and will be given an adjusted offer price of RM2.29 per share, while shareholders whose names are not in the record will not be entitled to the dividend and will receive an offer price of RM2.33 per share.
As it stands, Chua, A Heng and Ee Young control 111.91 million shares or 58.41% of the group's shareholdings, while Langit Makmur does not hold any Yee Lee shares.
Chua, A Heng and Ee Young are represented through Yee Lee Organisation Sdn Bhd (YLO), which is an investment holding company trading in palm oil products.
A Heng maintains a 74.88% indirect interest in YLO and 0.03% direct interest. Meanwhile, Chua maintains a 71.18% indirect interest and a 2.5% direct interest in YLO.
UOB Kay Hian Securities (M) Sdn Bhd is the undertaker for the takeover.
After the takeover, Yee Lee will not maintain its listing on Bursa Malaysia if the group does not meet Bursa's minimum 25% public spread of shares in listed companies.
"As such the joint offerors will not be taking any steps to address any shortfall in the public shareholding spread of Yee Lee in the event Yee Lee does not meet the Public Spread Requirement after the closing date," said UOB Kay Hian in a circular on the takeover.
The offer will last for 21 days from April 26 and is subject to comments from the Securities Commission Malaysia and approval and consent from relevant parties if required.