This article first appeared in The Edge Malaysia Weekly, on December 31, 2018 - January 06, 2019.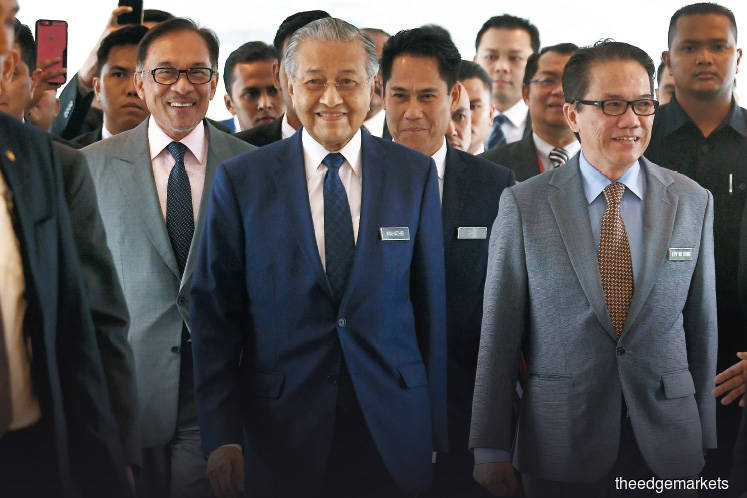 It has been nothing less than an eventful year for Malaysia. Much of which has had to do with the historic 14th general election (GE14) in May, which saw the Pakatan Harapan coalition defeat Barisan Nasional.
What lies ahead in 2019 for the nation's economy, the government and its people?
For one, Malaysians have been warned of a below-5% gross domestic product growth — at 4.9%, which would be a marginal improvement over the forecast 4.8% this year.
Nevertheless, as the country navigates its way through the very certain promise of external volatility and the building of a New Malaysia, here are 10 things that are expected to have an impact on the country's economy and financial markets in 2019:
1. Crude oil prices
From being on the cusp of a recovery this year when they hit US$80 per barrel in October, crude oil prices have shattered the hopes of many as they have been spiralling downwards over the last few months.
At the time of writing, Brent crude stood at US$53.13 per barrel. The pressure on crude oil prices did not cease despite the Organization of the Petroleum Exporting Countries (Opec) announcing in early December that it would trim production by 1.2 million barrels a day starting January. Concerns about an oil glut linger while worries about slower global economic growth have added to the negative sentiment.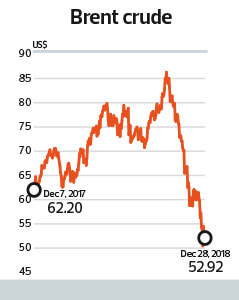 Nevertheless, many still hold on to the hope that crude oil prices will stage a rebound next year, with many market experts expecting them to rise to above US$70 per barrel.
This is crucial for Malaysia, given that its Budget 2019 is based on crude oil prices at around US$72 per barrel. Finance Minister Lim Guan Eng recently said a recalibration of the budget would only be necessary if oil prices dip below the average of US$50 per barrel.
In the unfortunate event that global crude oil prices drop below that level, would Malaysia's GDP fall below the 4.9% expected for 2019?
Meanwhile, the government's ability to keep to the fiscal deficit target of 3.4% of GDP would come into question.
If crude oil prices head south, it would be interesting to see how Malaysia's sovereign ratings will be impacted should international rating agencies view the government's plans unfavourably.
2. Unsettling local political scene
No country can prosper in chaos. Political stability is the one important factor that has given Malaysia an advantage over its neighbours when it comes to attracting foreign and local investment.
Domestic politics will be closely watched by the world in 2019, after the May 9 general election that removed a corrupt government.
Apart from Malaysians, sovereign rating agencies and investors want to know if the new government can maintain cohesion in steering the country out of troubled waters given the current economic problems. Likewise, multinational companies and the local business community want certainty in policies before pouring in more investments.
Sadly, there is already mounting concern over whether the new government, which is made up of a coalition of three parties, can remain united and get its act together, as the partners did in the fight against Barisan Nasional in GE14.
Speculation abounds on how the political landscape will develop in the next one to two years, given the power struggle within Pakatan Harapan that has become too apparent for the public to ignore. Will the infighting send PH down the path to a break-up? Is it true that some PH members are making moves to form a new alliance? And many ordinary Malaysians have asked why is PH wooing defecting MPs from Umno?
It is worrying if Cabinet ministers and high-ranking government officers are more active in party politics than doing their jobs. Bluntly put, is the promise to reform Malaysia still PH's goal?
Last but not least, Tun Dr Mahathir Mohamad's advanced age is a constant worry, considering that the position of prime minister is highly demanding and stressful.
3. Interest rates — status quo or further hikes?
In mid-December, the US Federal Reserve lived up to market expectations when it raised interest rates by 0.25% to bring the benchmark rate to 2.5%. The latest rate hike marks the fourth increase this year and the ninth since normalising rates began in December 2015.
Going into 2019, officials are projecting two hikes next year.
At home, Bank Negara Malaysia has kept the overnight policy rate (OPR) unchanged since its 25-basis point hike in January. Economists are divided on the possibility of a hike next year. Maybank Investment Bank Research takes the view that the OPR will remain unchanged at 3.25% until end-2019 amid benign inflation and steady job market conditions.
Meanwhile, CIMB Research forecast one OPR hike next year in 3Q2019 as it expects the normalisation cycle to be gentle as demand-pull inflation remains moderate, keeping monetary policy accommodative to safeguard economic growth.
It is a guessing game on whether Bank Negara will increase interest rates or maintain status quo. One camp believes that an increase in OPR is necessary as it would be in line with higher rates in advanced economies. By doing so, it could reduce concerns of massive capital outflows and a weak ringgit.
However, another camp believes that raising the OPR could be detrimental to an environment of slowing economic growth at a time when public spending is weak and private consumption is expected to moderate slightly from its high this year as a result of the June-to-August tax holiday.
4. Ringgit
Year to date, the ringgit has depreciated 3.41% against the US dollar, from 4.02 to 4.16. However, the ringgit at one point in the April rose to 3.86 per US dollar, but that strength was only temporary.
Post-GE14, the ringgit has continuously depreciated as foreign selling escalated in the equity and bond markets.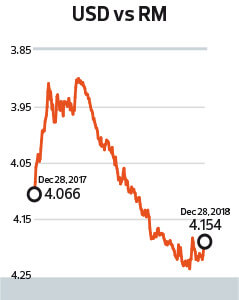 In its outlook report, TA Securities is expecting the local currency to weaken further in 1H2019 to as low as 4.25 against the greenback before strengthening in 2H2019 to 4.
This is on the premise that the Fed may pause its rate hike decision in the second half as the economy slows while funds look for growth alternative investment opportunities in emerging markets, which have been battered and undervalued, says the report.
TA Securities also foresees Opec's decision to cut crude oil supply to boost prices in 2019 to continue contributing to the ringgit's strength due to an above-80% correlation between the currency and the commodity.
5. Measures to alleviate the cost of living
A chief concern for most Malaysians is the rising cost of living. Not surprisingly, it was also one of the key issues the Pakatan Harapan government promised to address in its election campaign.
Regardless of which camp one belongs to, the PH government kept its promise by abolishing the Goods and Services Tax at least and replacing it with the Sales and Services Tax.
Whether or not this move has actually eased the cost of living is debatable as SST involves a smaller basket of goods. In fact, the Ministry of Finance's Economic Outlook 2019 report says the exchange rate has a bigger impact on inflation than GST.
Meanwhile, Budget 2019 seeks to address the issue of affordable housing though various schemes. The government also appeared to pressure property developers to reduce property prices or risk having the SST waiver for residential properties revoked.
On Dec 27, the government announced a freeze on all toll hikes in 2019.
Apart from targeted subsidies, including for fuel, there are plans for cheaper electricity for poor households and the continuation of Bantuan Sara Hidup for the needy in 2019.
Targeted fuel subsidies will begin in 2Q2019, comprising a subsidy of 30 sen per litre for up to 100 litres a month for cars with an engine capacity of 1,500cc and below. Motorcycles with engines of 125cc or less will be allocated 30 sen per litre for up to 40 litres per month. How this subsidy for poor households will be effectively distributed is yet to be seen.
While the obvious beneficiaries of the government's measures are the Bottom 40 group, what remains to be seen is whether the often-squeezed Middle 40 will see their cost of living ease in 2019, thanks to various government efforts amid slower economic growth and a volatile ringgit.
6. Padding the government's coffers
There was a slew of announcements in Budget 2019 on how the government intends to pad its coffers in 2019. In terms of taxes, some existing ones were increased while several new taxes were introduced. There were also measures to plug potential tax leakages.
The rate of the Real Property Gains Tax (RPGT) on the disposal of properties after five years will increase to 10% from 5% currently for companies and foreigners while Malaysians will pay 5% compared with none now. The stamp duty on properties valued at more than RM1 million will also be increased to 4% from 3% at present.
What is new is the introduction of the soda tax, which will be implemented on April 1, 2019, at 40 sen per litre for beverages containing more than five grammes of sugar per 100ml drink, and fruit or vegetable juices containing added sugar of more than 12g per 100ml drink.
Starting Jan 1, 2019, the government will also be looking to impose a tax on imported services like architecture, graphic design, information technology and engineering design services.
Many agree that the soda tax is a good move as it will essentially help promote healthier eating habits among Malaysians while taxing imported services will put the local providers and their foreign competitors on an equal footing.
But like for all new taxes, the concern is whether proper steps will be taken to make their introduction and collection seamless and hassle-free for those affected.
Based on the government's estimates, these budget measures will rake in an additional revenue of about RM1.4 billion in 2019, which seems minimal for the government's coffers.
However, the impact of the ongoing tax amnesty programme under the Special Voluntary Disclosure Programme, which will run until June 30, 2019, could be interesting to follow. Some experts believe the amount collected could run into the billions.
7. Bears in equity markets
Any big swing in stock markets affects not just those who invest in shares, bystanders feel the pain, too, because of the powerful ripple effects on the economy. Stock prices are seen as an indicator of economic growth and corporate earnings.
On the domestic front, economic expansion is expected to slow — companies' profit growth has not been impressive this year and is unlikely to excite in 2019. Adding the government's fiscal issues to the mix makes the outlook less than rosy.
External headwinds — in the form of the US-Sino trade war, volatile crude oil prices, weak global economic outlook, higher interest rates in the US supporting the strong greenback — are adding to the gloom.
The Dow Jones Industrial Average's plunge of over 1,000 points in the two trading days before Christmas spoiled the year-end party mood and reminded investors of the emergence of a bear market as the rout occurred more rapidly in 2018 compared with the preceding years.
Although the benchmark index rebounded sharply on Boxing Day, global sentiment has got jittery. Indeed, the bears' gaining strength is already reflected in what will likely be lower annual closings for most markets globally, in contrast to 2017 when the majority of indices ended the year on a high note.
The year 2019 marks the 10th anniversary of the start of the bull run on Wall Street after the onset of the US subprime loan crisis in 2008. Will governments and policymakers be able to put in place pre-emptive measures to disprove the 10-year cycle theory?
8. Trade war and global growth
On Jan 7, US President Donald Trump and Chinese President Xi Jinping will have their first face-to-face meeting since agreeing to a 90-day truce in the trade war between the two economic powerhouses following a meeting at the G20 summit in Buenos Aires, Argentina, on Dec 1.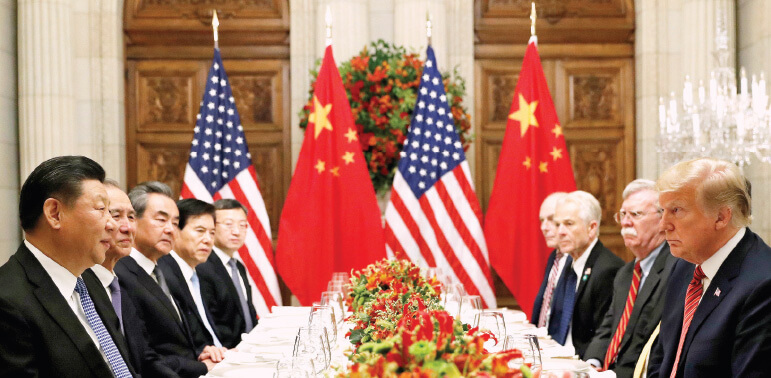 During the summit, the two leaders agreed to delay planned tariff increases from Dec 1 to March 1 as they work out their differences.
The trade war had escalated throughout 2018 with the US and China engaging in several rounds of tit-for-tat tariffs on more than US$300 billion in total two-way trade.
CIMB Research says in a report that the truce may not produce a permanent solution as the root of the dispute — being disagreements over non-competitive market practices and protection of intellectual property, technology and trade secrets — remains unresolved.
The upcoming meeting will be crucial for economies around the world as it could lead to a further escalation or a de-escalation of the trade war. While a de-escalation may be too much to expect, economists are hoping for the truce to continue as the two leaders go back to the drawing board for better negotiations.
What is feared most is, if the trade war escalates should the two countries fail to reach an agreement. This will no doubt put pressure on global economic growth.
As it is, the International Monetary Fund has forecast global growth to moderate to 3.7% next year, down from its earlier forecast of 3.9%.
9. Simmering geopolitical tensions
Judging from the way things are going these days, 2019 could very well be the year when the simmering political and geopolitical tensions flare up or die down.
For one, Trump's potential impeachment has been highlighted as one of the key risks for 2019. Regardless of whether the impeachment process moves forward, market observers are concerned that it would take centre stage in US politics and cripple the US government's ability to get things done.
In the UK, Brexit is set to happen on March 29, 2019. There is still much uncertainty given that British Prime Minister Theresa May still needs to win parliamentary backing for her deal to leave the European Union.
Closer to home, diplomatic relationships with Asian powerhouses is something to watch out for. Since Mahathir stepped into the role of prime minister once again, Japan- Malaysia ties have certainly been warm.
Japan has agreed to guarantee some RM7.4 billion of Samurai Bond issuance with a 10-year tenure, which will be issued in March 2019. If more indications of the warm ties are needed, Mahathir has paid three working visits to Japan this year.
On the other hand, our relations with China appear to be cooling. With the RM55 billion East Coast Rail Line still under negotiation and a Sabah gas pipeline project suspended, it will be interesting to watch what happens next.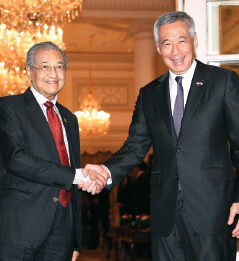 Even closer to home is the diplomatic relations between Singapore and Malaysia. The love-hate relationship between the two countries seems to be leaning more towards "hate" following the change in government here.
Since PH came into power, the Kuala Lumpur-Singapore high-speed rail project has been deferred. Disputes over airspace and territorial waters have been ignited or revisited, namely the Middle Rocks.
Despite the tension, Mahathir has maintained that Malaysia and Singapore remain "good neighbours".
10. Shake-up at GLICs
The year 2018 saw upheavals in key government-linked investment companies (GLICs) post-GE14. We can expect the aftershocks to continue in 2019.
The shock GE14 results spurred leadership changes across all seven GLICs. Nearly all were outright replacements of the old guard bar one: Datuk Seri Shahril Ridza Ridzuan left the Employees Provident Fund (EPF) to helm Khazanah Nasional.
Some of the new chiefs have overseen key changes. A finance ministry vehicle is taking over underperforming Lembaga Tabung Haji assets while Permodalan Nasional Bhd announced a board reshuffle in December.
But as the end of the year draws close, it is unclear what will happen at the other GLICs. Putrajaya says Khazanah will be restructured but details remain unclear. Meanwhile, there has been news that Khazanah will be paring down its stake in more companies.
Likewise for Lembaga Tabung Angkatan Tentera, Retirement Funds Inc and the Ministry of Finance Inc — the latter holds direct major stakes in 68 entities and is reportedly indirectly interested in thousands more.
Will we see further reorganisation and secrets unearthed in the stable of companies under the GLICs as the new chiefs get busy?
For years, GLICs, though not all, were seen as state actors in business and a key source of patronage. The question is, will things be different in Malaysia Baru?
Save by subscribing to us for your print and/or digital copy.
P/S: The Edge is also available on Apple's AppStore and Androids' Google Play.