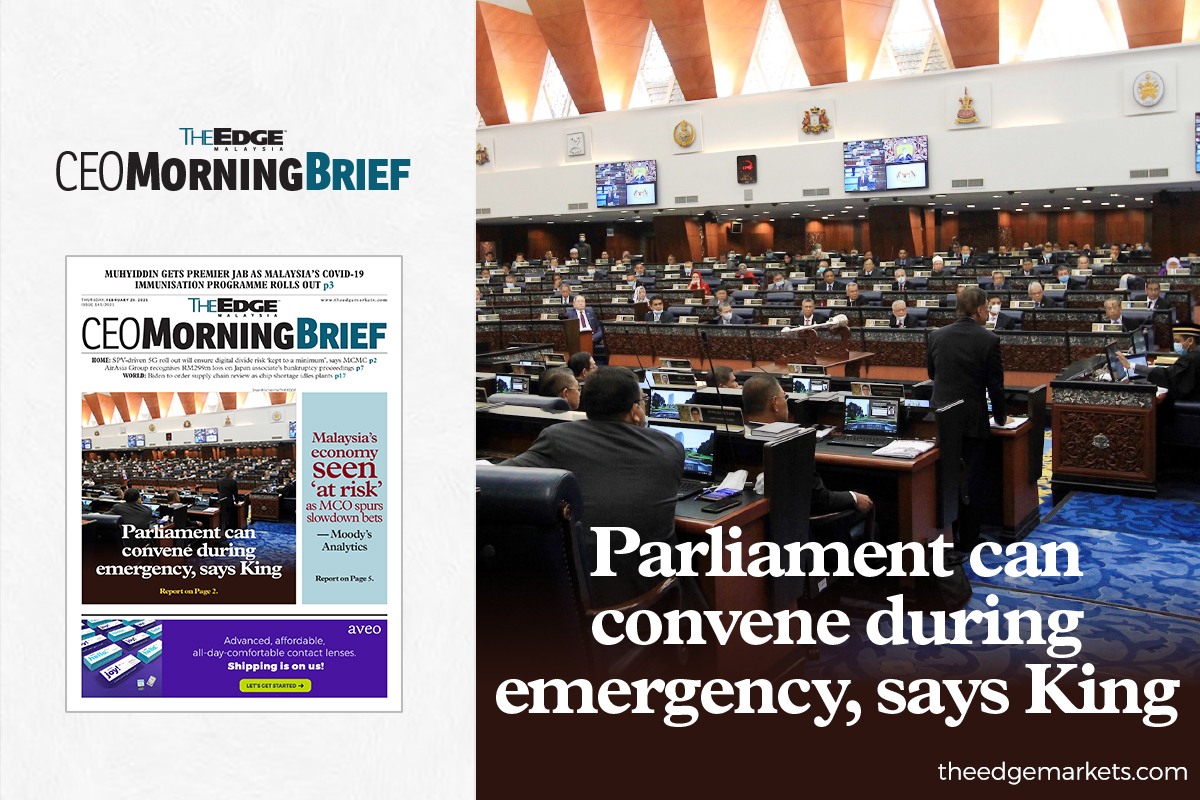 KUALA LUMPUR (Feb 24): The Yang di-Pertuan Agong Al-Sultan Abdullah Ri'ayatuddin Al-Mustafa Billah Shah has stated that Parliament may convene during the emergency period on a date considered appropriate by the ruler, based on the advice of the prime minister.
In a statement today, Comptroller of the Royal Household of Istana Negara Datuk Ahmad Fadil Shamsuddin said the matter was enshrined in subparagraph 14(1)(b) of the Emergency (Essential Powers) Ordinance 2021 which states that Parliament should be called, prorogued and dissolved on a date as deemed appropriate by the King on the advice of the prime minister.
The statement was issued after the ruler had granted an audience to Dewan Negara president Tan Sri Dr Rais Yatim and Dewan Rakyat speaker Datuk Azhar Azizan Harun at Istana Negara.
During the audience, the King had emphasised that Malaysia practises the democratic system based on the Supremacy of the Constitution principle and that each branch of the administration, be it the Executive, Judiciary or Legislature must abide by that principle.
Ahmad Fadil said the perception by some quarters that the emergency proclamation is preventing Parliament from sitting is inaccurate.
"It must be stressed that His Majesty's consent to the advice of the prime minister on the declaration of the Emergency Proclamation on Jan 12, 2021 is merely a proactive measure to contain the Covid-19 pandemic that has so far claimed over 1,000 lives," said Ahmad Fadil.
The Pakatan Harapan (PH) presidential council welcomed the royal statement, and urged Prime Minister Tan Sri Muhyiddin Yassin to reconvene Parliament by March as consented to by the ruler previously.
The council, in a statement issued by PKR president Datuk Seri Anwar Ibrahim, Amanah president Mohamad Sabu and DAP secretary-general Lim Guan Eng, said the King's view is in line with what is mentioned in sub-paragraph 14(1)(b) of the Emergency Ordinance (Essential Powers) 2021.
This is also the stand of PH, as well as that of the majority of MPs, whereby the Executive and Judiciary could function during an Emergency, the council said.
"Parliament must also play its role in ensuring that government governance is maintained, and the check and balance process is maintained," it added.
"Therefore, we will fully support His Majesty's desire to restore the position of Parliament in playing its important role under the Constitution of Malaysia,  highlighting issues and problems faced by the people in fighting the Covid-19 pandemic, and planning measures to revive the country's economy,"  the council said.