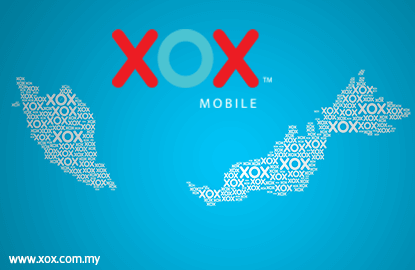 KUALA LUMPUR (July 20): XOX Bhd has proposed to raise RM40 million by issuing 400 million new shares of 10 sen each to Macquarie Bank Ltd.
In a filing with Bursa Malaysia, XOX said it inked an agreement with Macquarie today, under which the Australian bank is committed to subscribe to a minimum number of subscription shares of at least 12% of the volume of XOX within a 12-month period.
Macquarie also undertakes not to purchase XOX shares to the extent that it would trigger a mandatory general offer of XOX shares it does not own.
Macquarie may sell any of the subscription shares before, on or after any subscription date.
With the share issuance, XOX will see its paid-up share capital increase by 71.9% to 956.42 million shares.
XOX said it will use almost all of the proceeds to expand its mobile service Voopee, which allows a user to be assigned multiple local area mobile numbers without the need for a SIM card.
A total of RM28.5 million or 71.3% of the proceeds will be used to expand Voopee to Indonesia, the Philippines, Thailand or any other countries to be identified; RM5 million towards the enhancement of Voopee's features and software maintenance; and another RM5 million for expansion of network capacity for Voopee.
"The board intends to expand Voopee's reach to Indonesia, the Philippines and/or Thailand in the next three years and subsequently to expand to the rest of the Asean region, subject to the availability of funds.
"Upon identification of a suitable mobile network operator in a country, the company will engage with them as a Voopee global partner to set up a presence in that country," said XOX.
The company said it is currently in the midst of discussions with mobile network operators in Indonesia, the Philippines and Thailand and the expansion is subject to the finalisation of the commercial terms as well as the assessment of the financial and commercial viability of cooperating with these mobile network operators.
It said it is of the view that Voopee's unique solution to expensive roaming charges is highly marketable and relevant to frequent travellers in other regions of the world.
On Feb 22, XOX completed a rights issue of shares with warrants exercise, which raised a total of RM40.08 million to fund the company's existing operations including capital expenditure to upgrade the group's systems to handle more load and capacity effectively.
XOX shares closed half a sen or 3.12% higher at 16.5 sen, with a market capitalisation of RM91.81 million.