This article first appeared in The Edge Malaysia Weekly, on July 29, 2019 - August 04, 2019.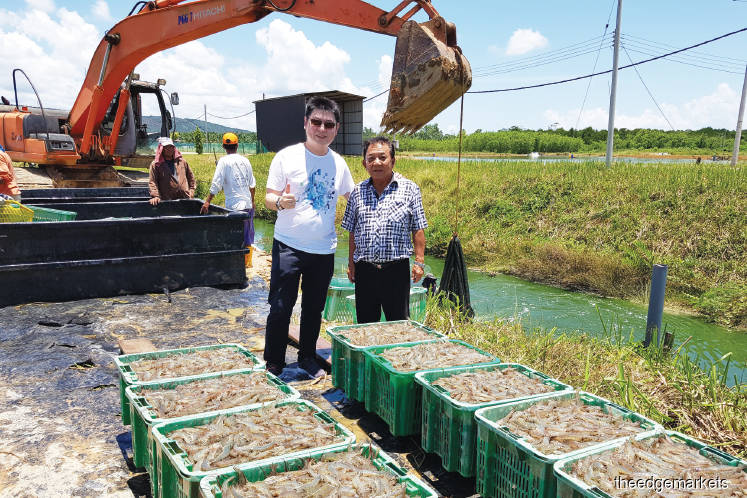 Ng (left) and Lim Ah Cham at the prawn farm in Tawau.
AFTER a false start, China-based edible oil producer XingHe Holdings Bhd will finally be embarking on its first venture outside the Chinese mainland by acquiring a prawn farm in Tawau, Sabah, for RM100 million.
Last year, XingHe announced its plan to diversify into tuna and seafood processing, with operations based in Bukit Tambun, Penang.
However, the business diversification was put on hold when XingHe's joint-venture partners faced some issues with the banks — issues which have yet to be resolved.
"As far as we are concerned, we are still keen on the tuna and seafood processing business. But unfortunately, there are issues beyond our control," XingHe non-executive chairman Stephen Ng Min Lin tells The Edge in an interview.
Nevertheless, the group is ready to move on.
In January, it announced that it had signed a sales and purchase agreement with Pegagau Aquaculture Sdn Bhd to acquire a 97.9ha tract in Tawau as well as farm assets, including 102 cultivation ponds, three reservoir ponds, motor vehicles, livestock and consumables.
The farm assets to be acquired could breed 2,000 tonnes of vannamei — better known as whiteleg shrimp or king prawn — every year. The seawater prawns are mainly exported in unpeeled and frozen packs to distributors in South Korea, Vietnam and Taiwan.
"We catch the prawns, we freeze them immediately, we send them to a processing plant and it will do the sorting, layering and packing, according to customers' requirements," says Ng.
"At the moment, with the current average volume of 1,500 tonnes, we should be able to sell at RM18 to RM20 per kg minimum. That should give us RM27 million to RM30 million in revenue," he adds.
According to the United Nations Commodity Trade Statistics, South Korea, Vietnam and Taiwan were Malaysia's top export destinations for shrimp products in 2017.
On average, South Korean customers are willing to pay about US$1 per kg higher than customers from other countries, says Ng.
"They don't mind paying the premium because it is still relatively cheaper than their locally-produced prawns. Generally, the South Koreans are very proud of their local products, but the production of their local breed is unable to meet the huge demand there. They consume so much that they have to import from Malaysia, Ecuador and some Asean countries," he explains.
Pegagau Aquaculture, said to be one of the top three prawn-farming companies in Malaysia, was founded by Lim Ah Cham and his son Chun Chek in September 2000.
Upon completion of the RM100 million acquisition, Ah Cham will act as an adviser to XingHe for five years. Lim Hock Wah, who is the current farm manager of Pegagau Aquaculture, will also enter into a five-year service contract with the company.
"If you talk to anyone in the aquaculture industry, they will tell you that Lim [Ah Cham] is an industry veteran with vast experience and credentials in this sector. They will transfer the know-how to us. We will be more than happy if they choose to stay with our company five years later," says Ng.
He points out that among the big players that have been getting grants from the government under the National Key Economic Area, Pegagau Aquaculture is the only company that has met the key performance indicators in terms of production volume.
"Lim [Ah Cham] is 73 years old this year. He plans to retire but his two sons are not interested in the business. He built a legacy in the prawn farming business and now, we want to take it to the next level," says Ng.
Ng, 40, was appointed non-independent, non-executive director of Key West Global Telecommunications Bhd in January 2011.
XingHe, which is based in Henan province, made its debut on the ACE Market in late April 2014 in a reverse takeover of Key West Global Telecommunications.
Founded in 2002, XingHe is one of China's top edible vegetable oil companies. Apart from peanut oil, it also manufactures peanut protein cake, a by-product of the production of animal feed.
Note that in recent years, China has been campaigning against environmental pollution in the smog-prone region of northern China — XingHe's production plant is located there in Neihuang County, Henan.
This has dragged down the group's profit before tax from RM125.1 million in the financial year ended Dec 31, 2015 (FY2015), to RM38.7 million in FY2016, before it declined further to RM8.9 million in FY2017. It eventually slipped into a loss before tax of RM26.4 million in FY2018.
"Currently, we are solely relying on the peanut oil business. The production curb is almost 90% of our capacity, which means our plant is running at a very low utilisation rate. Worst comes to worst, we might have to relocate our plant to another area," says Ng.
Given the unfavourable business environment in China, XingHe's proposed acquisition of the prawn farm in Tawau appears timely.
"The acquisition should be completed by September, allowing us to recognise its financial contribution for one quarter in the fourth quarter of this year. We will see the full impact next year," says Ng.
He reveals that XingHe plans to expand its aquaculture business further. "We are coming in not just to buy one asset and then sitting on it. Chances are, after this acquisition, we might acquire a few more farms in Sabah."
The group is in the midst of issuing redeemable convertible notes (RCN) for a total value of RM120 million to raise funds for its diversification into prawn aquaculture operations.
Advance Opportunities Fund, which is controlled by Tan Choon Wee — CEO and director of Singapore-based Advance Capital Partners Asset Management Pvt Ltd — has agreed in principle to subscribe for the RCN.
XingHe closed at 3 sen last Friday, giving the group a market capitalisation of RM77.2 million.