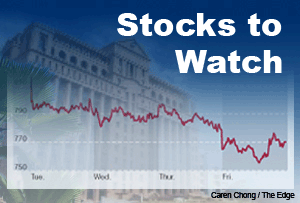 KUALA LUMPUR (Sept 30): Based on news flow and corporate announcements today, the stocks that may be in focus tomorrow (Oct 2) could include the following: XingHe Holdings Bhd, Halex Holdings Bhd, Daya Materials Bhd, Hartelega Holdings Bhd, Axiata Group Bhd, Dayang Enterprise Bhd and Tomypak Holdings Bhd.
China-based XingHe Holdings Bhd has proposed to grant 2.34 million call options to Australia's Macquarie Bank Ltd, entitling the later to subscribe for up to 234 million new shares of 10 sen each in the company.
The 234 million new shares represents 9.96% of XingHe's issued and paid-up share capital as at Sept 29, 2014.
XingHe, which produces edible vegetable oil and protein cake in China, closed 2.08% lower at 23.5 sen today, translating to a market capitalisation of RM551.9 million.
Halex Holdings Bhd has proposed to acquire another 50% stake in Kensington Development Sdn Bhd for RM32 million, which will see it raise its interests in the property development outfit to 75%.
In an announcement today with Bursa Malaysia, Halex said it had accepted a conditional offer from Bestempire Ltd, which had intended to sell its 50% stake in Kensington for RM32 million.
Halex climbed 1.89% to close at 81 sen today, with a market capitalisation of RM85.84 million.
Integrated oil and gas player Daya Materials Bhd has fixed the price of another tranche of its placement shares at 26.5 sen each, which is a discount of 2.27 sen or 7.89% to its five-day volume weighted average market price up to Sept 30.
The group said it had accepted an offer from one Norzain Abdul Wahab to subscribe to 50 million placement shares, valued at RM13.25 million, its filing with Bursa Malaysia today read.
The share placement undertaken by Daya is one of the methods to raise funds for the acquisition of two offshore subsea construction vessels, Siem Daya 1 and Siem Daya 2, for US$280 million.
Daya lost half a sen today to close at 28 sen, giving it a market capitalisation of RM388.87 million.
Glove-maker Hartelega Holdings Bhd has launched a new distribution arm, MUN, which it plans to develop into a global healthcare products company to expand its brand presence in key markets.
The launch of MUN also marked the rebranding of the group's subsidiary, Pharmatex. The unit, with its operations in Australia, China, India and the US, will now be integrated into MUN, Hartalega said in a statement today.
Hartalega closed 3 sen up at RM7.11 today, giving it a market capitalisation of RM5.54 billion.
Axiata Group Bhd's 66.48%-owned Indonesian subsidiary, PT XL Axiata, is selling its 3,500 telecommunications towers there to PT Solusi Tunas Pratama for Rp 5.6 trillion (US$460 million/RM1.5 billion).
In a statement to the Indonesian bourse today, XL Axiata's Chief Executive Officer Hasnul Suhaimi said the firm had signed an agreement with Solusi for the disposal and lease back of the towers, under an all-cash deal.
Axiata climbed 0.14% to RM7.01 today, with a market capitalisation of RM60.11 million.
Kumpulan Wang Persaraan (Diperbadankan) has emerged as a substantial shareholder in oil and gas offshore services provider Dayang Enterprise Bhd, with a 5.08% stake.
In a filing to Bursa Malaysia, Dayang said Kumpulan Wang Persaraan had purchased 2.48 million shares in the company on Sept 24, and raised its holdings to a direct interest of 30.88 million shares or 3.74%, and 11 million shares or 1.33% stake respectively.
Dayang Enterprise closed 0.59% lower at RM3.38 today, giving it a market capitalisation of RM2.96 billion.
Plastic packaging materials manufacturer Tomypak Holdings Bhd announced that two of its directors, Chow Wen Chye and Teng Chew Guat, had entered into a share sale agreement to dispose of a combined 25.48% stake in the company to New Orient Resources Sdn Bhd.
Both Chow and Teng will be disposing 6.59 million shares (6.02% stake) and 21.3 million shares (19.48% stake) in Tomypak respectively, at RM1.30 per share.
Shares in Tomypak remained flat at RM1.30 today, with market capitalisation of RM142.14 million.