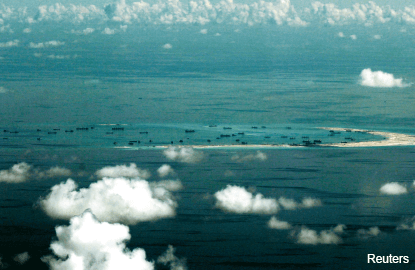 This article first appeared in The Edge Financial Daily, on September 23, 2015.
THE United States and China are entering a period of long-term contention likely to get worse during the next administration, no matter which party holds power. That dynamic will be on display this week, with the state visit by China's president.
In the run-up to Xi Jinping's visit to Seattle, New York and Washington, which will include a state dinner at the White House, the Obama administration has tried to show the US-China relationship as constructive and even friendly. The administration has decided it won't impose sanctions on Chinese entities in response to the massive hack of US government personnel data last year, at least before Xi's visit.
White House officials have been working hard this month to advance bilateral cooperation on climate change and an agreement not to attack each other's critical infrastructure during peacetime, in the hope the summit can claim some substance.
But the visit, starting today, will be overshadowed by disputes over China's growing military assertiveness, its expanding economic espionage online and its crackdown on human rights at home. Republican presidential candidates have promised less coddling of Beijing if they are elected president. Democrats warn that the US-China relationship isn't getting better any time soon.
"I'm ultimately quite hopeful about US-China relations. But I also think we have to be cognisant [of the fact that] the level of anxiety, competition and tension in our relationship is here to stay," said Kurt Campbell, who served as the State Department's top Asia official under Hillary Clinton. "We need to learn to work with that, as opposed to trying to go back to some period of time when US-China relations were less difficult. That period is over."
Lack of clear, cohesive response
The future of the US-China relationship is not yet written, but the US has lacked a clear and cohesive response to a series of Chinese actions in recent months, he said — including militarisation in the South China Sea, sailing ships into US waters near Alaska and hacking US government computers to steal the personal information of millions of current and former officials.
"I do question some of the moves that the president and his team have made in anticipation of the summit," said Campbell. "It would be terrific if the president could clarify the direction that he wants to go ahead, make clear he's going to tackle some of these issues."
For many Democrats, the US-China relationship is destined for prolonged tension due to Chinese economic and trade practices, including what they see as currency manipulation and mistreatment of US companies that do business there. Just as Xi is meeting with US tech leaders in Seattle, the Chinese government is demanding that US firms agree to controversial policies that would force foreign businesses to give the Chinese government access to their data and intellectual property.
Neera Tanden, the president of the Center for American Progress, whose founder John Podesta chairs Clinton's campaign, said American businesses are increasingly concerned that the promise of success in the Chinese market is now being undermined by Chinese protectionism and unfair treatment.
"People see China through the lens of stagnating wages in the US, the impact of the economic relationship and how this really hits certain economic sectors really hard and does put downward pressure on wages," she said. "That will create very few anchors for a positive relationship over the next several decades in the US. And that's something we are all going to have to deal with."
Stand on South China Sea
President Barack Obama's strategy of talking tough on China without openly confronting it is becoming increasingly untenable. For example, although Defense Secretary Ashton Carter has repeatedly said the US is under no obligation to respect Chinese requests to stay 19.3km away from reclaimed reefs in the South China Sea, the White House hasn't actually told the Pentagon whether it is allowed to travel within that zone.
The new commander of US Pacific Command, Admiral Harry Harris, testified that the military has compiled options for pushing back against what he has called China's "Great Wall of Sand", but the White House was still considering what to do. "The South China Sea is no more China's than the Gulf of Mexico is Mexico's," he said.
Twenty-six members of Congress, led by Randy Forbes and including House Armed Services Committee chairman Mac Thornberry, wrote to Obama and Carter last week urging them to allow the US military to assert its right to operate in waters near Chinese islands.
"The administration says, 'We're going to do studies of our options,' but by that time, China is going to say, 'This is the international norm and you can't violate it,'" Forbes said in an interview. "We've not only let the Chinese do these things; we've let them censor us in what we can say and do."
During the political season, it's easy to find breathless bashing of China and just as easy to dismiss it. But there has been a broad bipartisan consensus throughout several administrations around the strategy of engaging China constructively while balancing that with action to ensure China doesn't abuse its rising power to violate international norms, and threaten US and allied interests.
As this summit will demonstrate, there is now a bipartisan consensus that this balance is out of whack. For different reasons, both Republicans and Democrats want a more assertive US stance. Xi should enjoy this visit: It may be his last warm welcome to Washington. — Bloomberg View
Josh Rogin is a Bloomberg View columnist.