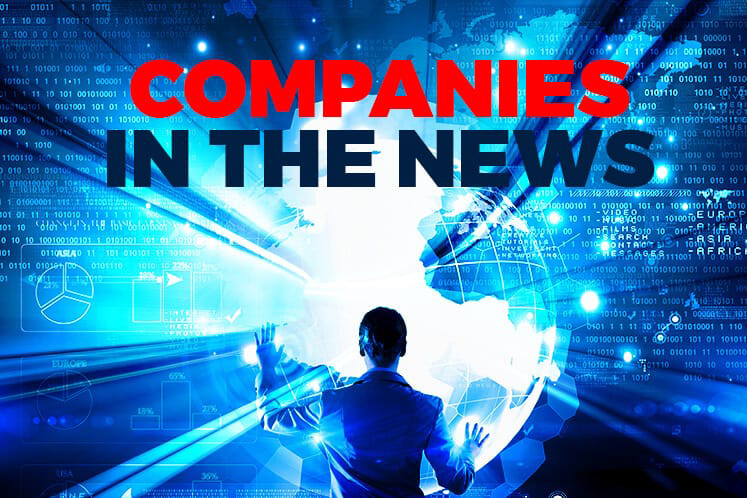 KUALA LUMPUR (March 15): Based on corporate announcements and news flow today, companies that may be in focus tomorrow (March 16) may include the following: WZ Satu, BFood, OKA Corp, Magni-Tech, Unimech, MWE, Pestech, Texchem, NetX, Zecon and Ewein.
WZ Satu Bhd has bagged two subcontract works totalling RM63 million for the construction and completion of mainline and other associated works of the Sungai Besi-Ulu Kelang Elevated Expressway (SUKE).
Its wholly-owned subsidiary WZS BinaRaya Sdn Bhd has accepted two letters of award from Hasrat Sedaya Sdn Bhd.
The 12-month project, which commenced on Feb 28, is expected to contribute positively to the group's earnings and net assets per share for the financial years ending Aug 31, 2018 (FY18) and FY19.
Berjaya Food Bhd (BFood) slipped into the red in the third financial quarter ended Jan 31, 2018, posting a net loss of RM10.85 million, versus a net profit of RM4.68 million a yaer earlier, due to a one-off loss amounting to RM15.38 million arising from the disposal of its Kenny Rogers Roasters operations in Indonesia.
Excluding the one-off disposal loss, BFood said it would have posted a pre-tax profit of RM10.55 million in 3QFY18, up 22.4% from RM8.62 million previously.
This was despite a marginal 0.6% increase in its quarterly revenue to RM164.44 million from RM163.54 million, thanks to additional Starbucks cafes and same-store sales growth.
The group declared a third interim dividend of one sen per share, payable on April 27.
Net profit for the cumulative nine months tumbled 97.9% to RM304,000, from RM14.71 million a year earlier. Revenue, however, grew 5.6% to RM479.61 million from RM454.02 million.
OKA Corp Bhd is acquiring a piece of 3.6-hectare land in Senai, Johor for RM10.09 million to build a new factory in anticipation of future business growth in the southern region.
The vacant freehold land is located adjacent to the present factory of its wholly-owned subsidiary, OKA Concrete Industries Sdn Bhd.
The purchase will be funded by internally-generated funds and bank borrowings.
Magni-Tech Industries Bhd's net profit rose 5.4% to RM31.14 million for the third quarter ended Jan 31, 2018 from RM29.55 million a year ago, on higher sales order and investment income at its garment segment.
Quarterly revenue grew 8.4% to RM313.3 million from RM289.12 million amid higher sales orders received for both its garment and continuing packaging operations.
The group declared a third interim dividend of three sen per share and a special dividend of four sen per share, payable on April 12.
For the cumulative nine-month period, the group turned in a 12.7% lower net profit at RM71.23 million compared with RM81.6 million in the previous corresponding period, despite a 2.3% increase in revenue to RM859.33 million from RM840.31 million previously.
Unimech Group Bhd has appointed psychologist Prof Datuk Dr See Ching Mey an independent and non-executive director as well as its chairman.
The industrial valves maker said aside from her academic-research-management responsibilities, See, 62, concurrently maintains an active clinical practice providing counselling, psychotherapy, hypnotherapy and treatment for children, adolescents, young adults and the elderly.
Trading in the shares of MWE Holdings Bhd will be suspended tomorrow "pending the release of a material announcement".
Pestech International Bhd has aborted plans to jointly explore the setting-up of a power supply infrastructure to the Dongphosy Specific Economic Zone (DSEZ) in Laos with Vientiane-based developer UPL Lao Co Ltd.
Notwithstanding the termination, the group will continue to explore for business potential in Laos and look out for other business opportunities in that country.
The termination is not expected to have any material effect on the group's net assets, earnings per share and gearing for the financial year ending June 30, 2018.
 
Texchem Resources Bhd's president and group chief executive officer Datuk Brian Tan Guan Hooi will take on the post of deputy chairman from March 23.
Texchem also redesignated its executive director Yap Kee Keong to replace Tan, 48, as group CEO.
 
NetX Holdings Bhd has proposed to raise up to RM8.05 million via a new share placement to third party investors to fund the collaboration project of its 60%-owned unit Payallz Sdn Bhd.
From the total proceeds, RM7.94 million will be used for Payallz's funding requirements for the collaboration project, while the remaining RM110,000 will be for estimated expenses related to the proposed exercise.
The funds for the collaboration project will be for customisation, integration and deployment of a mobile payment system, expansion and maintenance of Wi-Fi coverage, and marketing and promotional expenses.
As the proposed private placement may be implemented in several tranches within six months, NetX said there could be several price-fixing dates and issue prices.
Zecon Bhd has signed a Memorandum of Understanding (MoU) with Universiti Tun Hussein Onn Malaysia to set a framework for both parties' activities in academic programmes and cooperation in areas of education, research and social services.
The MoU will remain in force for five years unless terminated by either party giving three months' notice to the other, and will be reviewed at the end of the third year.
Should the MoU be terminated, the provisions would continue to apply to ongoing activities until their completion.
Ewein Bhd's 89%-owned unit Ewein Ecommerce Sdn Bhd has signed a memorandum of agreement with two Thai businessmen for the establishment of a joint venture company (JVco) for a coffee-vending machine project in Bangkok, Thailand.
The JVco will be 40%-owned by Ewein Ecommerce, while Yingyos Charubusapayon and Chai Yangruay will hold 32.5% and 27.5% stake respectively.
Under the agreement, Ewein Ecommerce will be providing the use of 30 units of smart mobile coffee-vending machines, facilitate installations at all 30 locations identified, besides assisting with technical aspects of the vending machines.
Ewein's participation in the project will be financed through internally-generated funds.