This article first appeared in The Edge Malaysia Weekly, on April 29, 2019 - May 05, 2019.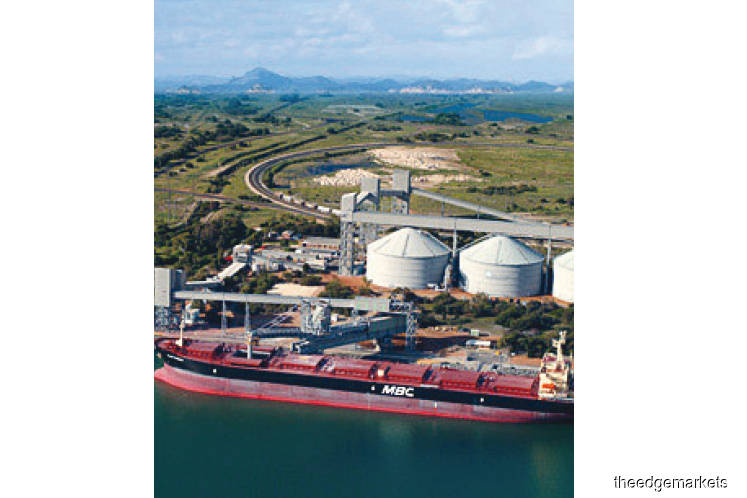 Maybulk has trimmed down its fleet from 22 ships in 2014 to 17. Photo by Malaysian Bulk Carriers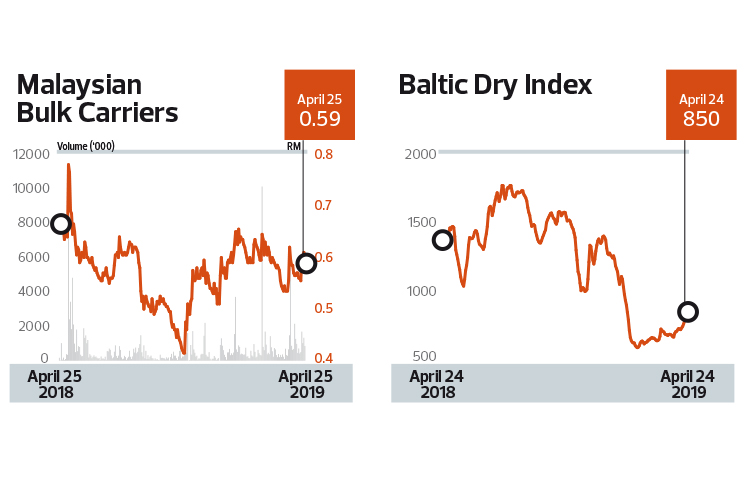 COULD there be light at the end of the tunnel for shipping company Malaysian Bulk Carriers Bhd (Maybulk)?
In its annual report for FY2018 released earlier this month, there seems to be some indication that things have taken a turn for the better.
In the chairman's statement, Datuk Capt Ahmad Sufian @ Qurnain Abdul Rashid says, "In 2018, the dry bulk market continued to improve, with freight rates across all shipping segments performing better than in 2017 and significantly above the historical low levels of 2015 and 2016. This was attributed to an overall improvement in seaborne trades of dry bulk commodities, while supply fundamentals of dry bulk shipping remained reasonably healthy."
To put things in perspective, the Baltic Dry Index, which tracks the cost of carriage of dry bulk goods such as coal, iron ore and grain across sea routes, was at 850 points last Thursday and has averaged 1,236 points over the past 12 months. The benchmark index averaged 718 points in 2015 and only 673 points in 2016.
But then again, the index is just recovering after tumbling from 1,400 points last December to 600 points in February as a result of a dam collapsing in Brazil earlier this year. This crippled iron-ore exports from the South American nation, resulting in many vessels being idle, and adversely impacted the index.
A shipping executive explains that the market has been volatile, with the charter rates of Panamax vessels (vessels with deadweight tonnage of 60,000 to just below 80,000) falling from US$16,000 a day late last year to just above US$8,000 now.
"The market is hard to gauge," he says.
It is also hard to gauge the outlook for Maybulk as analysts have ceased coverage of the company.
International research houses, meanwhile, have differing views of the sector, with some like Allied Shipbroking being more positive on it while others, such as BIMCO, being less sanguine.
In a report late last year, Allied Shipbroking says, "Since the beginning of 2016, when the dry bulk market reached its absolute bottom, freight rates have been on an upward trajectory. Taking the Baltic Dry Index as a benchmark, we saw the index increase from a yearly average of 676 points in 2016 to 1,149 points in 2017, and now reaching 1,351 points for the year so far."
BIMCO, in a report earlier this year, says, "The extent of the freight rate recovery in 2018 was limited — when compared with initial expectations — by a faster-growing fleet. The fourth quarter wasn't as strong as it often is either, but we now know that that was merely the beginning of a sharp downturn … By early February, the industry appeared to be paddling in quicksand."
The shipping executive, however, says Maybulk had taken measures to better its financials, and not just sat idle.
"They (Maybulk) have got rid of their older vessels and sold off their stake in POSH (oil and gas service provider PACC Offshore Services Holdings Ltd), so that is quite positive," he says.
POSH suffered a net loss of S$79.99 million (RM298.1 million) for its financial year ended December 2018 compared with a net loss of S$299.4 million (RM907.66 million) the year before, and has seen three consecutive years of losses.
Maybulk has also trimmed down its fleet from 22 ships in 2014 to 17, and the company does not have any tankers.
Better without POSH
To recap, Maybulk hived off POSH in late October last year via a renounceable restricted offer for sale to shareholders from which it received net proceeds of RM249.2 million. The gains from the sale of POSH, coupled with the sale of four vessels — Alam Makmur, Alam Penting, Atlantic Progress and Atlantic Dream — helped nudge the company's earnings for FY2018 upwards.
In FY2018, Maybulk reported a net profit of RM263.84 million compared with a net loss of RM134.9 million the year before. Revenue was marginally higher at RM198.3 million from RM197.7 million in FY2017.
To put things in perspective, the company raked in as much as RM265.93 million in gains from the disposal of assets and its stake in associate POSH. In FY2018, its loss after taking into account the results of joint ventures but before associate and exceptional items was RM19.32 million compared with RM21.11 million in FY2017.
As at end-December last year, Maybulk had cash and bank balances of RM27.99 million and short-term deposits of RM261.14 million while current liabilities and short-term borrowings stood at RM211.47 million and RM197.68 million respectively.
It is also noteworthy that in 2015, Maybulk contracted Oshima Shipbuilding Co Ltd to build three bulk carriers for RM64 million, which are of the fuel-efficient Kamsarmax variety. The first vessel was delivered last October while the other two are slated to be delivered later this year.
Kamsarmax refers to a vessel meeting the 229m limit for ship length at the Port of Kamsar — a major bauxite shipping port in the Republic of Guinea on the west coast of Africa — and weighing about 82,000 deadweight tonnage.
The new vessels can fetch higher charter rates as they comply with the latest industry regulations and can carry a larger quantity of cargoes. They are also more fuel-efficient than the other ships of their class in Maybulk's fleet.
Meanwhile, the company's share price has been depressed for a long time now and has traded below the RM1 band since early August 2015. It closed last Thursday at 59 sen, translating into a market capitalisation of RM590 million.
The stock hit a 52-week low of 41 sen on Oct 26 last year and a 52-week high of 80.5 sen in mid-May last year.