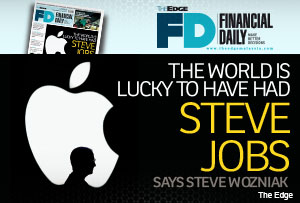 KUALA LUMPUR: The world is lucky to have had someone like Steve Jobs, said Steve Wozniak, co-founder of Apple Computer (now Apple Inc) in a touching homage that offers brief but poignant glimpses into his friend's life. "The world is so lucky to have [had] somebody like him to run a company like Apple and set so many good directions," he said at the Leadership Energy Summit Asia 2014 here yesterday.
"His little fine-tuning made a huge difference in the quality of products. He understood a lot of things at a higher level — what's going on, what a product means — than what its specifications were," said Wozniak.
He said Jobs did not immediately turn out to be the success that he was and shared that there were many failures that his friend had experienced before reaching the peak.
"He had failure, failure, failure executing. So he probably would have had failure without that great product," said Wozniak, referring to the company's pioneer products like the successful Apple II.
Wozniak and Jobs founded Apple Computer in 1976. Wozniak was the acknowledged technical whiz while Jobs, with his marketing magic, made a powerful team.
Their story was an oft-told one: Wozniak designed Apple I at Silicon Valley and after Jobs landed a contract with a local computer store for 100 pre-assembled machines, their company was launched.
And Apple I was quickly followed by Apple II, of which Wozniak single-handedly designed all its software and hardware.  
"We both needed each other," he said when reminiscing about those early days with Jobs, who passed away in October 2011 after battling cancer for years. He was 56.
Wozniak: Apple will continue to live in the shadows of Jobs and rightfully so. Photo by Kenny Yap
Wozniak said Apple would continue to live in the shadows of Jobs and rightfully so.
"We're in the shadow of Steve Jobs and we believe that we'll be there forever. He's the leader that Apple aspires to be," he said.
Wozniak believed that the future is not bleak for Apple despite certain critics saying that the company has hit a plateau in the innovation department.
"That's ridiculous. A lot of people say Apple is not innovative, [that] they are just improving products [and] not making big strides in the world like Samsung. But you have to wait a couple of years until the pipeline that was associated with [Jobs] is through before the new management can be judged," he said.
He conceded that Apple was a tad late in hopping onto the larger screen bandwagon but noted that the company's recent unveiling of its iOS 8 and iPhone 6, as well as its latest venture into mobile payments, were indicative of a promising future.
Artificial Intelligence, the humanising of machines, is the next frontier for technological advancement, said Wozniak.
"How do we make machines more like a human friend, like it knows my heart and soul? [Like] it cares about me? It knows me better than my human friends, so get out of my life, humans. It's already happening," he joked.
Wozniak predicted that smart phones and tablets would continue to shape human interaction, but was less enthusiastic about the viability of wearable gadgets, saying that its notable feature — the smaller screen — was also its downfall.
So, having built a legacy as the co-founder of Apple, does Wozniak have any regrets?
His answer to the audience at the two-day summit was an emphatic "no".
"I came up with this formula for happiness in my 20s: happiness equals more smiles minus frowns. Try to do things that make you smile, have a lot of good fun and entertainment. I am not going to have frowns."
The summit ends today.
This article first appeared in The Edge Financial Daily, on October 2, 2014.