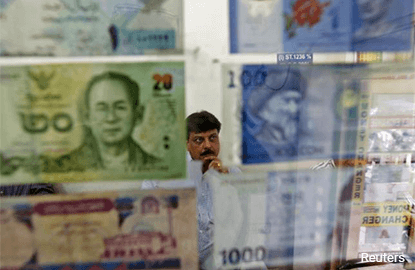 SINGAPORE (Feb 24): Asian currencies edged higher on Friday, with the South Korean won hitting a four-month high, as uncertainty over details of the Trump administration's tax reform plan weighed on the US dollar.
The Chinese yuan edged up 0.1% against the greenback, showing limited reaction to US President Donald Trump's comments to Reuters on Thursday declaring China "the grand champions" of currency manipulation.
The South Korean won rose to 1,127.6 per US dollar at one point, its strongest level since Oct 20. The won was last up 0.7% on the day.
With its latest gains, the won joins the Taiwan dollar as being the currencies in Asia trading higher than the levels seen on Nov 9, after Donald Trump's win in the US presidential elections.
Most other Asian currencies were slightly higher on the day, with the Taiwan dollar and Indonesian rupiah gaining 0.2% each.
The Singapore dollar set a high of 1.4041 per US dollar at one point, its highest level since Nov. 10.
Asian currencies held firm after the greenback slipped against a basket of six major currencies on Thursday.
The US dollar faltered after US Treasury Secretary Steven Mnuchin, in his first televised interview since taking office, offered few fresh details on the administration's tax reform plans.
Mnuchin told Fox Business Network that any policy steps the Trump administration takes would likely have a limited impact this year and told CNBC that he wanted to see tax reform passed before Congress' August recess.
Mnuchin's comments left analysts wondering whether details of the tax reform plan would be unveiled when President Donald Trump addresses a joint session of Congress on Feb 28.
"Expectation is that Trump will at least provide some more details on the tax cuts and that's supposed to strengthen the dollar and make yields rise," said Sean Yokota, head of Asia strategy for Scandinavian bank SEB in Singapore.
"So what he's (Mnuchin) saying yesterday is clearly setting expectations lower going into it," Yokota said. More details of the tax plans could still emerge in the next few days, however, and trigger fluctuations in currencies, he added.
Worries about political risks in Europe could weigh on emerging Asian currencies going forward, analysts said.
Markets have been concerned about anti-European Union rhetoric from French presidential candidate Marine Le Pen ahead of the first round of elections on April 23, with the second round to come in May.
"It's not a situation where you can actively buy Asian currencies, although it's hard to tell whether the risk is from the possibility of dollar strength, or from risks related to Europe," said Teppei Ino, an analyst for Bank of Tokyo-Mitsubishi UFJ in Singapore.
Most Asian currencies were poised to see weekly gains, supported by expectations that the Federal Reserve would probably wait until the second quarter to raise interest rates, rather than increase them in March.
CURRENCIES VS US DOLLAR
Change on the day at 0535 GMT
| | | | |
| --- | --- | --- | --- |
| Currency                | Latest bid   | Previous day     | % move |
| Japan yen                   | 112.88     | 112.63   | -0.22 |
| Sing dlr                    | 1.4059     | 1.4064   | +0.04 |
| Taiwan dlr                  | 30.675     | 30.745   | +0.23 |
| Korean won                 | 1129.40    | 1137.30   | +0.70 |
| Baht                         | 34.96      | 34.98   | +0.07 |
| Peso                        | 50.175     | 50.225   | +0.10 |
| Rupiah                       | 13330      | 13350   | +0.15 |
| Rupee                        | 66.83      | 66.82   | -0.01 |
| Ringgit                     | 4.4440     | 4.4470   | +0.07 |
| Yuan                        | 6.8704     | 6.8735   | +0.05 |
Change so far in 2017
| | | | |
| --- | --- | --- | --- |
| Currency                | Latest bid   | End prev year     | % move |
| Japan yen                   | 112.88     | 117.07   | +3.71 |
| Sing dlr                    | 1.4059     | 1.4490   | +3.07 |
| Taiwan dlr                  | 30.675     | 32.279   | +5.23 |
| Korean won                 | 1129.40    | 1207.70   | +6.93 |
| Baht                         | 34.96      | 35.80   | +2.43 |
| Peso                         | 50.18      | 49.72   | -0.91 |
| Rupiah                       | 13330      | 13470   | +1.05 |
| Rupee                        | 66.83      | 67.92   | +1.64 |
| Ringgit                     | 4.4440     | 4.4845   | +0.91 |
| Yuan                        | 6.8704     | 6.9467   | +1.11 |