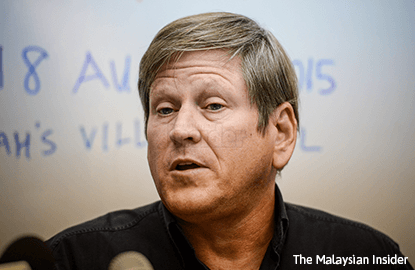 (Dec 3): The National Security Council Bill must be withdrawn by the government or rejected in Parliament, Human Rights Watch (HRW) said today, adding that the proposed law was clearly a tool for repression that could threaten human rights and democratic rule.
Calling the bill "frightening", HRW deputy director for Asia division Phil Robertson said the law was far broader than anything that could be justified by any real threat to Malaysia's national security.
"Given the incredible range of broad and abusive laws already being used by Prime Minister (Datuk Seri) Najib (Razak) and his government to arrest and harass government critics, the breadth of the bill's language is truly frightening," he said in a statement.
"The law is far broader than can be justified by any real threat to Malaysia's national security, and creates a real risk of abuse in the hands of Prime Minister Najib and his embattled government."
Robertson said although the law has been touted as a legislation to protect national security, it provided wide-ranging powers that could pose risks to human rights and democratic rule.
"The bill would give sweeping powers to a council headed by the prime minister to declare a security area to protect 'any interest of Malaysia'.
"Once such a declaration is made, the security forces are permitted, among other things, to limit freedom of movement, conduct searches without warrant for evidence of violation of 'any written law,' and arrest individuals without a warrant on suspicion of committing 'any offence under any written law'.
"The law would also establish new lows on impunity by security forces by protecting them from any legal proceedings for any actions taken 'in good faith' and impose a sweeping obligation of secrecy on all those involved with the council," he said.
Putrajaya tabled the bill, which looked to have returned discretionary powers provided under the Emergency Ordinance (EO), on Tuesday.
The council will be headed by Najib as its chairman, with members consisting of Deputy Prime Minister Datuk Seri Ahmad Zahid Hamidi, Chief Secretary Tan Sri Ali Hamsa, Defence Minister Datuk Seri Hishammuddin Hussein and Inspector-General of Police Tan Sri Khalid Abu Bakar.
The council provides the power to declare an area a "security area" if there is deemed to be a threat.
The operations of the council will be headed by a director-general appointed by Najib among public officers.
Putrajaya hopes to pass the bill at the current meeting which ends today.
"Now we know what the path to Malaysian dictatorship looks like," Robertson said.
"The people of Malaysia, and international friends of Malaysia committed to human rights, should urgently demand this bill be withdrawn by the government, or rejected by the parliament." – The Malaysian Insider