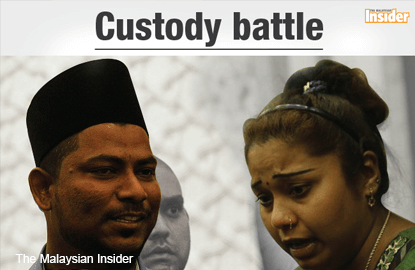 KUALA LUMPUR (Feb 12): The Federal Court ruling in the S. Deepa v. Izwan Abdullah interfaith custody case has drawn varied reactions, ranging from criticism to praise.
The apex court ruled that it was the civil court which decided the custody of children who were converted to Islam, and that the Shariah court could not dissolve a civil marriage even when one party embraced Islam.
The court granted S. Deepa custody over her daughter Sharmila (Nurul Nabila) but ordered custody of their son Mithran (Nabil) be given to Izwan.
Tan Sri Raus Sharif, who led the five-man bench, said the variation order was made as the children were settled well in their present environment.
Sharmila, 11, is studying at an international school in Johor Baru while Mithran, eight, is at a government school in Kuala Pilah, Negri Sembilan.
Both parents could visit their children at the home of Deepa's mother, Siti Aishah Abdullah, in Jelebu once in two months on a Saturday, between 10am and 3pm.
The bench also cleared Inspector-General of Police Tan Sri Khalid Abu Bakar over his refusal to execute a High Court discovery order to locate and return Mithran to Deepa, and said the Seremban High Court should not have issued a recovery order because the custody order from the Shariah court was also recognisable under civil law.
Retired  Federal Court judge Datuk Seri Gopal Sri Ram gives his views of the winners and losers –some falling in both categories — from the decision of the Federal Court.
Winner
Izwan Abdullah (N. Viran)
Sri Ram said Izwan broke the law but benefitted when the Federal Court gave him custody of his son.
On April 7, 2014, the Seremban High Court granted Deepa custody of the couple's two children.
Two days later, he snatched the son from the lawful custody of Deepa.
Izwan was also acting on a Shariah court custody order when that religious court had no jurisdiction in a case where one party remained non-Muslim.
He did not come to court with clean hands to seek justice, said Sri Ram.
Losers
S. Deepa
She had a valid custody order over both children from the High Court but lost the custody of the son in the apex court.
Sri Ram said the High Court had jurisdiction to grant her the custody order while the Shariah Federal Court did not, as the couple's marriage was a civil registration.
The Federal Court should have sent the case back to the Seremban High Court to decide who had custody over the children, he added.
Sharmila and Mithran
Splitting the siblings has led to a broken family, said Sri Ram. It is undesirable to separate them as they will grow apart, which is psychologically not good for brother and sister.
Winners and losers
Tan Sri Khalid Abu Bakar
Khalid was a public servant and bound by the High Court order to locate Mithran.
Sri Ram said the Federal Court should have followed the High Court order as the Shariah court has no jurisdiction over a dispute in which one party was a non-Muslim.
However, this is the first time a conflict has arisen where the top law enforcement officer was faced with two "contradictory" custody orders.
Sri Ram said this was an exceptional case and that in future, the IGP should follow civil court orders, not the Shariah court.
However, public perception of the police force has been damaged.
Judiciary
While the ruling that civil courts have exclusive jurisdiction to grant divorce, including custody, care and access of children where one spouse has unilaterally converted to Islam was welcomed by many, Sri Ram said court pronouncements were matters of legal opinion.
Judges were doing their job to administer justice.
It is for the academic and lawyers to discuss and give their views.
If a later court felt in another case that the earlier decision was wrong, it could depart from it, he said.
The law, he added, was an instrument that could be used or abused.