This article first appeared in The Edge Financial Daily, on September 18, 2018.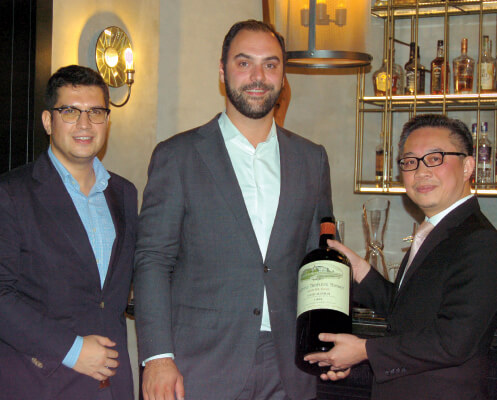 (From left) Odent, du Fou and Resorts World Genting food and beverage vice-president Khew Choon Teck at the celebration event of Chateau Troplong Mondot's premium wines at LTITUDE.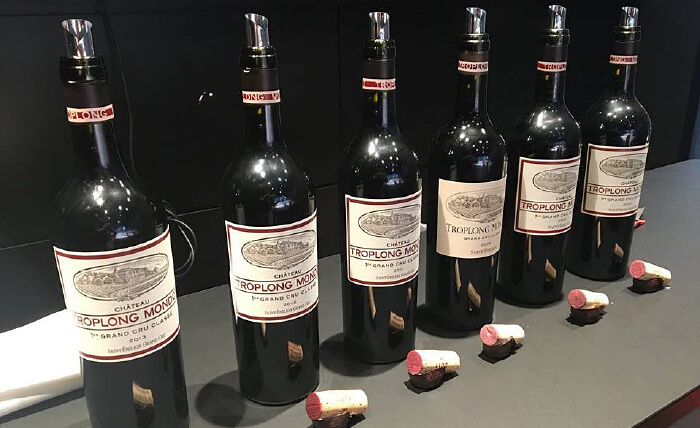 Chateau Troplong Mondot wines are highly sought-after among collectors. Photo from Facebook/Chateau Troplong Mondot
Chateau Troplong Mondot, on top of the Saint-Emilion plateau overlooking the entire Saint-Emilion village, is also where Bordeaux's best wines are grown and made.
In an exclusive interview with The Edge Financial Daily, Chateau Troplong Mondot commercial development director Ferreol du Fou, and Thibault Odent, business development manager for Hong Kong, Taiwan and Southeast Asia markets, described the intriguing backgrounds of Chateau Troplong Mondot's wines at LTITUDE, a fine dining restaurant in Resorts World Genting.
The exclusive wine dinner for 25 invited guests was to celebrate Chateau Troplong Mondot's premium wines at LTITUDE, with wines of varying ages introduced. Dating back to 1999, the wines were paired with a carefully crafted six-course menu of mouth-watering dishes prepared by the deft hands of chef Teo and his team members.
Du Fou shared Chateau Troplong Mondot's fascinating background before introducing each wine pairing prepared for the evening, from the elegant and rich undertones of the oldest vintage wine, Chateau Troplong Mondot 1999 to the fruity and playful Chateau Troplong Mondot 2015.
"In France, we have a French word 'terroir' meaning a combination of different attributes of a region's weather, soil, terrain and people affecting the production and taste of each wine.
"Troplong Mondot's 33ha vineyard lies atop Saint-Emilion's plateau and slopes consisting of limestone deposits under layers of thick clay soil producing that gorgeous wines that we will be sampling today (Sept 5). It is a pleasure to feature our best wines here at LTITUDE, especially with the exceptional menu available," said du Fou.
"Changes in the weather throughout the year make the flavours of each Chateau Troplong Mondot vintage wines standout from others, therefore different vintages go well with different dishes," said Odent.
The Chateau Troplong Mondot 2004, a gorgeously rich emblem of the Troplong Mondot style, boasts sweet notes of cherry, white chocolate, blackcurrants and it also has a spicy rockiness. It was paired with smoked Chilean seabass served with grilled asparagus and tomato balsamico prepared by chef Teo.
Chateau Troplong Mondot harvests grapes from its vineyard in September starting with Merlot, then Cabernet Sauvignon and Cabernet Franc, marking the start of its wine producing process. "There will then be eight people at the sorting table to keep only the best grapes harvested. After the grapes are sorted, they are ready to be de-stemmed," said du Fou.
"The grapes will then go through maceration in the vats with light pumping to keep the freshness of the fruit taste, as it is Chateau Troplong Mondot's policy to make a wine reflecting all its terroirs. Thereafter, alcoholic and malolactic fermentations take place in the tanks where each plot (with one grape variety per plot) is vinified separately.
"In November and December, the chateau starts blending its different wines and varieties of grapes to make the final blending, and the wines will be aged in French oak barrels for 18 months in 65% new oak and 35% in a vintage oak barrel."
As each harvest only produces a maximum of 100,000 bottles a year, it makes each bottle of Chateau Troplong Mondot a rare gem, du Fou added. However, the wines are available worldwide, with a focus of one-third each in North America, Europe and Asia, according to du Fou. There is no quota imposed on purchases as there are people buying wines and reselling them by the cases, said Odent.
Wine connoisseurs in Malaysia have become well known, the reason for which Chateau Troplong Mondot came to Genting, portraying Malaysia as a destination for luxurious attractions, said du Fou. He highlighted Chateau Troplong Mondot wines at LTITUDE taste better as the unopened bottles are pressurised due to the restaurant's high altitude location, making the wines more aromatic.
With the chateau's impeccable terroir and its limited production, it makes the wines highly sought-after among collectors. "Chateau Troplong Mondot has the highest sales in Singapore as the wines reach buyers there at a fast pace. However, Thailand and Vietnam are growing markets for the chateau," said Odent.