This article first appeared in The Edge Financial Daily, on January 14, 2020.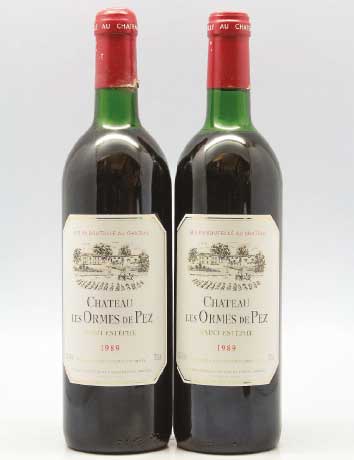 Chateau Les Ormes de Pez, St Estephe, 1989 the mystery wine of the night.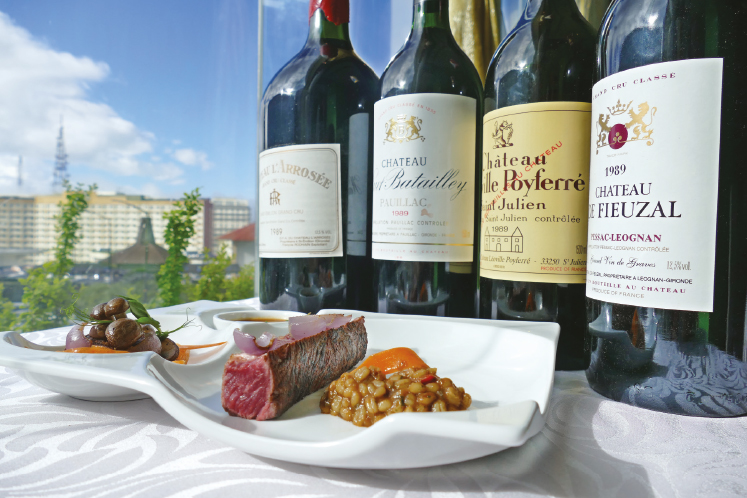 Wagyu M9 and Chateau L'Arrosee, St Emilion; Chateau Haut Batailley, Pauillac; Chateau Leoville Poyferre, St Julien; and Chateau de Fieuzal, Pessac-Leognan 1989.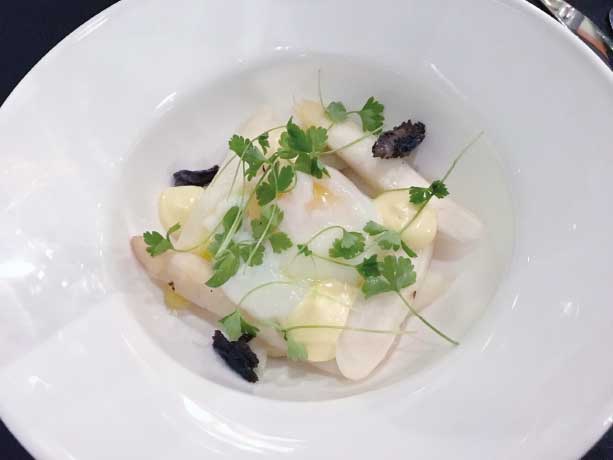 White asparagus with poached egg, morel, truffle hollandaise, escargot on garlic butter for starters.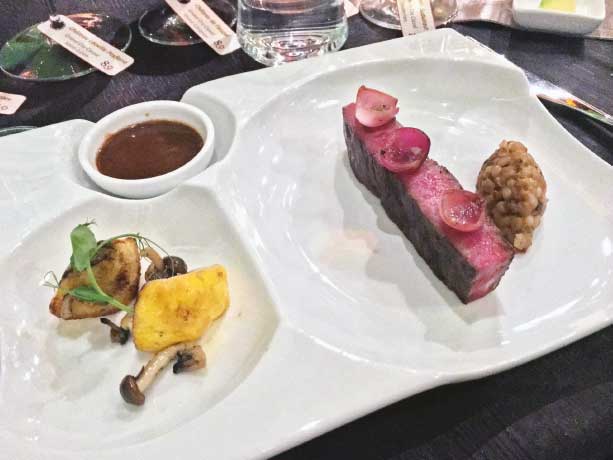 Wagyu M9 with legumes, wild mushrooms, roasted carrots, shallots, baby squash and thyme jus for main course.
The 1989 Bordeaux wine remains a unique vintage. The vintage got off to a great start with a very, mild winter followed by a wet spring. Things moved quickly. By May, the vines were some three weeks ahead of schedule. Flowering was early and even. The summer was hot, sunny and dry — perfect for ageing wine. In fact, it was the hottest summer on record since 1949, according to the Wine Seller Insider.
This gave rise to Resorts World Genting's (RWG) joint efforts with two parties. Maison Coval Wines & Spirit — famed for some of the best wines in France — founder Thibault Odent and Austral Supreme Sdn Bhd managing director Tan Kien Aun recently organised the 1989 Bordeaux Wine Dinner, a first of its kind, where wines from different chateaus produced in 1989 in Bordeaux were gathered at RWG to be celebrated for its elegance.
In an interview with The Edge Financial Daily, Tan said that "the wines we have [for this event] covers four appellations, all [produced] in the same year, with different terroir, aroma, taste." He added that the night's wine was "in big format wine bottles". With big format bottles, due to the thicker glass, the volume of wine inside the bottle is less likely to experience temperature variations which helps it to age more evenly.
Odent and Tan also spoke about the history of the 1855 Grand Cru Classe classification. Where at the Exposition Universelle of 1855 in Paris, Emperor Napoleon III asked each wine region to establish a classification to select and be showcased at the exposition. Sixty-one chateaus were chosen and they were differentiated into five growths. The First Classified Growth includes chateaus Lafite, Latour, Margaux, Haut-Brion and Mouton Rothschild.
"At the start of a harvest, the quality of the grapes, and the weather will let one know, how long the wine can age. If the weather is too sunny, the grapes will be overripe; too rainy, the grapes will not mature enough. In order to have an exceptional vintage that has amazing ageing potential a perfect combination of terroir would be needed, which can be seen in the 1989 vintage and it is comparable with the 2009 vintage. If needed, tasting the wine every year would be done," said Odent when asked how one would know how long a vintage of wine could age. RWG wine director Kevin Yee added that currently the most expensive vintage would be the 1990 vintage.
When asked how climate change has affected winemakers, Odent said that winemakers were finding ways to combat climate change, with replanting the vineyard; finding ways to solve the problem of vineyards getting colder, changing the vines and even engineers are helping with harvest dates, plot selection, and studying the cartography of the vineyard by using drones.
Pierre Peters Blanc de Blancs, Champagne
According to Tan, Pierre Peters is a family grown, produced, bottled Champagne, and one of the largest Champagne grower-producers. Pierre Peters' cultivation methods have been adapted to obtain healthy grapes so the champagne produced expresses the richness and elegance of the great terroirs of the Cote des Blancs. The dinner, prepared by Chef Radzuan at The Olive, Genting Grand, started with magnum (a format of 1.5L) Pierre Peters Blanc de Blancs, a Grand Cru Brut (best growth) Champagne which is pale gold in colour with hints of green which are typical of the Chardonnay varietal. The mousse is fine with a ribbon of bubbles, on the nose it is flowery and fruity, and on the palate it tastes of lemon and pear and floral.
Chateau Suduiraut, Sauternes
Classified as Premier Cru Classe (first growth) in 1855, Chateau Suduiraut's Sauternes is golden in colour and with age the gold turns into dark amber and has a powerful and harmonious combination of fruit and floral aromas with honey, roasted dried fruits and candied citrus. Vinified as a dessert wine, it adds a touch of acidity to the blend bringing with it freshness and complex aroma which is paired perfectly well with foie gras, potato and leek gratin as entree for the night. "A normal dinner setting would finish with the Sauternes, but the French way is to pair the Sauternes with foie gras, as it would not be too sweet, just the perfect match for each other," said Odent.
The main course for the night was Wagyu M9 with legumes, wild mushrooms, roasted carrots, shallots, baby squash and thyme jus and it was paired with four of the Grand Cru Classe of the night in a sequence arranged by Odent and Tan, which starts with Chateau L'Arrosee, St Emilion; Chateau de Fieuzal, Pessac-Leognan; Chateau Leoville Poyferre, St Julien; and finishes with Chateau Haut Batailley, Pauillac.
Chateau L'Arrosee, St Emilion
"Chateau L'Arrosee does not exist anymore as it was bought over by Domain Clarence Dillon and renamed as Chateau Quintus," said Odent. The chateau sits on the right bank of the river Dordogne that has more merlot in its wine, which brings on the fruits and plum aroma and gives the wine more structure, Odent added. L'Arrosee is an elegant wine, and a traditionally styled Bordeaux wine that is not the most concentrated, deeply coloured or ripest wine produced today. What it lacks in power, it more than makes up for it in its soft texture, purity of fruit and its refined personality, as it is known for its sensuous nose, bright red hue and fine-grained tannins.
Chateau de Fieuzal, Pessac-Leognan
Chateau de Fieuzal's terroir is equally adept for reds, the soil makes it possible to create wines that offer a stunning contrast between richness and freshness, which makes it great for evolution over the years. According to Odent, Fieuzal, the oldest vineyard in Bordeaux, produces a balance of merlot and cabernet from the typical Graves terroir of damp minerals, wood and currant fruit tanginess, with a fresh and light finish.
Chateau Leoville Poyferre, St Julien
The origins of Chateau Leoville Poyferre dates back to 1638 when it was the largest Medoc property fragmented over time and generations, and it went on to be consecrated as a Second Classified Growth in the Grand Cru Classe in 1855. The chateau has gone through 20 years of planting and restructuration and now has modern winemaking facilities that is a perfect balance between modernity with latest technology and its cellars respecting the Medocain tradition. The Leoville Poyferre is a medium-bodied red with a glorious note of raspberry, sea salt, and wild game that compliments the Wagyu M9.
Chateau Haut Batailley, Pauillac
Chateau Haut Batailley is of the Fifth Classified Growth, located in the same area as Leoville Poyferre, and a vintage loved for its elegance, long fruity finish rife with leather and cherries. Today, Haut Batailley comprises 40ha of land with 22ha planted with 70% cabernet sauvignon, 25% merlot and 5% cabernet franc, its vines are on average 35 years old. The chateau has its own technical facilities and its own dedicated team of technical experts.
Mystery wine: Chateau Ormes de Pez, St Estephe
The night ended on a surprising note when RWG's Yee played a wine-tasting game with guests. The game was simple, taste the wine being served, and identify which winemaker it is produced by. The prize was, of course, a 1989 bottle of wine, and the correct answer was Chateau Ormes de Pez, St Estephe, 1989, with two lucky winners awarded one bottle each. Ormes de Pez is bold, acidic and has strong notes of blackcurrant. Moving with the times, Ormes de Pez uses satellite photography to identify homogenous intra-parcel areas, working in close collaboration with manufacturers to develop new tractors.