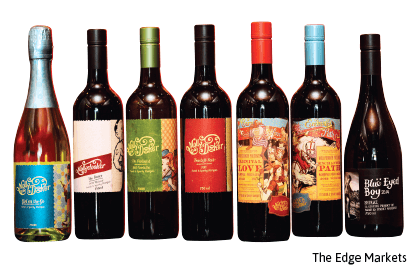 This article first appeared in The Edge Financial Daily, on October 28, 2015.
If you're in Hong Kong next month, keep the evening of Nov 6 free — the InterContinental's Steak House Winebar + Grill is hosting a wine dinner with the award-winning Mollydooker Winery from McLaren Vale, Australia. 
The four-course menu prepared by chef Chiu Ming Chan will showcase seven Mollydooker wines, served with four delectable dishes — seared Australian scallop and poach egg with foie gras, asparagus, passionfruit and lime dressing, duck confit and brown mushroom risotto, wagyu beef ox-tail Bourguignon style and sacher caramel chocolate with caramelised pine nuts.
Sarah and Sparky Marquis, the owners and winemakers of this innovative and boutique winery, have been named Winemakers of the Year and have been chosen by Robert Parker as one of his top wine personalities in the world. Mollydooker, Aussie slang for a left-hander, is a name that pays tribute to founder's unique traits — Sarah and Sparky are one of the few left-handed husband and wife wine-making teams in the world.  
Mollydooker is located in McLaren Vale, known for many of the region's iconic wines. During the dinner, the wines will be introduced by business development manager Bryan Janssen, who's been with the company since it was founded in 2006. Some of the wines that will be showcased at the dinner include:
• Girl on the Go Sparkling, Verdelho 2014: Made with grapes from the Gemtree Vineyards, this Verdelho refers to the Marquis' daughter Sarah as a teen — full of life and always on the go. Its delicate yet crisp floral notes and tropical fruit highlight the best qualities Verdelho has to offer. 
• Violinist Verdelho 2013: Their only white wine, which has a lovely fragrant nose, creamy texture and long persistent fruit flavours. The Violinist is Sarah, the Marquis' daughter, who was made to play the violin right-handed at school, so that she did not poke her neighbour in the eye with her bow. 
• Two Left Feet 2014: This Shiraz/Cabernet./Merlot blend has an incredible depth and complexity and a perfect balance between the varieties. Two Left Feet is what Sparky Marquis seems to have when dancing with his wife Sarah!
• The Boxer 2014: This Shiraz is a beautiful array of flavours — chocolate, fresh plum and spice with a smooth creamy finish. The first person to taste this wine said "It's a knock-out", so they named it "The Boxer"
• Blue Eyed Boy 2014: This wine, which is named after the Marquis' son Luke, is smooth, rich and satiny.
• Carnival of Love 2012: This Shiraz has elegance and is a complete, intense, seamless flavour spectrum, with a sumptuous mouth feel and perfect balance, At 85% to 90% Fruit Weight, it is a wine to go "Wow" about. This is as life should be:  a Carnival of Love.
• Enchanted Path 2012: A Shiraz/Cabernet Blend that is elegant and seamless celebrates the Marquis' journey in life and winemaking.
---
The wine dinner is at HK$1,688 (RM929) per person. For reservations, call (+) 852313 2323 or email [email protected]. Find the lovely InterContinental hotel at 18 Salisbury Road, Tsim Sha Tsui, Hong Kong.