This article first appeared in The Edge Malaysia Weekly, on February 15, 2021 - February 21, 2021.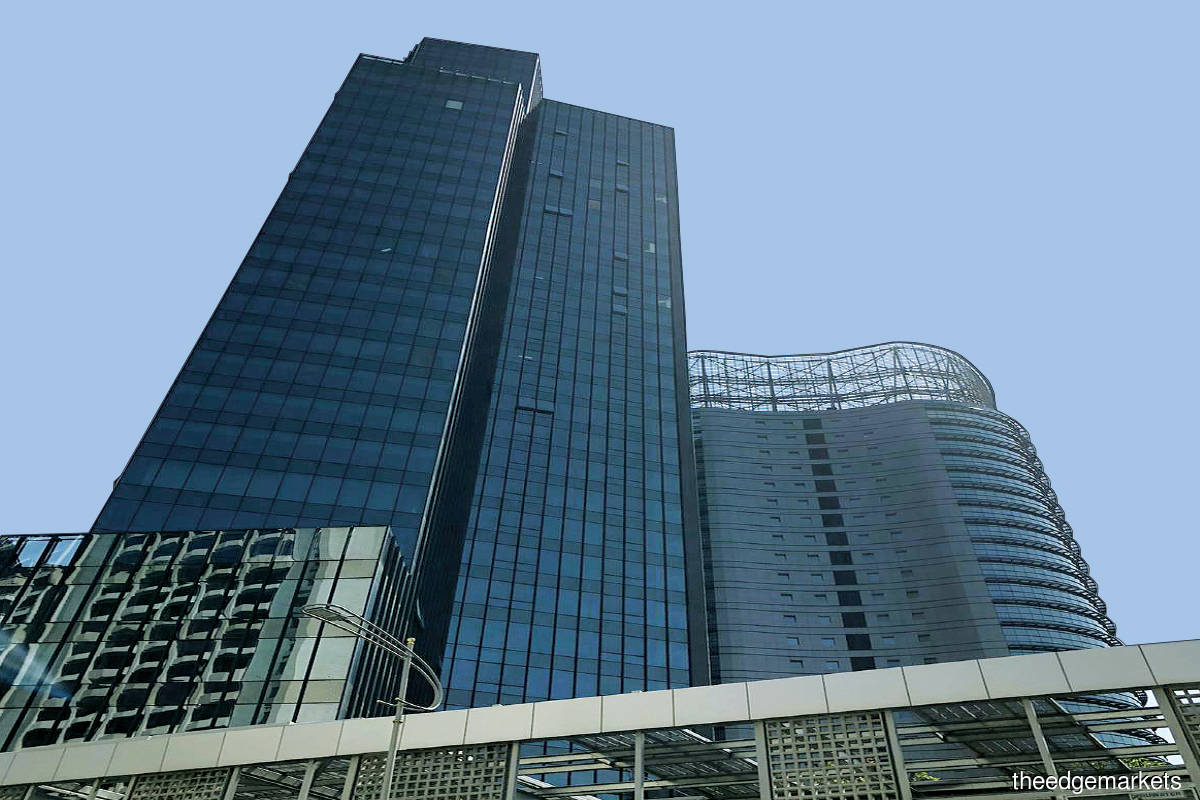 CHANGES are afoot at Malaysia Building Society Bhd (MBSB), starting with a board and management revamp at its wholly-owned banking subsidiary MBSB Bank Bhd. This will be followed by a group restructuring, which could take place as early as mid-2022, president and CEO Datuk Seri Ahmad Zaini Othman tells The Edge in an interview.
The changes are aimed at strengthening the country's second largest standalone Islamic bank and giving it a more competitive edge. MBSB is 65.4%-owned by the Employees Provident Fund (EPF).
At the boardroom level, a new chairman will be brought in on March 1 to replace Tan Sri Abdul Halim Ali, 77, who has chosen to retire after 19 years at the helm. He stepped down as chairman of both MBSB and MBSB Bank on Feb 6, according to a stock exchange filing.
Interestingly, the two EPF representatives, Sazaliza Zainuddin and Zaidatul Mazwin Idrus, also stepped down as non-independent executive directors at MBSB Bank and MBSB respectively upon the end of their tenures on Feb 6.
There are no other changes to the remaining eight directors on MBSB Bank's board. All eyes are on who the next EPF representatives will be.
As for management, Ahmad Zaini, 63, who was said to have wanted to retire when his contract expired on Feb 6, tells The Edge that he has been retained as CEO for two more years. He has been in the driving seat for 12 years, since February 2009.
The bank hired a new chief financial officer, Ramanathan Rajoo, on Feb 2, and a chief technology officer, Amran Abdul Latip, as well as a new head of retail banking, Wan Hosni Wan Kamal. There will also be a new head of corporate banking in March, says Ahmad Zaini. Ramanathan, formerly the CFO at Affin Bank Bhd, replaces Tang Yow Sai, who opted for an early retirement.
MBSB recently made Datuk Nor Azam M Taib its deputy CEO, a newly created role. Azam was previously the bank's deputy CEO of business.
"All these people changes will help lend a fresh perspective on how to take the bank forward in these challenging times," says Ahmad Zaini.
The Covid-19 outbreak and ensuing six-month blanket loan repayment moratorium last year was particularly tough on MBSB. It posted two consecutive quarters of losses before finally returning to the black in the third quarter of the financial year ended Dec 31, 2020 (FY2020), with a net profit of RM258.24 million. This was a 51.8% increase from a year ago. For the nine months to date, net profit stood at RM172.48 million, down 52.1% y-o-y.
MBSB is expected to announce its 4FY2020 results by the end of this month. "We're ending the year [2020] better than we expected, despite having revised our business plan mid-year and the large modification loss (ML) incurred in 2Q," says Ahmad Zaini. "Unlike some banks, we managed [the ML] without any financial assistance or leeway … we didn't ask for any, we just bit the bullet."
It incurred a hefty net ML, arising from the moratorium, of RM512.61 million — by far the largest amount of all the listed banking groups — in 2QFY2020. This was due to the fact that a sizeable portion — just over 50% — of its total financing is contracted at fixed rates.
Going forward, there may be further ML incurred as a result of the targeted repayment assistance programmes offered by banks, which will go on until June 30. "There will be some ML, but I think it will be small and manageable. We don't expect the kind of levels seen last year," says Ahmad Zaini.
Currently, RM6.7 billion, or 18% its total financing book, is under targeted repayment assistance. Interestingly, about 60% of it is from personal financing. Ahmad Zaini attributes this to the fact that many government servants, who have continued to hold jobs, took up the blanket moratorium. Nevertheless, they are now almost back on track with their payments, he adds. The bulk of MBSB's financing is to government servants.
Restructuring is a priority
Ahmad Zaini hopes to set in motion a restructuring exercise next year that will ultimately result in MBSB Bank assuming the Main Market-listed status of MBSB, a financial holding company (FHC). The restructuring is similar to what other banking groups such as Affin and RHB have done in recent years, that is, to collapse the FHC structure and lift the banking unit to the apex of the group.
"This is going to be one of my biggest projects. I want to see this take place before I leave the bank. Then, at least I would have completed the full cycle of the journey at MBSB," he says.
"Hopefully, we're able to do something by mid-2021. We're already talking to some of the investment banks to look at the numbers and road ahead towards the restructuring."
Once MBSB Bank takes over the listed status, it will be one of possibly only two full-fledged Islamic financial institutions to be listed in the region. The other is Bank Islam Malaysia Bhd, which is in the midst of assuming the listed status of its parent company BIMB Holdings Bhd under an ongoing restructuring exercise.
The move would make MBSB shares appealing to a whole new investor class, analysts say.
According to Ahmad Zaini, it had been the plan to make MBSB Bank the listed vehicle ever since the non-bank lender obtained its banking licence in February 2018 by acquiring Asian Finance Bank.
"In order for us to do that, we need to move assets from the FHC to the bank. But it's not a straightforward exercise because these assets — the FHC now holds about RM2 billion of assets — comprise legacy loans, loans that are in a default situation, and also some commercial assets. So, we need to restructure them first and as the loans become cleaner, then we move them down [to the bank]," he explains.
Meanwhile, MBSB is focusing on coming out of the Covid-19 pandemic in good form. "In June last year, we revised the business plan as we felt the existing one was no longer relevant from a certain perspective, given the pandemic," says Ahmad Zaini.
Instead of actively chasing new assets, the group went all out to preserve the quality of existing assets. This involved engaging customers early and ensuring the necessary support, especially to corporates, he says. It also remobilised its resources to ensure a stronger focus on collection and restructuring efforts.
"This was our value proposition. We made sure the lines for trade finance and all that were maintained. We really held the fort together, ensuring that there was no further deterioration of our existing assets while staying away from many of the 'sensitive' segments like hotels, tourism, airline and oil and gas. The strategy has worked quite well because we managed to close last year with commendable numbers, even after [taking into account] the ML hit," says Ahmad Zaini, adding that the group's treasury business and trade financing helped boost income.
As part of its pre-emptive measures, MBSB requires corporate customers to make a declaration that they have observed various health protocols at the company. "We put this as part of our conditions. This is to avoid any messy situation where we give them a facility and then the company goes into a lockdown for whatever reason," he says.
MBSB has pushed back some "RM70 million or RM80 million" in technology investments, for things like a new IT platform and data centre to this year. It recently launched the country's first Islamic e-wallet.
Counting on a better 2021
Ahmad Zaini is optimistic that the group will perform better in 2021 than last year, as the economy improves following the vaccine rollout. He expects financing growth of "about 3% to 5%" this year, after an estimated 3% to 4% expansion last year.
He says there are still pockets of lending opportunity, but in a more focused way. It also wants to grow its fee-based income, such as in wealth management, and is building up capabilities in that area.
"We're very cautious about property, for sure, but we still continue to support the medium- and lower-than-medium-cost segment's financing and refinancing needs. We also continue to support the setting up of medical centres and hospitals and educational facilities," he remarks.
Personal financing, however, remains MBSB's biggest business, accounting for 55.3% of its RM36.38 billion financing portfolio as at last September.
Ahmad Zaini anticipates MBSB's gross impaired financing ratio (GIF), which stood at 5.86% — or 3.13% at the bank level — as at end-September 2020, the highest among banks, to trend down to over 4% this year. The bank has been making pre-emptive provisions, or what he calls "management overlays", in recent quarters, hence it does not expect a major spike in impairment allowances once the targeted assistance ends.
"We've always maintained a sufficient buffer," he remarks. Net allowance for impaired financing in 9MFY2020 fell 11.1% y-o-y to RM289.98 million.
Meanwhile, a third of its 1,800-strong workforce is expected to move to its new building, MBSB Tower in PJ Sentral, by mid-2021. The group, via a property-related subsidiary, bought the 26-storey building in late 2012 for RM240 million and invested a further RM60 million on renovation, says Ahmad Zaini. It is now almost completed.
The group's current headquarters is Wisma MBSB, a building it also owns, in Damansara Heights, Kuala Lumpur.
MBSB's share price, which hit a one-year low of 47 sen on March 19 last year, has since gained 38.3% to close at 65 sen on Feb 10, giving it a market value of RM4.5 billion. AmInvestment Bank Research and Kenanga Research both have "buy"' recommendations on the stock, with a target price of 78 sen and 80 sen respectively.