This article first appeared in The Edge Malaysia Weekly, on December 9, 2019 - December 15, 2019.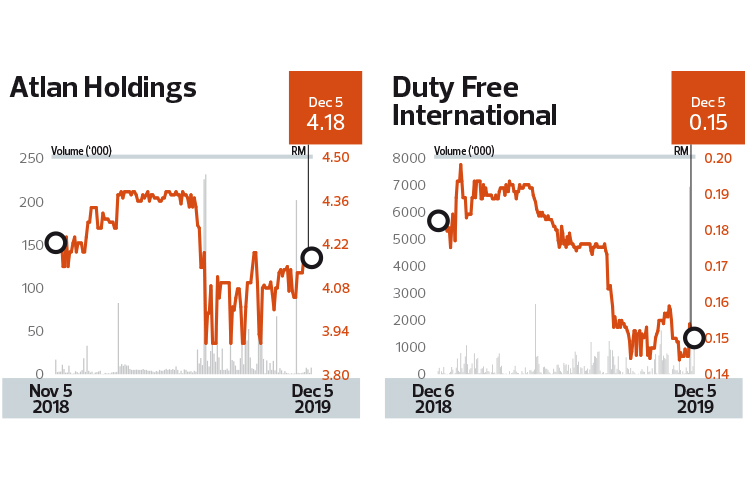 This article first appeared as 'A windfall for Atlan' in The Edge Malaysia Weekly, on December 9, 2019 - December 15, 2019.
DUTY-FREE retailer Atlan Holdings Bhd could be in for a windfall of close to RM97 million pretty soon, depending on the outcome of an extraordinary general meeting of the shareholders of its 75.07% unit, Duty Free International Ltd (DFIL).
Late last month, the Singapore-listed subsidiary of Atlan, proposed to undertake a capital reduction exercise to return the company's surplus capital by way of a cash distribution of 3.5 Singapore cents for each ordinary share.
DFIL has proposed to reduce its issued and paid-up share capital of S$410.22 million currently to SS$368.28 million, which which would result in the Singapore 3.5 cents per share, or S$41.94 million payout. In a nutshell, DFIL is looking to pay out S$41.94 million or RM128.4 million to its shareholders, and with Atlan controlling 905.03 million shares or 75.07% of DFIL's 1.2 billion share base, it looks set to take home RM96.93 million.
Atlan has not said what it plans to do with the money, but the payout will give its cash hoard a boost.
For its six months ended August, Atlan registered a net profit of RM11.17 million on RM365.79 million in revenue. As at end-August Atlan had cash and bank balances of RM339 million while its short-term borrowings amounted to RM46.52 million and its long-term debt commitments, RM32.50 million. Its current net cash position is RM259.98 million. With the capital distribution from its Singapore unit, Atlan's kitty will grow to RM356.91 million, or RM1.40 per share.
Atlan closed at RM4.18 last Thursday, giving it a market capitalisation of RM1.06 billion and a gross dividend yield of 4.78%. However, the stock is trading at a high price-earnings ratio of 34 times.
Atlan is an illiquid counter. The top two substantial shareholders control 78% equity interest and the top 30 shareholders, 93.11% of its equity.
Datuk Sri Adam Sani Abdullah holds 51.38% and Tan Sri Vincent Tan Chee Yioun of Berjaya, 26.78%.
Via DFIL, Atlan trades in duty-free merchandise under the brand name "the ZON" in Peninsular Malaysia. It is the largest local duty free trading group in the country, operating 36 outlets, comprising 34 duty-free retail outlets and two duty-paid perfumery and cosmetics stores.
As at end-August, Atlan's net asset per share was RM2.04, largely made up of cash and properties. Its properties were pegged at a net book value of RM148.01 million as at end-February.
Among its choice properties are a 23-storey office tower, Menara Atlan — located close to the Petronas Twin Towers in the heart of Kuala Lumpur — and the adjoining Zon All Suites Residences on the Park.
Interestingly, on the Singapore Stock Exchange (SGX), DFIL's stock has not reacted to the potential payout and is trading close to its 52-week low. The counter closed last Thursday at 15 Singapore cents, giving the company a market capitalisation of S$179.7 million. The counter hit a 52-week low of 14.4 Singapore cents in intra-day trading on Nov 14 and has yet to recover. Year to date, the share price has dropped more than 16%.
It is worth noting that the 24.93% stake, or 294.97 million shares, not held by Atlan have a market value of S$44.25 million. Hypothetically, Altan would need to fork out only S$53.09 million, a 20% premium over the market price, to take DFIL private.
At its close last Thursday, DFIL had an indicated gross dividend yield of 10%. For its financial year ended February this year (FY2019), DFIL registered a net profit of RM46.52 million on RM556.33 million in revenue.
DFIL was listed on SGX's Catalist board after a reverse takeover by Esmart Holdings Ltd in 2011, and was transferred to the main board in 2016.
For its six months ended August, DFIL chalked up a net profit of RM13.17 million, down 44.2% from the previous corresponding period. As at end-August, DFIL had cash and bank balances of RM306.51 million while on the other side of the balance sheet it had short-term borrowings of RM31.78 million and long-term debt commitments of RM474,000. DFIL's net profit came in at RM41.67 million in FY2018 and RM72.73 million in FY2017. Duty-free shops contributed more than 71% of Atlan's revenue in FY2019.
Apart from the windfall from DFIL, Atlan's plan to float its unit, United Industries Holdings Sdn Bhd (UIH), in Hong Kong has also attracted attention.
In July, Atlan announced that it had appointed Cinda International Capital Ltd to assist in the listing of its 92%-owned UIH on the Growth Enterprise Market in Hong Kong.
UIH has its core business in the automotive sector where it manufactures and supplies components such as metal fuel tanks, screw jacks, tubing and related automotive production and assembly parts.
"The details of the proposed listing have yet to be determined but it is envisaged that the group's automotive division will continue to remain as a subsidiary of Atlan upon completion of the proposed listing," Atlan said in July.
In mid-June, about a month before announcing the planned initial public offering, Atlan sold an 8% stake in UIH to Cremorne Capital Fund Management Ltd for RM8 million, which would value UIH at RM100 million.
For its financial year ended February 2019, UIH posted an after-tax profit of RM12.04 million on revenue of RM185.8 million. As at end-February, UIH had total assets of RM140.58 million, total liabilities amounting to RM58.26 million and retained earnings of RM32.77 million.