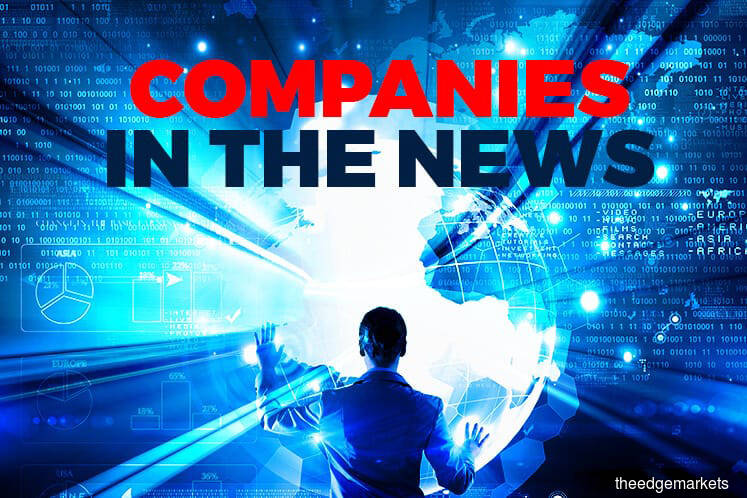 KUALA LUMPUR (June 22): Based on corporate announcements and news flow today, companies that may be in focus on Monday (June 25) may include the following: Willowglen MSC Bhd, Icon Offshore Bhd, Green Packet Bhd, Comfort Gloves Bhd, Kimlun Corp Bhd, Malaysia Airports Holdings Bhd (MAHB), Fitters Diversified Bhd and SCGM Bhd.
Willowglen MSC Bhd's subsidiary Willowglen Services Pte Ltd has bagged a RM8.62 million contract from SP PowerAssets Ltd to undertake maintenance of 30 document management solutions' product data management (PDM) systems and the upgrade of 22 PDM system workstations.
The three-year contract will end on June 20, 2021 and is expected to contribute positively to the group's earnings and net assets per share for the financial years ending Dec 31, 2018 to 2021.
Icon Offshore Bhd's wholly-owned subsidiary Icon Offshore Group Sdn Bhd has bagged a RM23 million contract to provide a utility vessel to Hess Exploration and Production Malaysia BV for its operations.
Icon said the contract will commence from the date of the letter of award and will expire at the end of three years from the vessel's on-hire date, with two extension options of one year each.
"It is expected to contribute positively to the earnings, orderbook and net assets of Icon for the financial year ending Dec 31, 2018 and beyond," it added.
4G network operator Green Packet Bhd plans to raise as much as RM52.57 million via a renounceable rights issue on the basis of one rights share for every five existing shares held, together with warrants on the basis of three warrants for every one rights share.  
Green Packet said the proposal will see 150.2 million rights shares and 450.6 million warrants issued.
The group intends to add expenditure for future viable investments, working capital for media and digital services, and working capital for finance technology (fintech) solutions.  
Comfort Gloves Bhd's wholly-owned subsidiary Comfort Rubber Gloves Industries Sdn Bhd (CRGI) is buying a 38.92-acre piece of leasehold land in Daerah Kinta, Perak, from Nestle (Malaysia) Bhd for RM13.22 million cash.
The lease on the land expires on Nov 7, 2058. The group said it will finance the acquisition via internal funds and that the proposed acquisition is in line with its future expansion plans. 
Kimlun Corp Bhd is expecting flat net profit and revenue growth in the financial year ending Dec 31, 2018 (FY18), amid uncertainties such as the escalating global trade war between China and the US.
Speaking to reporters after its annual general meeting here today, its chief executive officer Sim Tian Liang explained that the group is cautious about costlier fuel and steel prices, as well as higher wages.
Nevertheless, he noted that the zero-rated goods and services tax will enable the group to see some savings.
 
Today is the last day in service for Malaysia Airports Holdings Bhd (MAHB) managing director Datuk Mohd Badlisham Ghazali, as his contract tenure has come to an end.
MAHB said 51-year-old Raja Azmi Raja Nazuddin, who is MAHB's chief financial officer (CFO), will serve as acting group chief executive officer (CEO) with effect from tomorrow (June 23). He joined MAHB as CFO on Feb 1, 2016, and prior to that, was executive director and group CFO of UDA Holdings Bhd.
Badlisham has held the position of CEO since June 23, 2014 when he took over from Tan Sri Bashir Ahmad, who had served for more than a decade as managing director. Prior to joining MAHB, Badlisham was the CEO of Multimedia Development Corp.
Fitters Diversified Bhd has upped its stake in Molecor (SEA) Sdn Bhd to 72.27%, from 65%.
Fitters said it had subscribed for an additional 60 million new shares in Molecor for 50 sen per share or RM30 million, by offsetting the amount owed by Molecor to the group as at April 30, 2018.
Following the subscription, total number of issued shares of Fitters in Molecor stood at 79.5 million shares.
Food packaging manufacturer SCGM Bhd's net profit plunged 97% to RM150,000 in the fourth financial quarter ended April 30, 2018 (4QFY18), from RM5.08 million a year ago, on higher resin prices, finance costs, depreciation charges, labour cost and foreign exchange losses incurred.
Quarterly revenue also dropped 8.8% to RM48.23 million, from RM52.91 million, mainly due to lower sales from local and overseas customers, which was affected by holidays during the current quarter under review, and the strengthening of the ringgit against major foreign currencies.
Nevertheless, the group declared a fourth interim dividend of 1.5 sen per share for the financial year ended April 30, 2018 (FY18), payable on July 25. This brings total dividend payout for the year to RM11.6 million or 70.7% of the group's net profit for FY18.
The dismal fourth-quarter results dragged the group's net profit down for the full FY18 to RM16.4 million, 28.7% lower than RM23 million in FY17.
Revenue, however, rose 16% to RM207.42 million in FY18, from RM178.79 million.