This article first appeared in The Edge Financial Daily, on July 22, 2019.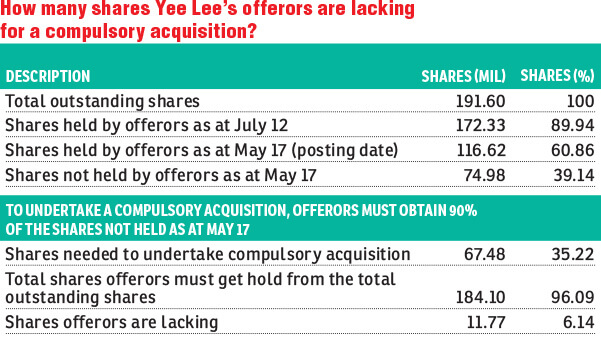 KUALA LUMPUR: Set on the plan to take Yee Lee Corp Bhd private, the 50-year old Ipoh-based trading company will not take steps to address the shortfall in its public shareholding spread, which arose as a direct consequence of the takeover bid made by its controlling shareholder and a Singaporean private equity fund.
The joint offerors — the company's founder Datuk Lim A Heng @ Lim Kok Cheong and Singapore-based Dymon Asia Private Equity (SE Asia) Fund II Ptd Ltd — announced to Bursa Malaysia that they intend to explore various options to withdraw the listing status of Yee Lee.
Noting that the stock exchange, via a letter dated July 10, has granted Yee Lee an extension of six months until Jan 4, 2020, to comply with the public shareholding spread requirement. On this, Yee Lee said: "No satisfactory plan has yet been identified to address the non-compliance with the public spread requirement."
As at July 12, the joint offerors already controlled 89.94% shareholding.
When contacted by The Edge Financial Daily, Yee Lee group managing director and executive director Lim Ee Young said the joint offerors will have to "think this through seriously" and "try to get the privatisation done".
"We already have more than 89%, we are pretty close. It is hard to turn back now. It is easier to move forward than to turn back," he said in a brief phone conversation.
Ee Young, who is Kok Cheong's son, acknowledged that the joint offerors are still contemplating the next move.
"Do we want to launch another VGO (voluntary general offer)? Do we want to call an EGM (for voluntary delisting)? Do we want to do it six months later, after the cooling period is over? We are still considering. We have not decided," he said.
Notably, Yee Lee's share price retreated after the offer lapsed on July 3. It closed RM2.15 compared with the VGO of RM2.33.
Minority shareholders, who did not accept the offer, may now ponder what is the offerors' next step after having explored all the available options to delist Yee Lee.
An option for the offerors would be to make a new offer, with a more favourable terms, six months after July 3 — the date when the takeover offer lapsed. This is probably what the minorities who have held onto their shares are hoping for, given that the takeover offer price is substantially lower than Yee Lee's net asset value per share of RM3.29 as at end-2018.
Yee Lee's 29.87% stake in Spritzer Bhd is seen as its prime asset. Based on the closing price of RM2.26 last Friday, its stake in Spritzer is worth RM141.29 million.
Apart from that, Yee Lee owns the established household brand Helang (Red Eagle) for cooking oil. It distributes exclusively Campbell and Red Bull products in Malaysia. The fast-moving consumer goods distributor took over the exclusive distribution of Red Bull energy drinks in Malaysia from Fraser & Neave Holdings Bhd in August 2015.
Yee Lee owns two aerosol can factories, with the larger one in Rawang, Selangor, while the other is in Ho Chi Minh City, Vietnam. The two plants have a combined annual production capacity of 192 million cans.
Yee Lee's all-time high share price was at RM2.72 on May 11, 2017. Shareholders could be looking at getting an offer about this price level or higher.
Notably, shares in Yee Lee spiked to RM2.29 on April 29 when the VGO was made from RM1.91 in the previous trading day.
That said, Ee Young sees little reason to launch a fresh offer at a higher price.
"I don't think that will be our consideration. As it is, our share price didn't go up, it has gone down. I don't really see a need to raise price. But again, I cannot rule that out completely. We have to discuss with our partner," he said.
Another option is to make a new offer instantly, but it has to be at the same price. Not many people are aware of such an option.
For the option, the joint offerors will have to take two things into consideration.
First, if they make a new offer, even at the same price, they have to pay adviser's fee again, which is not cheap. Secondly, how likely that the minorities would accept the offer that they have rejected not that long ago?
By the same token, there could be some shareholders who regretted not having accepted the offer. If given a second chance, they might opt to accept the offer, rather than ending up holding shares in an unlisted entity. Some quarters may not like the idea of holding shares in a non-listed company as it is not that easy to divest compared with shares in listed equity.
The joint offerors may consider to continue mopping up shares on the open market to raise their shareholding to 90% and request for voluntary suspension of trading in the company's shares (but they cannot request for delisting as they need to obtain the 90% shareholding from general offer).
Once trading is suspended, the chances of minority shareholders accepting the offer will tend to be higher as most investors are not keen to hold non-traded shares.
Indeed, the regulator will suspend the trading of Yee Lee shares under the listing rules if the public spread requirement persistently not met.
However, there might not be many shares on the open market for the offerors to buy. There were only 456,600 Yee Lee shares changing hands for the whole of last week.
Who is blocking the privatisation?
Certain quarters point out that if there is a group of opportunists behind who collectively own 10% stake and they refuse to sell, it would be difficult for the joint offerors to accumulate shares on the open market. As a result, they might be forced to raise the offer price.
"It's a poker game really. It is also a game of patience and persistence. Yes, their intention is clear, they want to take the company private, but I don't think they have to do it urgently, unless there is a back-to-back deal that I am not aware of," said a source familiar with the Lim family.
"Now, assuming that there is a group of opportunists trying to block the privatisation, we need to know how they are funded. Usually, the opportunists will leverage by using margin accounts, and if they do, they should not be able to hold the shares for long, more so if they are non-traded shares. If that is the case, I am afraid that they are messing with the wrong people, because the Lim family can wait," he explained.
Another option is to apply for voluntary delisting, which has to be approved by a majority of shareholders, in number, representing 75% shareholding present and voting either in person or by proxy at the meeting called for, but not more than 10% objection, according to its circular to shareholders. Moreover, a reasonable exit offer must be made to minority shareholders.
However, the joint offerors would not be able to undertake a compulsory acquisition, but only able to delist the company. To undertake a compulsory acquisition, the joint offerors need to have valid acceptance of at least 90% of the shares held by non-interested shareholders. In this case, it is 90% of 74.98 million shares not owned by the offerors, equivalent to 67.48 million shares, based on Yee Lee's share capital of 191.604 million of which the joint offerors already own 116.61 million shares or 60.86%.