This article first appeared in The Edge Malaysia Weekly, on April 9, 2018 - April 15, 2018.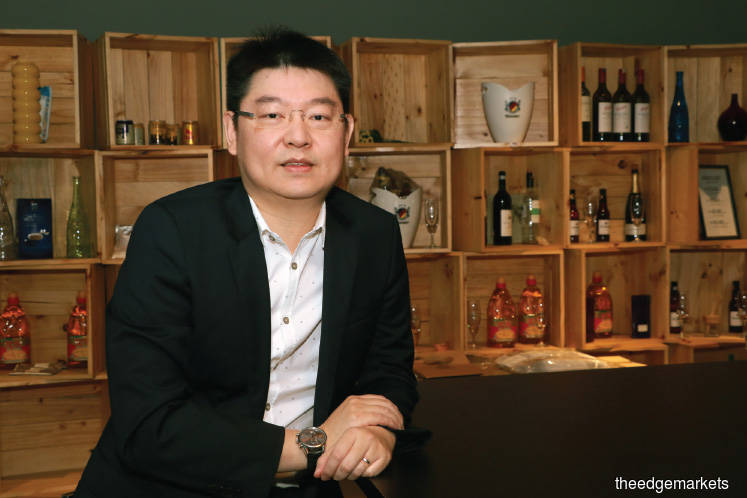 LIKE most China-based companies listed on Bursa Malaysia, XingHe Holdings Bhd has been affected by a negative perception that is weighing down its share price. Its loss-making edible oil business is not helping either.
A penny stock, its share price has fallen more than three-quarters from its peak of 27.1 sen on May 28, 2014, to close at five sen last Thursday, giving it a market capitalisation of RM128.7 million.
It slipped into the red with a net loss of RM6.68 million for the financial year ended Dec 31, 2017 (FY2017), compared to a net profit of RM23.6 million a year ago, mainly due to declines in sales volume and lower selling prices, especially for peanut oil.
The net loss has cast a pall over Xinghe, and led some investors to feel that the company may be like some of its Chinese peers, where losses were followed by accounting issues, such as  failing to submit annual financial accounts.
Hoping to turn things around, the company has decided to venture into seafood processing, with operations based in Bukit Tambun, Penang.
This will be XingHe's first venture outside China, says non-executive chairman and senior independent director Stephen Ng Min Lin.
"We want to move the perception of XingHe more towards our local (Malaysian) operations and spread out the risks so that investors notice that unlike other China-based companies, we actually have operations here," he tells The Edge in an interview.
He says the pre-tax profit contribution from the tuna-processing joint venture is estimated to be about US$1.6 million for FY2019 and US$1.8 million in FY2020.
"We will be renting a factory on a 7.5-acre piece of land in Bukit Tambun. The plant is a modern facility, but we need to modify it for our tuna-processing lines," he says.
Modification work is expected to be completed by July before the processing lines can be run at full capacity.
"The existing plant was only used to process prawns, but now, we are enabling it to process both prawns and tuna," he explains.
Ng, 39, was appointed non-independent, non-executive director of Key West Global Telecommunications Bhd in January 2011. He was CEO of Esabee Biotika Sdn Bhd from May 2008 to mid-2011.
XingHe, which is based in Henan province, made its debut on the ACE Market in late April 2014 in a reverse takeover of Key West Global Telecommunications.
Founded in 2002, it is one of China's top edible vegetable oil companies. Apart from peanut oil, it also manufactures peanut protein cake, a byproduct in the production of animal feed.
Ng says going forward, XingHe sees potential in the seafood processing business, which will be overseen by Malaysian directors, including himself.
The directors in China, led by managing director and substantial shareholder Ma Guo Liang, will be in charge of the edible vegetable oil business there. Ma has a 46.52% stake in XingHe via Perfect Timing Holdings Ltd, an offshore company incorporated in the British Virgin Islands.
To recap, XingHe announced on March 20 that its 90%-owned subsidiary, XingHe-Jefi Sdn Bhd, and its joint-venture (JV) partners — My Ocean Venture Sdn Bhd (MYO) and VC Marine Sdn Bhd (VCM) — would set up Sea Tuna Industry Sdn Bhd.
XingHe-Jefi will have a 52% stake, while MYO will have 35% shareholding and VCM, 13% in the joint venture.
Sea Tuna Industry needs RM20 million to modify the Bukit Tambun plant and as working capital.
Funding should not be a problem for XingHe, which recently raised RM11.5 million from a private placement exercise and is sitting on a huge cash pile of RM431.5 million.
Its JV partners MYO and VCM will also be contributing their share of funds.
A filing with Bursa Malaysia shows that MYO is a private limited investment holding company that is 50%-owned by Leong Keng Wohand, who has interests in companies involved in the supply of lubricants and logistics services.
Taiwanese national Yu Pao-Chu — a substantial shareholder and president of Thai Ocean Venture Co Ltd — holds the remainder of the shares in MYO. Thai Ocean Venture is involved in value-added processing of seafood, principally tuna processing.
VCM is an investment holding company that is 99.99% owned by Datuk Gooi Kok Song, who has interests in companies that supply tyres and lubricants.
"Our JV partners own more than 200 fishing vessels, and 50% of the market share in the Indian Ocean. They have their own fishermen harvesting tuna. That will guarantee a consistent supply of tuna for us (Sea Tuna Industry), even during the low season," says Ng.
Under the proposed JV, which is scheduled to be completed in the second quarter, XingHe-Jefi will make a capital contribution of RM7.5 million of the agreed issued share capital of RM14.5 million, to be funded by internally-generated funds.
"The proposed JV is intended to unlock alternate business opportunities and enable XingHe group to expand its business by having a new Malaysia-based business in tuna and seafood processing and trading to supplement its existing production, blending and marketing of peanut oil and other edible vegetable oils, all of which are based in China and hence provide an additional income stream for XingHe group," the announcement read.
If the tuna-processing business goes well, Ng says XingHe intends to expand the prawn-processing business in Bukit Tambun.
"We plan to make ready-packed prawns for export to the Australian and Chinese markets, where we see huge demand."
He says sashimi-grade tuna will be packed and exported to the US and other countries, while the prawns will be de-shelled, cooked, frozen and packed before being exported to Australia and China.
While XingHe has cast its net to search for better earnings growth in the seafood processing business, it is equally crucial to stop the bleeding in its Chinese operation. If not, any profit from the new venture will just be offset by the losses in the edible oil business.
Save by subscribing to us for your print and/or digital copy.
P/S: The Edge is also available on Apple's AppStore and Androids' Google Play.