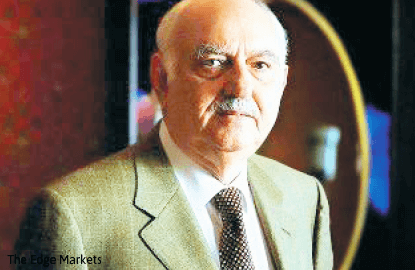 This article first appeared in digitaledge Weekly, on September 21 - 27, 2015.
INDIAN billionaire Shapoor Pallonji Mistry's presence on the board of Bumi Armada Bhd since last year has stumped many corporate watchers, leading to speculation that he could be buying into the oil and gas company. 
Shapoor has been a non-independent non-executive director of Bumi Armada since October last year. It can't be that he is enticed by the remuneration package, which according to Bumi Armada's annual report is anywhere between RM100,000 and RM500,000 per annum.
Shapoor, 50, is the son of Indian billionaire Pallonji Mistry — India's fourth richest individual, whom Forbes pegs at a net worth of US$15 billion (RM63.4 billion). To put things in perspective, Shapoor is on the boards of several companies in his group, chairman of Forbes & Co Ltd, a publicly traded counter on the Bombay Stock Exchange, and chairman of Eureka Forbes Ltd. He is also chairman of Shapoorji Pallonji and Co Pte Ltd, the flagship of the Shapoorji Pallonji Group.
More interesting is his younger brother, Cyrus, who took over as chairman of Tata Sons Ltd from Ratan Tata about two years ago. 
The Mistry family, with an 18.4% stake in Tata Sons, is the single largest shareholder in India's largest private conglomerate, the Tata Group.
"What is he doing in Bumi Armada? Considering his wealth, it's rather odd that he is on the board ... when he has no interests in the oil and gas company. Why would he be on the board of someone else's company?" an industry observer asks.
Another oil and gas observer quips that he didn't know Mistry was such a powerhouse and questions what he's doing on the board of Bumi Armada (fundamental: 0.55; valuation: 1.20). 
"It doesn't make sense … with his sort of [business] empire, he wouldn't have the time to be on the board of Bumi Armada," he says.
Basically, the diversified Indian business group has interests in construction, real estate, textiles, engineering goods, home appliances, shipping, publications, power, and biotechnology, to name a few, and has operations across India, West Asia and Africa.
Talk of Shapoor taking control of Bumi Armada from Malaysian tycoon T Ananda Krishnan has been going around for about a year now. Via his flagship Usaha Tegas Sdn Bhd, Ananda has 34.9% equity interest in Bumi Armada. It was known in the market that Ananda had approached several local and foreign oil and gas companies to sell Bumi Armada, but to no avail.
 In October last year, when Shapoor and his alternate director Ravi Shankar Srinivasan were appointed to the board, it seemed certain that Shapoor would take control of the local oil and gas company.
However, almost a year down the road, nothing much has transpired.   
Then about two weeks ago, Bumi Armada launched three offshore support vessels (OSVs) from Keppel in Singapore, headed for the Caspian Sea. The vessels were christened Bumi Uray, Bumi Pokachi and Bumi Naryan-Mar, all Indian-sounding names, which started tongues wagging. In contrast, the names of Bumi Armada's earlier vessels were clearly more Malaysian — Tuah, Aman, Firman, Mutiara, Perdana and Perkasa.
However, a person familiar with the matter says the names were given by the charterers of the OSVs in the Caspian Sea and are Russian names, not Indian.
It is not like Shapoor is unfamiliar with Bumi Armada. His Forbes & Co has partnered the company in several joint ventures, mostly contracts from Oil and Natural Gas Corp (ONGC) of India. Some of the tie-ups involved floating production, storage and offloading vessels (FPSOs), and others for OSVs.
In August 2011, ONGC hired its maiden FPSO for its D1 oilfield off the Mumbai coast, and signed a seven-year contract with Forbes Bumi Armada Offshore Ltd — a joint venture between Bumi Armada and Forbes & Co.
Then in February 2013, Bumi Armada, via its SP Armada Oil Exploration Pte Ltd, was awarded a nine-year contract by ONGC for an FPSO for the Cluster 7 field in India, located some 210km off the west coast of Mumbai, valued at about US$750 million, with an option for an additional US$340 million job. These are just some of the jobs the two have won.
Bumi Armada's fortunes seem to have taken a beating along with the tumble in oil prices. Last Friday, Brent crude traded at below US$50 a barrel in morning trade, while West Texas Intermediate crude futures were about US$47 a barrel. Prices are down 12% this year and more than 50% over the past 12 months.
For the first six months of FY2015 ended June, Bumi Armada recorded a net loss of RM215.9 million on revenue of RM1 billionbrought about by a RM383.7 million impairment. For the corresponding period a year ago, it registered a net profit of RM163.2 million from almost RM1.1 billion in sales.
Over the past year, Bumi Armada has shed more than 55% of its market capitalisation and hit a multi-year low of 78.5 sen on Aug 25. Since then, however, it has gained close to 25% to close last Friday at 98 sen, buoyed by heavy trading volume. 
Over the past few days, Bumi Armada has often been on the top most actively traded stocks' list.