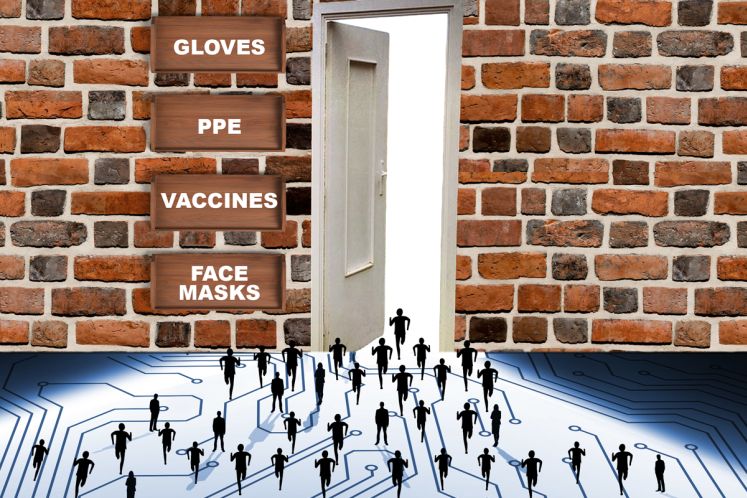 KUALA LUMPUR (Sept 3): The number of Malaysian public-listed companies that are jumping into the healthcare-related industry is increasing, as the interest in such businesses gain momentum in the face of the yet-to-abate COVID-19 pandemic outbreak.
Interestingly, such companies' share prices tended to shoot up even before any official announcements were made on their new ventures, be it into the manufacturing of personal protective equipment (PPE), the production of rubber gloves, or the potential distribution of COVID-19 vaccines.
Another common feature seen is that the share prices of these companies were below 50 sen just three months ago.
On Wednesday alone, four companies — MQ Technology Bhd (MQ Tech), Vizione Holdings Bhd, Iconic Worldwide Bhd and LKL International Bhd — announced new ventures into healthcare-related businesses.
Prior to that, seven companies announced their plans to jump onto the rubber-glove-producing bandwagon. Among them were Inix Technologies Holdings Bhd, AT Systematization Bhd, MSCM Bhd and Karex Bhd.
In the latest announcements, Penang-based property developer Iconic Worldwide said it wants to diversify into the manufacturing of personal protective equipment (PPE), including gloves and disposable face masks. Such a venture will cost RM155.5 million, it announced. This is more than half of the company's current market capitalisation (market cap) of RM206.8 million.
Iconic will raise fresh capital to fund the new investment, in addition to borrowing more.
The plan, the company said, is to install 22 production lines, comprising 12 glove dipping lines and 10 mask production lines, over the course of 12 months, for a total cost of RM78.2 million. "Within 12 months from the commencement of operations, the board expects the PPE business to record profit and contribute positively to the group's financial position," said Iconic.
As for MQ Tech, a precision mould maker that has been loss-making for 10 years, it has inked a Memorandum of Agreement to acquire a 70% stake in rubber and plastic medical products manufacturer, Kibaru Manufacturing Sdn Bhd.
It appears that the acquisition is to pave the way for MQ Tech to branch out into the distribution of a COVID-19 vaccine. In a statement, Kibaru's managing director Ong Chong Joo said Kibaru has agreed in principle to get the supply of COVID-19 vaccine from Fosun International Ltd, a China-based company that reported an annual revenue of US$20.7 billion in 2019.  
Kibaru, based in Penang, is currently involved in the manufacturing of extrusion tubing, plastic injection and the assembly of medical devices and parts, according to MQ Tech.
Integrated construction engineering group Vizione is also planning to acquire a controlling stake in a specialty medical gloves maker. It said its wholly-owned VIP Index Sdn Bhd has inked a Heads of Agreement to purchase a 51% stake in SSN Medical Products Sdn Bhd for RM5 million, to venture into the glove-making sector.
SSN, it said, manufactures both latex and nitrile medical gloves, latex condoms, as well as specialty gloves such as elbow length medical gloves. About 80% of its products are exported overseas, mainly to the US, Germany, China and other European countries.
"I understand our shareholders may think we are jumping onto the gloves bandwagon. However, after conducting studies on the expected demand growth for gloves and understanding the operations of SSN, we are convinced this is a very viable business with good returns," said Vizione managing director Datuk Ng Aun Hooi.
Meanwhile, hospital bed maker LKL said its subsidiary has secured a contract to supply nitrile gloves to a China-based company.
LKL's announcement, however, did not reveal from where or how it would be sourcing the nitrile gloves, considering that LKL does not own any glove production facilities. Furthermore, it is not currently supplying any nitrile gloves.
Nevertheless, LKL is expecting the new venture to give an instant boost to its earnings for the current financial year ending April 30, 2021 (FY21).
Given the meteoric rise on these companies' share prices, some quarters raise their eyebrows on the premium valuation that these penny stocks are trading at now. To justify the high valuation, these companies would have to achieve a quantum leap in their earnings.