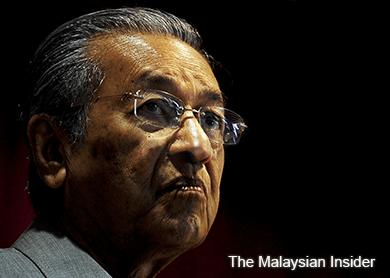 (May 19): Tun Dr Mahathir Mohamed poured scorn on Prime Minister Datuk Seri Najib Razak's explanation on why the government had bought a new private jet and questioned whether the planes were more important than border security.
"Is it going to stop the kidnapping and casual invasions of Sabah or the smuggling of arms from across the northern border? Or is the security confined to people flying in private jets only."
Dr Mahathir had been referring to the spate of kidnappings along Sabah's porous eastern border with the Philippines, which appear to happen even with an enhanced special security cordon in the area.
On May 14, two people were kidnapped from a seafood restaurant in the coastal town of Sandakan by armed gunmen believed to be from the Philippines.
Three days later, Sabah Police Commissioner Datuk Jalaluddin Abdul Rahman claimed that the abduction was an inside job and that "insiders" had fed information on the duo to kidnappers.
"This country is being attacked repeatedly by terrorists who killed our police and soldiers," said Dr Mahathir, referring to the Lahad Datu incursion in February 2013 where two police commandos were slain by Filipino gunmen after a three-week siege.
"Is this the normal state of things or is this a security problem? If we care for security do we buy luxury private jets. It is shameful that we cannot even ensure the safety of our citizens."
On Sunday, the prime minister on his website NajibRazak.com said that it was "standard practice" for most world leaders to use official jets in response to criticism about the government's purchase of a private jet for his use.
Najib said that the new jet was to replace a 16-year-old one that was becoming a safety hazard.
He said it was also the official aircraft used by the Yang Di-Pertuan Agong, thus "all the more reason for us not to compromise on safety and security."
In July last year, one police officer was killed while another was kidnapped after gunmen ambushed them on Mabul island off Semporna, Sabah.
The latest kidnapping has raised questions about the effectiveness of Eastern Sabah Security Command (Esscom) – the agency tasked with securing the state's 1,400km eastern coastline.
When asked about new equipment requests to help police patrol the border, Deputy Home Minister Datuk Seri Wan Junaidi Tuanku Jaafar said that the government faced restraints in buying new assets.
"We (the ministry) are not like companies in the private sector. You propose something today, you get it tomorrow," Wan Junaidi had said two days after the Sandakan kidnapping.
He said apart from financial constraint, government procurement was dogged by red tape that could drag the procurement process for years. – The Malaysian Insider